Starcraft 2 Betting Guide | Best Betting Sites & Offers


Starcraft 2 was released back in 2010 by developers Blizzard Entertainment, acting as the sequel to the original Starcraft game, which quickly became a firm favourite after its release in 1998. With massive popularity, specifically throughout Asia, the real-time strategy game is now a worldwide phenomenon, as well as being a firm favourite among bookmakers and fans alike. Many tournaments, offering substantial amounts of prize money, have been established on the back of such success, making it one of the top titles when it comes to eSports. The latest expansion of the game, Legacy of the Void, has proved to be hugely popular, clearly demonstrating that Blizzard are keen to sustain the life of the franchise for many years to come. This piece will offer readers an in-depth look into Starcraft 2, with a particular emphasis on betting markets and useful tips in this area.


Starcraft 2 Gameplay
Unlike other eSports titles, and while games can take place in a 2v2 format, competitive encounters generally take place between two individuals. The basis objective of Starcraft 2 is to destroy the enemy base, which consists of a host of buildings and units. However, first and foremost, players must build their bases, meaning that games can take a while to get going. During this time, players will also look to gather resources that can help them come out on top during the latter stages of matches. Once this has been completed, the assault on the enemy can begin, which is carried out by targeting resources, as well as going on full-on attack mode, depending on your strategy. Players must ensure that all combat units have been sufficiently trained, with varying levels of damage, defence and purpose. Units can be upgraded over time, making it even more important to have a clear strategy throughout Starcraft 2 matches.
At the beginning of each match, players will select a faction, from a choice of three. Players tend to specialise in one particular faction, with the complete list found below: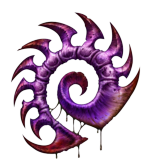 The Zerg – A swarm of insect-like aliens who focus upon overwhelming their opponents through sheer volume of numbers.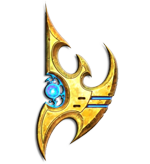 The Protoss – An advanced race of aliens who require more micromanagement as a result of their attack being limited to a smaller number of units.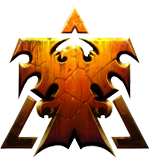 The Terran – The Terran is the human faction of the game, with their style of play being the most adaptable of the three.
Starcraft 2's gameplay is relatively simple, making it relatively easy to pick up the game quickly. However, this does also mean that there is a distinct lack of markets when it comes to Starcraft betting, with outright bets the most popular as a result.
Starcraft2 Betting Platforms
Despite being one of the newer eSports titles to become a hit with bookmakers, Starcraft 2 now features on a whole host of betting platforms, each of which offer different services and features. Along with traditional bookmakers, including the likes of Ladbrokes, William Hill and Betway, dedicated eSports pages have also been developed, which often specialise in particular games. All bookmakers are fully licensed, making Starcraft 2 betting legal within certain countries and regions. Take a look at our operator reviews for a detailed breakdown of each bookmaker, taking into consideration the following factors before making a decision:
Range of Starcraft 2 markets
Welcome bonuses and promotions
Competitive Odds
Banking options
Customer service features
Live streaming


Type of Starcraft 2 Bets
As previously mentioned, the gameplay of Starcraft 2 does not cater for a wide variety of bet types, although the exact number of markets will differ from bookmaker to bookmaker. A full list of markets found can be viewed below, with bets tending to revolve around outright match/tournament wins, as well as handicap betting:
Match winner
Map winner
Handicap
Team A/B to win at least 1 map
Team A/B will not win any map
Correct map score
Over/under total maps
Team to win the tournament
Team to win their group
Region of tournament winner
Given the level of attention that Starcraft is beginning to receive, it is likely that new markets will begin to appear at bookmakers, adding to the diversity of betting.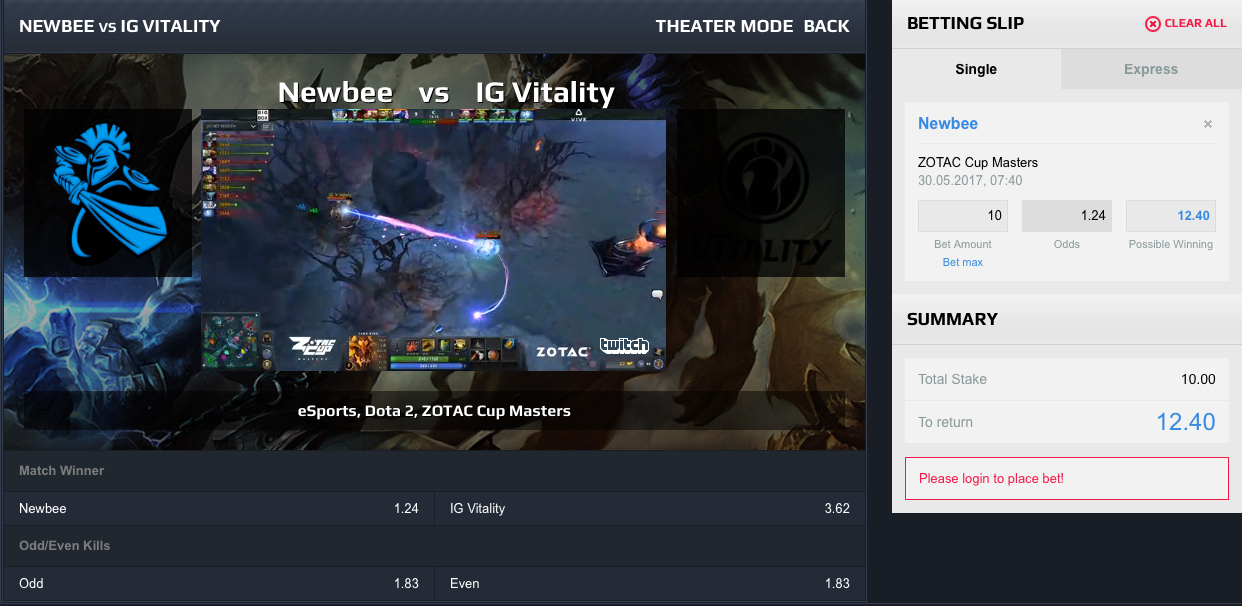 Starcraft2 Tournaments
Despite still coming in some way behind the likes of Dota 2 and League of Legends when it comes to tournament prize money, there are still plenty of Starcraft 2 events to get excited about throughout the year. The biggest tournament in Starcraft history, the 2016 StarCraft II World Championship Series (WCS) Global Finals, offered competing players a total prize pool of $500,000, with a whole host of other competitions and events making up the professional schedule. Some of the biggest tournaments include:
The WCS Premier League occurs across three countries, Canada, USA and Germany, with a prize pool of around $200,000. The tournament is made up of two seasons, taking place at the beginning and middle of the year.
The DreamHack Open is the stage for many major Starcraft 2 events, with prize pools of over $25,000. The DreamHack Summer and Winter take place in Sweden each year, while DreamHack Masters events take place in various major cities throughout the year.
The Global Starcraft League is a Korean tournament which takes place 3 times a year in Seoul. With a prize pool of over $100,000, it is one of the biggest of its kind.
Elsewhere, the StarLeague, SSL Challenge League and SSL Premier League are some of the less well-known event, however they still feature with the majority of bookmakers. On top of this, the Electronic Sports League (ESL) and Intel Masters Tournament series also stage major Starcraft 2 competitions.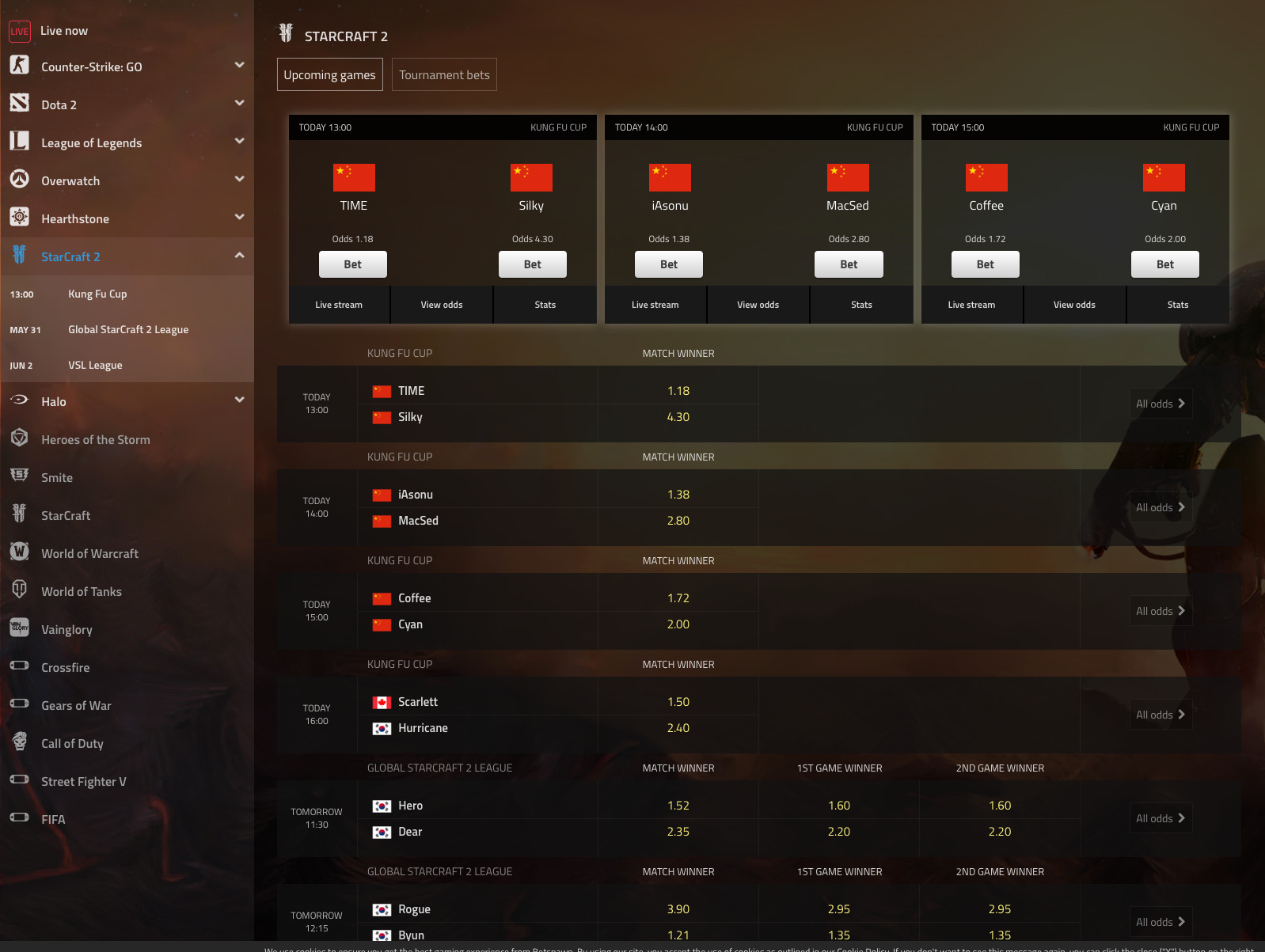 Starcraft2 Players
Unlike other eSports games, Starcraft 2 is generally competed in an individual basis, meaning that a good knowledge of the industry is essential for those looking to be successful in their betting. South Korean players tend to dominate both the rankings and tournaments, with the current top 12 players all coming from the country. However, with the game becoming more and more popular in Europe, we should soon see some different names in the rankings. The world rankings currently look like this:
Stats – Kim "Stats" Dae Yeob, is a Protoss StarCraft II programmer from South Korea, currently playing for Splyce.
Dark.Sc2 – Park "Dark" Ryung Woo is a South Korean StarCraft II Zerg player. He is currently without a team following the disbandment of the SK Telecom T1 StarCraft II roster.
 INnoVation – Lee "INnoVation" Shin Hyung, is a StarCraft programmer from South Korea, who is too without a team having left SK Telecom T1.
 ByuN – "ByuN" Hyun Woo, is a Terran player from South Korea, currently playing for Team expert.
aLive – Han "aLive" Lee Seok is a Terran player from South Korea, currently playing for mYinsanity.
ByuL – Han "ByuL" Ji Won is a former Brood War progamer from Samsung KHAN who became a professional StarCraft II player in March 2012.
Maru – Cho "Maru" Seong Ju is a Terran player from South Korea, who is currently playing for Jin Air Green Wings. He is well known for being the youngest GSL player of all time, winning his first televised game at the age of 13.
TY – Jun "TY" Tae Yang is a StarCraft programmer from South Korea who is currently playing for Splyce.
Patience – Jo "Patience" Ji Hyun is a South Korean professional StarCraft II Protoss player currently playing for Team Dead Pixels.
Solar – Kang "Solar" Min Soo is a StarCraft programmer from South Korea. He plays Zerg for Splyce.
While players do represent eSports organisations when they play in major Starcraft tournaments and events, the team in which they play for does not have as big an impact on the outcome of a match, as it does in other eSports games. While it is interesting to see which teams have attracted the top players, form and motivation is far more important to look at before placing a bet.
5 StarCraft2 Betting Tips
Whether you are a Starcraft 2 expert or new to the market, it is vital to look at some important factors before placing a bet, with so many different aspects of the game effecting the eventual result. The following five betting tips are designed to help you achieve your goals within Starcraft betting:
Do your research – While surprises do of course occur from time to time within Starcraft 2 matches, carrying out research before placing a bet can significant aid your chances of success. Carrying out such research will give you a better understanding of the players involved, along with what sort of form and mindset they are in beforehand. Calculating the chances of one player defeating another on a specific map, as well as comparing them against the odds available will help you determine whether it is a worthwhile bet.
Play the game – While this is certainly not a necessity, the best way of familiarising yourself with Starcraft 2 is to play the game yourself. Whilst there are plenty of people that do not play the game and still have a successful betting career, doing so will give you a better understanding of the gameplay and core mechanics, which can in turn help you to place a wider variety of bets.
Patches – Starcraft 2 game developers are constantly on the lookout for ways to improve the game, with patches often being released. Such patches can sometimes bring major changes, which are likely to alter the success levels of certain players. Many will specialise in certain areas of the game, meaning that it is vital to keep up-to-date with the latest news regarding patches.
Analyse the odds – Look at the odds that bookmakers are offering on a game, as well as analysing the two players involved, in terms of their playing style and maps. For example, a Terran player's strengths may revolve around strategy, in contrast to a Zerg. Work out whether the odds and potential returns are worthy of placing a bet, given those involved.
Match format – It is also crucial to check the format of the match you are wagering on before placing a bet, whether it be best of three or best of five. An example of this is during a best of three match, a Zerg player may well play on their preferred map twice, increasing their chance of winning.
StarCraft2 Betting FAQ
Here we will provide answers to some of the most commonly asked questions when it comes to Starcraft 2 betting, helping you to ensure that you are 100% ready to embark upon your betting strategies
Is betting on Starcraft 2 legal?
When it comes to betting on Starcraft 2 tournaments, you must ensure that you follow the rules and regulations of the country in which you are based. If betting on other sports markets is prohibited in your country, then it is most likely that this is also the case with eSports, and in particular Starcraft 2.
Where can I bet on Starcraft 2?
When it comes to Starcraft 2 bets, you can select from a wide variety of traditional bookmakers and dedicated eSports websites, with each offering different services and features in order to attract new customers. Whether it be the range of Starcraft markets, competitive odds, bonuses or live streaming that you are looking for, be sure to take some time in selecting your preferred platform. Also remember that you can utilise more than one.
Why bet on Starcraft 2?
Starcraft 2 is one of the fastest growing markets in the eSports industry, with this only expected to grow over the coming years. Despite currently being dominated by Korean players, more and more Europeans are coming onto the scene, which is likely to increase the exposure upon the game. There are a whole host of exciting opportunities when it comes to betting on Starcraft 2, which can significantly enhance the enjoyment of watching matches.
Where can I watch live Starcraft 2 matches?
As previously mentioned, watching Starcraft 2 matches is a great way to quickly gain an understanding of the game. As well as this, the ability to watch matches can make betting on matches even more exciting, as well as the ability to rapidly take advantage of in-game changes. As well as established streaming platforms such as Twitch, social media giants such as Facebook, Twitter and YouTube have all began to offer Starcraft 2 matches as part of their service.
How much can I bet on Starcraft 2?
While different bookmakers will have certain restrictions when it comes to the amount in which you can spend on Starcraft 2 betting, over an extended period of time, you can bet as much or as little as you like. This may be an area to research when selecting a bookmaker, however be sure to stick within your means when it comes to wagering.