League of Legends – LoL Betting


League of Legends (LoL) has quickly amassed the largest online community within the whole of eSports, as well as becoming one of the most popular betting markets. The multiplayer online battle arena (MOBA) game was released by Riot Games back in 2009 and has been a mainstay on the professional gaming circuit ever since. Just two years later, Riot Games launched their own League of Legends eSports league, known as the League of Legends Championship Series, which is staged across Europe, Asia and the United States. Today, the LoL community has never been bigger, with millions of people tuning in to watch the biggest tournaments, including the League of Legends World Championship and Mid-Season Invitational, events that offer prize pools of up to $5 million. As well as the players and organisations involved, both bookmakers and punters have quickly jumped on the bandwagon, with major events now attracting a large number of bets. This piece will provide readers with an in-depth look at the world of League of Legends betting, in terms of the platforms to use, markets available and most successful teams.


League of Legends Gameplay
Despite its ever-increasing community, for many, League of Legends is still something of a mystery in terms of gameplay. In order to develop a successful LoL betting strategy, it is vital to fully understand the game. As previously mentioned, League of Legends is a MOBA game, pitting together players in a semi-land grab deal. In short, the aim of the game is to destroy the opposition's defensive structures, including their headquarters. At present, players can choose between one of two permanent maps, which include:
Summoners Rift (5 v 5)
Howling Abyss (5 v 5)
Despite this, it is Summoners Rift which is most commonly found on the eSports circuit. Once each player has selected his champion, or character, teams will battle it out in a bid to destroy their opponents Nexus, with the team that can do so first, taking home the victory. While teams will all adopt different strategies in a bid to do so, in order to achieve this, killing minions or enemy champions is vital. Doing so earns player's valuable gold and experience, with a wide variety of items available to improve the attributes of champions. Experience gained also allows characters to level up, with level 18 the maximum level. Health, power and mana are just some of the areas that can be improved upon.
With matches generally lasting between 30-45 minutes, there is understandably large scope for betting within League of Legends. It is thanks to the diversity of the game that betting customers are able to place bets on a whole host of markets, rather than just the traditional win/lose options.
League of Legends Betting Platforms
Despite there being a limited number of bookmakers offering League of Legends markets during its infancy, today there are a whole host of platforms to take advantage of. From traditional sportsbooks such as Ladbrokes, William Hill and Betway, to dedicated eSports pages such as EGB and eBettle, you are certainly not short of options in this area. However, due to such variety, it can be difficult to make a decision. Bookmakers will offer enticing services and features in a bid to attract new customers, with bonuses, odds, markets and customer support generally featuring heavily. With League of Legends betting now 100% legal in many regions across the globe, the industry is only likely to grow further in the coming years. Check out our operator reviews for a more detailed breakdown of the options available when it comes to placing a League of Legends bet.


Type of League of Legends Bets – LoL Bets
As with the vast majority of eSports titles, the most common bets within League of Legend (LoL) are match bets, where customers back a certain team to overcome another in a single contest. Many bookmakers also offer the opportunity to place outright bets, which means gambling on the outcome of an entire tournament or league. Due to the odds being much more attractive in this market, this is becoming increasingly popular. Elsewhere, some betting platforms even allow you to bet which region or country the winning team will come from, which given the diversity of teams within the LoL rankings, is another appealing market for many.
As well as these markets, there are a whole host of bet types that are available in the build-up to matches, however these tend to vary from bookmaker to bookmaker. Given the gameplay of League of Legends, a whole host of exciting markets are available to bet on, making the whole process all the more exciting. A full list of such bets can be found below:
First Blood
First to 10 kills
Destroy the first tower
Slay the first dragon
Slay the first baron
Correct map score
Win at least 1 map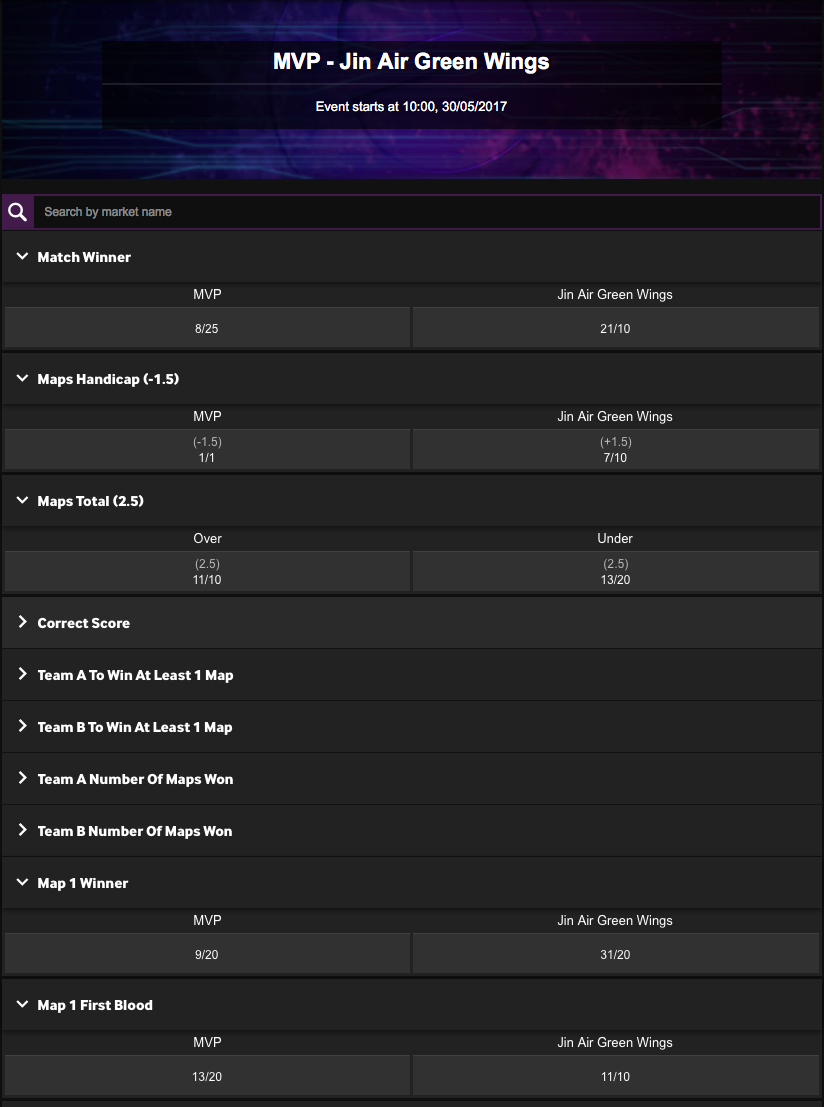 Markets available will tend to differ from tournament to tournament also, with major events gaining more exposure than newly established competitions. However, with the array of tournaments taking place throughout the year, you will rarely be short of League of Legends action to bet upon.
League of Legends Tournaments you can Bet on
Within the eSports industry, it is League of Legends tournaments that dominate the calendar, with a range of events making up the schedule for both established and up and coming teams. With competition's able to pack out prestigious arenas such as Madison Square Garden, prize pools of over $5 million also help to attract players and supporters in great numbers. The largest LoL tournaments are undoubtedly staged by game developers, Riot Games. The League of Legends World Championship, last won by Korean superstars SK Telecom T1, is perhaps the biggest event of the year, with a whole host of regional competitions also helping to increase the exposure of the game. Elsewhere, the following tournaments attract the biggest names in the industry, with prize money increasing all of the time thanks to increasing popularity:
Mid-Season Invitational
EU & NA Spring & Summer Splits
Demacia Cup
EU & NA Challenger
All-Star Event
Pro League
Masters Series
International Wildcard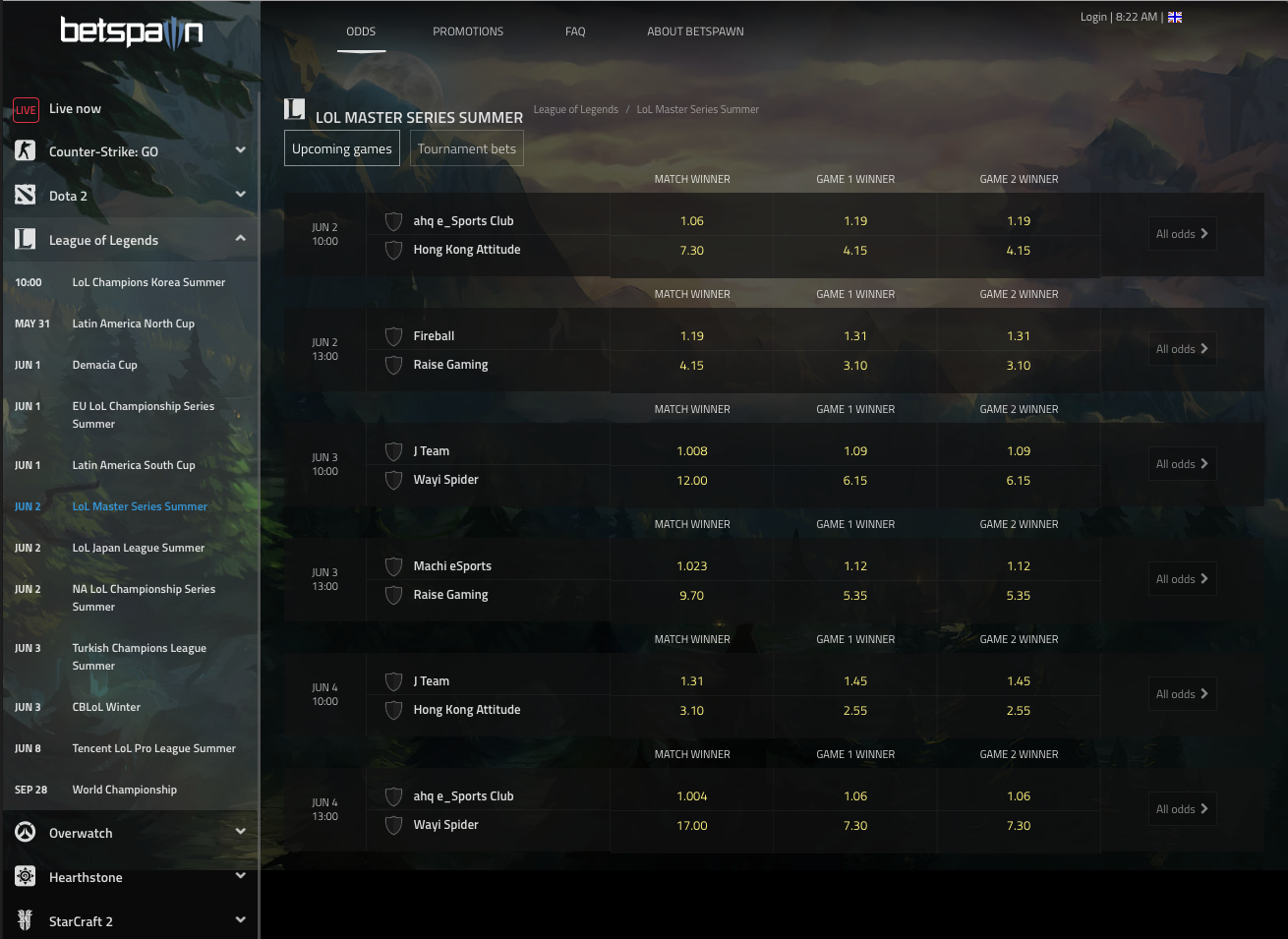 League of Legends Teams you can Bet on
Given the amount of talent in the world of League of Legends, rising to the top of the world rankings is no mean feat, with players battling it out for positions on the very best rosters. Each region throughout the world has its own professional league, run and operated by Riot Games. Within Europe and America, the League Championship Series (LCS) takes priority, which consists of two tournament splits, lasting nine weeks apiece. However, with many of the top teams coming from other areas, including Asia and South America, competition for places on the world stage is huge. Ensuring that you keep up-to-date regarding team news and movement is crucial for those looking to be successful within LoL betting. The current League of Legends world rankings look like this:
SKT T1
Flash Wolves
G2 Esports LoL
Samsung Galaxy
Team World Elite
Team SoliMid
EdWard Gaming
ahq e-Sports Club
KT Rolster
Cloud9
With these rosters containing some of the best League of Legends players around, it is important to do your research before placing a bet, with such talent often helping teams to come out on top over their rivals. Here are some of the top LoL players to keep an eye on:
Looper – Jang "Looper" Hyeong-seok is a South Korean player who is currently the top laner for Echo Fox, having previously starred for Royal Never Give Up. The 24-year-old helped his former team to success at the LPL Spring Playoffs, and will be looking to mastermind a rise up the rankings for his new team.
Peanut – Han "Peanut" Wang-ho is the jungler for SK Telecom T1, the most successful LoL team in history. Despite his young age, he has already made himself an integral part of his new team, and will be looking to help them defend their Mid-Season Invitational title this year.
Faker – Lee "Faker" Sang-hyeok is a mid laner for SK Telecom T1. He is the remaining member who won three World Championships with the team, and is widely regarded as one of the world's top players.
PraY – Kim "PraY" Jong-in is another South Korean League of Legends player who is currently the AD carry for Longzhu Gaming. Despite his team struggling in the rankings, he is known for his intensity and strategy.
GorillA – Kang "GorillA" Beom-hyeon is a South Korean League of Legends player who is currently the support for Longzhu Gaming, who has made a name for himself as one of the best supports in the business.
5 League of Legends (LoL) Betting Tips
Given the amount of teams that have the capability of winning major matches and tournaments on the League of Legends tour, there are some important rules that you must follow when placing LoL bets.
Patches – Game developers, Riot Games, regularly release new game patches, which is becoming increasingly more important to be aware of. How certain teams will react to in-game changes will have a significant impact upon their success, with those adapting the quickest generally coming out on top. This can also have an effect on live-betting, with certain champions now becoming more effective in certain areas of the game, something in which bookmakers will rarely pick up on.
Roster Changes – Should a player leave his current team, or be replaced by another, this can have a huge impact upon team dynamics, along with their overall success. You will quickly notice how regularly players move between teams, with organisations keen to experiment with their roster, until they find a structure that suits their playing style.
Tournament – Knowing the type of tournament that you are betting on is also key, with understanding what is riding upon a game likely to have an impact upon the motivation levels of certain teams. For example, should Samsung Galaxy require a win against Cloud9 to qualify from the group stages, they are likely to have more motivation to win. Meanwhile, if SK Telecom T1 have already qualified for the knockout stages of a tournament, they may choose to experiment with their roster, making them less likely to come out on top.
Control your spending – For those looking to make significant profit from League of Legends betting, it is important to have a dedicated bankroll. Using e-wallet style payment methods such as PayPal or Skrill can help you do this, without randomly making deposits when you feel like it. It is very easy to quickly become embroiled in betting, so be sure to only bet when you have the means to do so, as well as never placing bets in anger at having lost out previously.
Make the most of bookmakers – There is certainly no limit on the amount of bookmakers and betting platforms that you can take advantage of. With certain sites specialising in certain areas, as well as offering different forms of bonuses and promotions, being a member with a few different sportsbooks can help you in the long run. As well as checking the difference in odds between them, you can take advantage of welcome offers, which is an efficient way of quickly adding to your profits.
League of Legends Betting FAQ
Here we will provide answers to some of the most commonly asked questions when it comes to Dota 2 betting, ensuring that you are fully ready to embark upon your new pastime.
Is betting on League of Legends (LoL) legal?
Despite coming under much scrutiny in the past, betting on League of Legends, as well as any other eSports game, is subject to the laws and regulations within your country or region. If betting on other sports is not legal where you are based, then this most likely goes for eSports betting also.
Where can I bet on League of Legends?
A whole host of bookmakers and websites now offer real money wagering on League of Legends, each of which range in terms of markets offered, live streaming and odds. You can select from a wide range of traditional sportsbooks, along with more modern, dedicated eSports sites. Check out our operator reviews for more information.
Where can I watch live League of Legends matches?
Live League of Legends action is becoming more and more common on a whole host of streaming platforms, with the likes of Twitch, YouTube, Facebook and Twitter now showing high quality action, including LoL matches from major tournaments.
How many people are betting on LoL – League of Legends?
There are an estimated 200 million eSports enthusiasts around the world, and with League of Legends being the most popular game, it is safe to say that there are currently over 1 million players wagering on LoL matches.