Esports Betting Guide
In this esports betting guide, we'll teach you everything you need to know to get started. Esports seems to be growing at quicker pace every single day. It can be hard to keep track of all the new gaming titles and professional teams that come and go.
Esports audiences are predicted to double to 600 million by 2020 and with that, esports betting is set to rise just as fast. With more people watching esports events, more people will be betting on those games. The bookmakers are well aware of this and are opening up new betting markets every week. As we'll cover in the guide, some bookmakers have opened up dedicated esports sections of their sites whereas others solely offer esports odds and no other sports.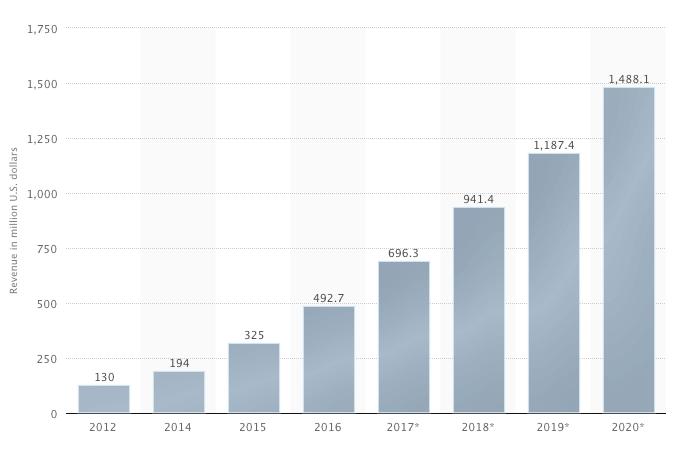 Esports Gaming Titles
The variety of esport titles available is ever expanding. The main three are CS:GO, League of Legends and Dota 2. These games have been around the longest and take up the majority of the betting market.


Counter-Strike: Global Offensive (CS:GO) is a first-person shooter (FPS) game with two teams of five players, Terrorists and Counter-Terrorists. The objective of each team is to eliminate the other team or detonate/defuse the bomb. Unlike many other FPS titles, CS:GO relies heavily on teamwork to compete successfully. Teams will use complex strategies to enter certain parts of the map, similar to real-life military or SWAT team tactics.
CS:GO was released in 2012 and has since become one of the biggest esports with a huge betting community. Betting has always played a large role in CS:GO as the players are used to betting in-game items on match outcomes and other games of chance.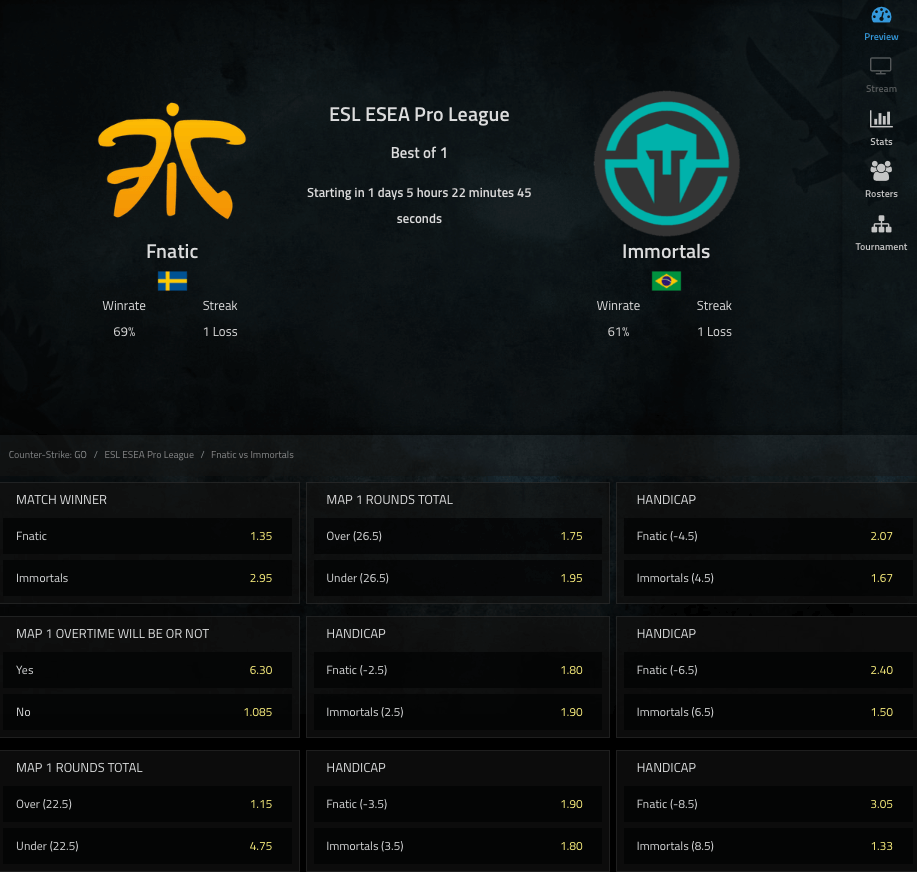 More recently, we have seen other FPS titles enter into the esports betting world. One of the faster growing titles is Overwatch, another squad-based game by Blizzard Entertainment. Although Overwatch is a fundamentally an FPS game, it borrows heavily from elements in the Multiple Online Battle Arena (MOBA) world. Players can choose between 24 different Heroes, who each have their own special abilities.
Other MOBA titles include games such as League of Legends and Dota 2. League of Legends is a freemium game, meaning that the game itself is free but payments can be made to purchase in-game features.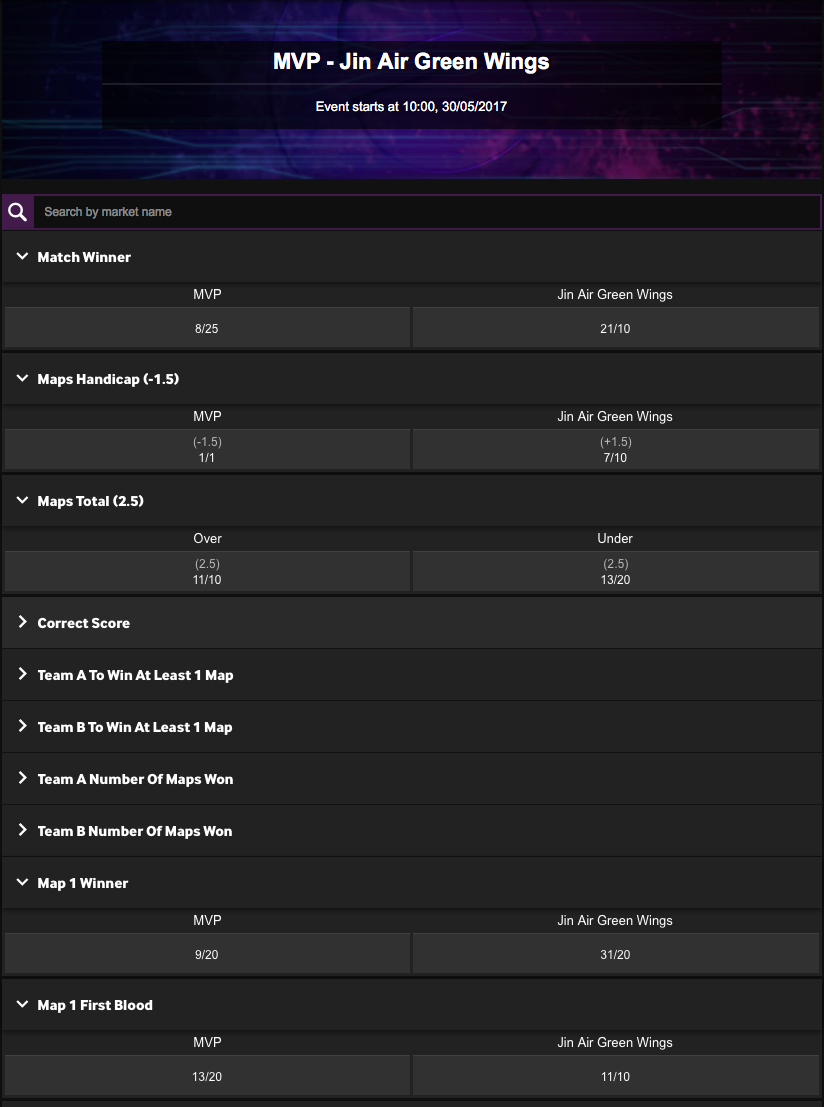 Real Money Esports Betting
It's important to ensure you are betting on a well established, real money site when betting on esports. Sites that allow users to bet with in-game skins and other non-currency items are often unregulated. This can mean that your money (or your items) aren't always safe as there is no governing body to moderate the sites activities.
Always make sure the betting site you use has the required gambling license and has genuinely good reviews. We have recommended some bookmakers on our site that we trust to help you get started.
Deposit and withdrawal systems are now faster than ever with most major sites offering transactions with e-wallets such as PayPal, Neteller and Skrill. This makes it much faster to withdraw your funds as it can sometimes take less than an hour.
Where To Bet
Everyday, more and more bookmakers are adding esports sections to their sites. Some have been around longer than others and some have better features than others. It's important to find a bookmaker that genuinely cares about esports and offers great odds for a large number of games. Most of the recommended bookmakers will also offer you a welcome bonus to new members. This is usually in the form of a free bet upon signing up for the first time.
Betway are one of the biggest bookmakers in the esports world, even going as far as to sponsor the CS:GO team, Ninjas in Pyjamas. Not only do they have a great introductory offer, but they also release exclusive odds for certain games that no other bookmaker will have.
Other bookmakers of note are Betspawn, GG.Bet, Netbet and Ladbrokes. All of these are well established, reputable bookmakers that have great odds for multiple esports games and tournaments.
It's recommended that you shop around to find the best odds for the game that you would like to bet on. Some bookmakers can have great odds on certain events and not-so great odds on others.


Esports Betting On Mobile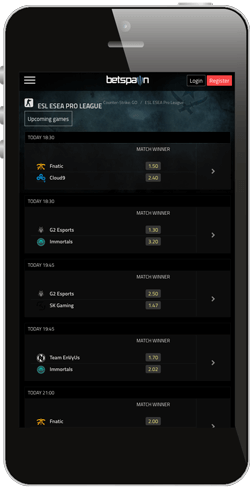 All of our recommended bookmakers are easily accessible via mobile devices. Some sites may also have a mobile app that you can download straight to your phone. This can make placing your bets much easier and faster. Other sites may have a mobile version of their site which is easier to load on your mobile device than the usual desktop version.
Depositing and withdrawing on mobile devices is just as fast and easy as on a desktop. You can use all of the same payment methods.
Types Of Bets
All of the esports titles have their own unique bet types but there are many that are similar across all games.
"Match Winner", or "Match Odds" is the most common esports bet type that you will see on each betting site. This works the same as in traditional sports such as football where you bet on one team to win or you can also bet on a draw. As some esports games are played in a best of 3 (Bo3) structure, you may not have the option to bet on the draw as a game can only be won 2-0 or 2-1. You will be able to bet on the draw in a best of 1 (Bo1) as for example in CS:GO, a game can end 15:15. Depending on the tournament rules, it may be possible to play overtime. In that case, there will be no option for a draw in a Bo1 game as overtime decides the winner.
Rounds Over/Under will vary by bookmaker, depending on how many rounds they will use. It's quite common to see "Rounds Over/Under 26.5". If you bet on "Rounds Over 26.5", it means that you are betting there will be 27 or more rounds in one single game. This is a popular bet amongst CS:GO bettors as in total, there can be 30 rounds but a game can be won after just 16.
In round based games such as CS:GO, you will be able to bet on teams winning certain rounds. An example may be "Round 6 Winner". Here, you would be betting on the winning team for round 6 only. These types of bets are often offered in-play and can be a great way to bet on a team that you think will do well in the following rounds.
The majority of bet types are unique to the esports title that you are betting on. For example in a Dota 2 live game, you will sometimes be able to bet on "Team To Slay The Next Roshan". This is unique to Dota 2. Likewise, you will see "Pistol Round Winner" in CS:GO live games. This is similar to the round winner bets as pistol rounds are always either round 1, or round 16. These are the first rounds of each half of the game, where players can only afford pistol weapons.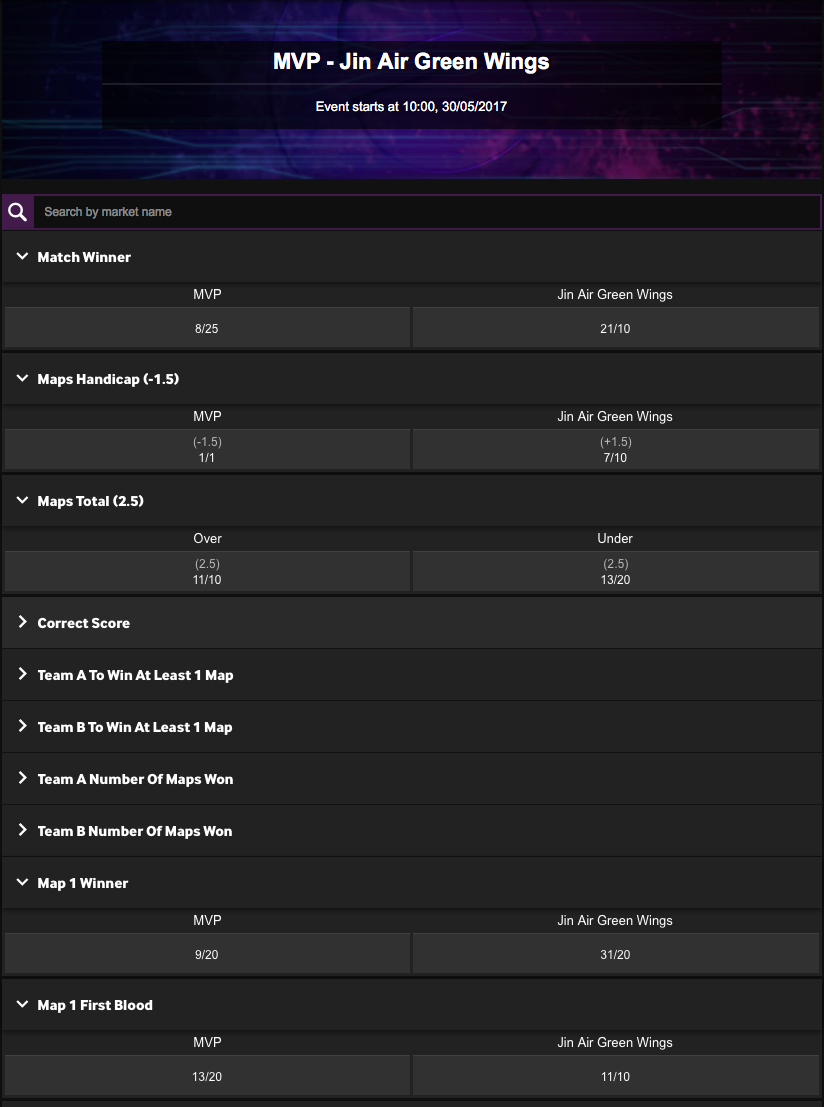 You can make your own bet combinations by adding multiple bets to your betslip. These are called combination bets and will increase your potential winnings. All of the bets within your combination bet must be winners, otherwise your bet won't win. Some bookmakers will offer their own enhanced prices for combination bets that they have put together.
More and more bet types are being added every day. Some bookmakers that offer CS:GO odds have now started to offer bets such as "Overtime Yes/No". These new bets can provide another opportunity to bet at higher odds than the standard match winner bets and other low-odds bet types.
Roster Changes
Whether you are experienced in esports betting or a complete beginner, you need to be cautious when placing bets on esports fixtures. As the industry is still quite young, things aren't always as stable as other traditional sports. For example, the most common area to take into consideration is that of roster changes.
Players are frequently transferred between teams and new players are sprouting up from all over the world. It's even been known that teams have changed their name or all members of one team have moved to another. This is sometimes for sponsorship or management reasons. Always be sure to double check the roster you are betting on hasn't changed recently. You can do this by searching for the team news online and checking to see if any player has moved. The most extreme single roster change would be that of the in-game leader. These players will usually be the one to call out commands over the microphone to the rest of the team and decide on a course of action during the game.
Coaches and other close colleagues of the players can make a big difference to how the team performs on any given day. It would be dangerous to bet on a team that is entering a big tournament after releasing their team coach or strategist.
Tournament Prize Funds
Prize pools for esports tournaments can range anywhere from a few hundred dollars to $20m. The latter being the International 2016 Dota 2 tournament, the highest on record. When deciding which tournaments to bet on, prize funds can give a good indication of the quality of an event and the teams playing it.

Generally, more reliable and established teams won't compete for anything below $10,000. This will vary depending on the game being played. You will find that teams who compete for lower prize funds will be new teams (or very bad ones) that do not have a lot of history behind them. This makes it harder to analyse a team's historic performance and make an accurate judgement as to whether they have a chance of winning the game.
Tournaments with lower prize funds are also less likely to be streamed live and if they do, the production quality is often quite poor. It's much more fun to bet on a major event such as the CS:GO Majors as the whole event is streamed live with world class commentary and analytics.
How To Pick A Winning Bet
Although it's pretty much impossible to predict a winner every time, we can vastly improve our chances by doing some basic research on the teams we are betting on.
A quick search on the internet will reveal that all of the major esport titles have free to use, historic match data. This can be used to find how many times a team has won on a certain map, who their best player is and so on.
When looking at historic results, it's important to not look too far back. For example, looking at how a team played on a certain map 5 years ago is completely irrelevant as the team likely had different players back then. It's better to look at more recent results within the last few months. This is even more important in esports than any other as games are updated frequently which means that teams must adapt their strategies to work on the new update.
A classic example of this is when Valve, the developers of CS:GO update the game's maps. Certain maps such as Nuke and Inferno have been updated in recent months. As the map layout was altered, doorways and corridors were moved slightly. Some teams had spent years rehearsing strategies for these maps and they must now change these strategies to adapt to the new settings. Of course, some teams preferred the new map and others found it more difficult.
The odds you are getting on your bet will greatly affect the likelihood of your bet winning or losing. Higher odds such as 9/1 suggest that your bet only has a 10% chance of winning. Of course if you do win, your return would be much higher. At 9/1, you would return £100 (stake included) for every £10 staked.
If you prefer to win smaller amounts more frequently, it's recommended that you bet at lower odds. If you prefer to win larger amounts and are comfortable with longer losing runs, it's recommended that you bet at higher odds.
Value Betting
To be profitable in the long term, every bet you place must be a value bet.
What does this mean?
A value bet is when the odds given are higher than the chance of the bet actually winning. For example, if Team A has odds of 9/1 to win a game, their implied probability is 10%. This means the odds suggest they have a 10% chance of winning. If you have done your research and know that the the team has a 50% chance of winning, then you should place that bet. Your bet may still lose, but if you do this over and over again you will be in profit. This assumes that your research is thorough and you have not missed any crucial pieces of information such as a player falling ill.