Dota 2 Betting


Dota 2, the successor to the extremely popular Warcraft III modification, Defence of the Ancients, is a video game designed by developers Valve. Having first been shown at "The International", a tournament that is now worth over $20 million in prize money, Dota 2 has become synonymous with the eSports industry, as well as quickly becoming a favourite at bookmakers. The game was released back in 2013 following a two-year beta phase, with teams from all over the world now competing in major events within Dota 2. As one of the most popular real-time strategy (RTS) games around today, betting markets are appearing across the internet at a rapid rate. This piece will provide readers with an insight into the world of Dota 2, as well as how to begin betting on the game, and in turn, how to be successful in this area.


Dota 2 Gameplay
Dota 2 matches consist of ten players, five on each side. Each team will take control of two separate bases, which at certain points during matches will distribute small combat units, known as "Creeps". Creeps travel along the three paths connected to the bases, attacking players and towers simultaneously. Towers are strategically placed throughout the three paths, however locations are the same for every Dota 2 games. The first team to destroy the central building, known in Dota 2 as the "Ancient", will be declared the winner.
Players on each team take control of one hero each, from a selection of over 100, each of which hold different skills and attributes. On top of this, new abilities can be gained during a match, helping players to earn their teams a better shot at victory. Players can gain money by killing other players, which can also be used to increase stats. Characters are separated into nine different areas, including:
Carries
Initiators
Supports
Disablers
Lane Supports
Durables
Nukers
Pushers
Escapes
All characters have different skills when it comes to attack, defence, strategy and damage, making Dota 2 matches all the more exciting. It is important to familiarise yourself with Dota 2 gameplay before kicking off your betting strategy, with the diversity of the game making for a wide variety of markets.

Dota 2 Betting Platforms
Even in its beta phase, Dota 2 had already become one of the most popular eSports games. As a result, it came as little surprise when many leading bookmakers added such betting markets to their eSports pages. Along with traditional bookmakers such as Ladbrokes and Betway, dedicated eSports betting platforms continue to enter the industry at a growing rate, with Betspawn and LOOT.BET among the most popular. As a result, there is plenty of choice when it comes to selecting the perfect platform for your Dota 2 betting desires, each of which will offer a variety of enticing services and features. Some of the most important factors to consider are listed below:
Dota 2 betting markets
Odds
Welcome bonuses and promotions
Customer Service
Live-streaming
Take a look at our eSports operator reviews for an in-depth breakdown of each Dota 2 betting provider, perfect for those struggling to make a decision. Below are just a few of the best bookmakers when it comes to Dota 2:



Betway – Despite not offering as many Dota 2 markets as some other bookmakers, Betway offer a generous welcome bonus in order to try and attract new customers. Having launched their eSports markets back in 2015, Betway will 100% match any opening deposit made, up to a maximum of £30. Receiving free bets up to this amount can provide the perfect platform to begin betting on your favourite Dota teams, as well as increasing your chances of adding to your bank balance.


Ladbrokes – As one of the world's leading bookmakers, Ladbrokes have quickly made substantial steps within the eSports industry. Their range of Dota 2 markets are among the most in-depth online today, with customers having the opportunity to back teams to win individual maps, destroy the first tower, draw first blood, and even slay the first Roshan. For those in the know when it comes to Dota 2, such options make the whole betting experience even more exciting.


Type of Dota 2 Bets
This brings us nicely on to the type of bets provided by bookmakers within Dota 2. There are a whole host of wagers that you can make when looking to add some excitement to the next event you are going to watch, however the range of markets will depend on the bookmaker, as well as the stature of the tournament. Traditional match winner style bets involve backing a particular team to win, with draws sometimes also available, depending on the tournament format. Teams such as G2 Esports, Virtus.Pro and Invictus Gaming regularly feature among the favourites in this market. Elsewhere, handicap betting is growing in popularity within Dota 2, given the dominance of the top teams. For example, if you believe that Team Liquid will overcome Newbee 2-0 in a best-of-three match, it is better to back them with a -1.5 handicap bet, rather than just an outright win.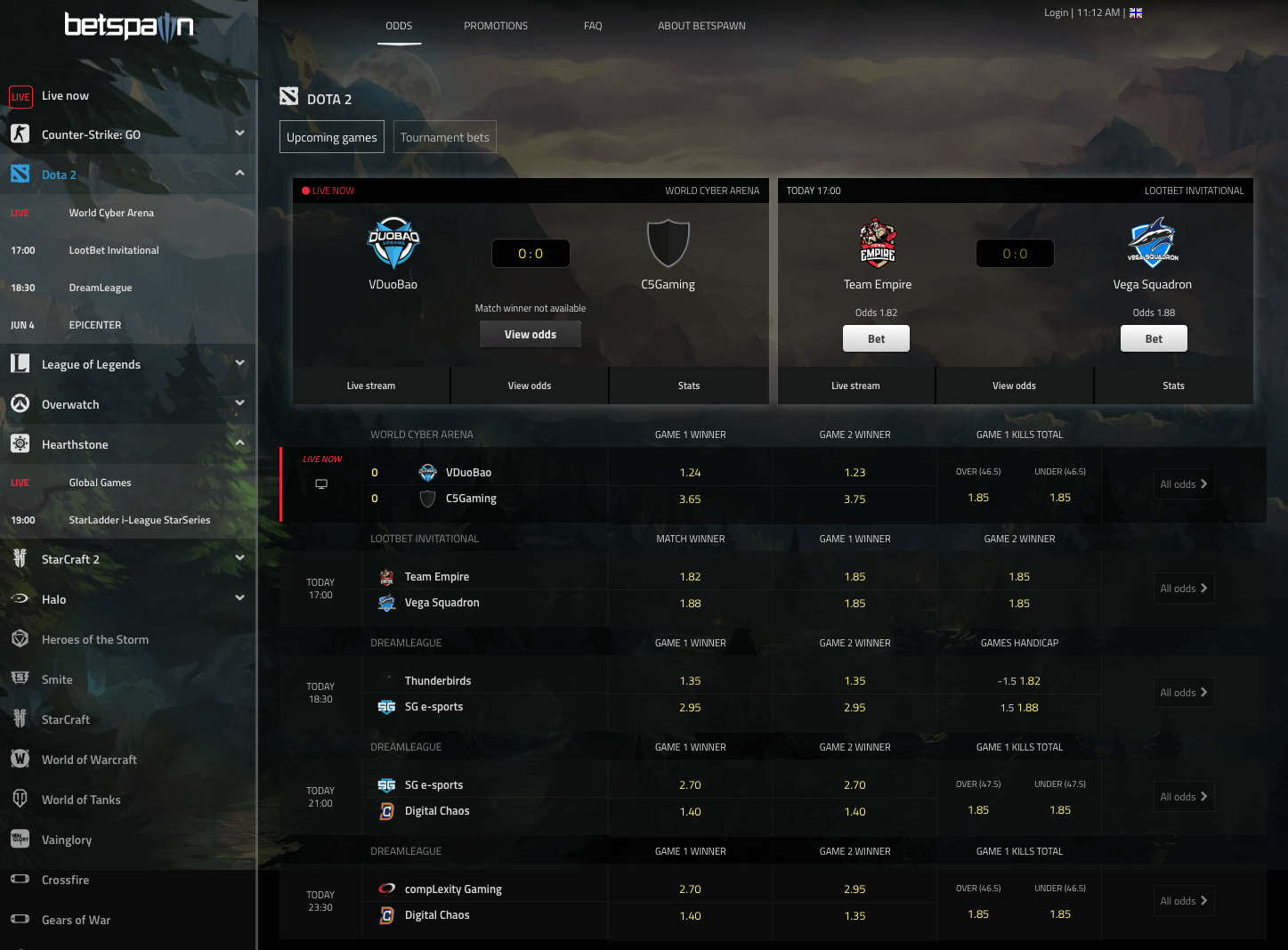 Meanwhile, markets such as double chance, correct score and map winner are also increasingly being utilised by customers, with more enticing odds often found as a result. However, given the Dota 2 gameplay, there are also a wide variety of markets that can be taken advantage of closer to the start of a game, as well as during it. Such bets include:
First blood
First to 10 kills
Team to destroy the first barracks
Team to destroy the first tower
Team to slay the first Roshan
Correct map score
To win at least one map
Dota 2 Tournaments
There are many Dota 2 tournaments being played around the world throughout the year, ranging in both quality and prize money. While generally only the most popular events will tend to feature on the majority of bookmaker's sites, the number of tournaments being covered is increasing all of the time, with even those featuring some of the lesser-known teams now being made available.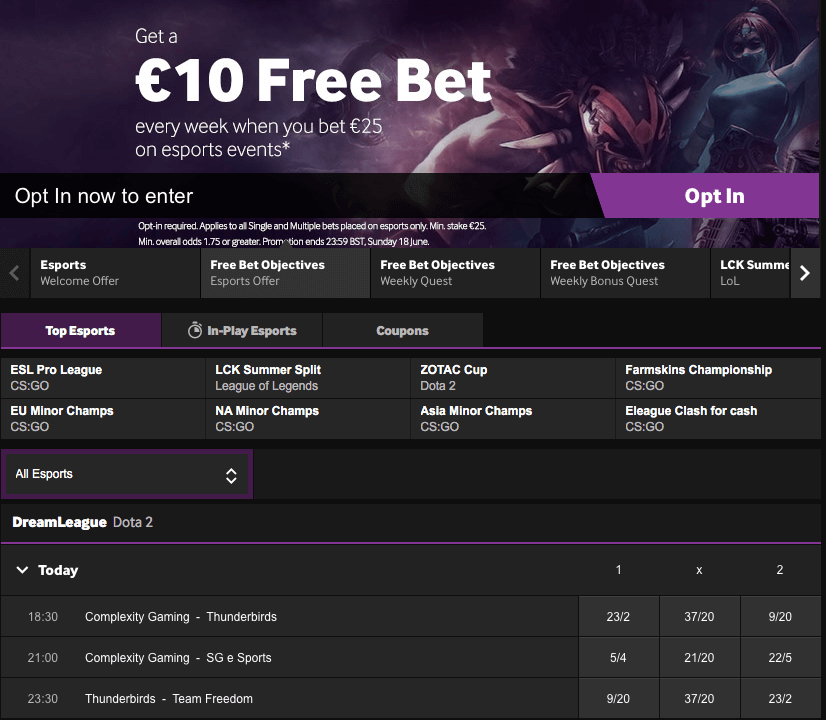 Dota 2 tournaments are among the most lucrative in the world of eSports, with The International 2016 offering over $20 million in prize money, the biggest in the history of the industry. Elsewhere, the likes of the Asia Championships, StarLadder i-League Star Series and ESL One are among the most anticipated events, with millions of viewers watching from different regions around the world. Meanwhile, the Dota Pit League, Dota 2 ACE, The Summit, and DreamLeague all tend to feature heavily in betting markets, providing the perfect opportunities to bet on your favourite teams.
Dota 2 Teams
Unlike other eSports titles, where certain regions tend to dominate major competitions, the Dota 2 rankings are made up by teams from all corners of the globe, including Europe, America and Asia. The Dota 2 world rankings are currently headed by European superstars OG Dota2, with the likes of Virtus.Pro and Team Liquid closely followed. However, over recent years, there are a few teams that have stood out from the rest when it comes to major tournaments, earning some staggering amounts of money in the process. Below are the top 5 most successful Dota 2 teams of all time:
LDG Gaming – Currently ranked 6th in the Dota 2 rankings, the Chinese outfit are one of the names most associated with the game. Recent successes may have been limited, with a fourth-place finish at the Manila Masters as good as it has got, however performances at The International, among other tournaments, in the past has seen them amass almost $5 million in winnings.
Vici Gaming – Another Chinese powerhouse comes in the form of Vici Gaming, a team who have always risen to the occasion when it comes to some of the major Dota 2 events. Having narrowly lost out to Newbee in the T14 Grand Finals, they again finished as runners-up at the Dota Asia Championships. While they too have struggled of late, including poor performances at the Manila Major, Vici Gaming have earned around $5 million in prize money to date from Dota events.
Newbee – Having beaten Vici Gaming in the final of The International 2014, which earned them $5 million alone, Newbee have gone down in Dota history. Despite failing to follow up such a success, an experienced roster ensures that they are always a team to contend with come major events. Total winnings of over $7 million certainly justify this.
Wings Gaming – With over $9 million worth of winnings to their name, along with 17 successes at Dota 2 tournaments, Chinese team, Wings Gaming, sit second in the list. Despite also being incredibly inconsistent, they produced an excellent run at The International in Seattle, their biggest achievement to date.
Evil Geniuses – North American team, Evil Geniuses, may currently sit back in fifth in the world rankings, however they are the most successful team in Dota 2 history when it comes to earnings. Having finished inside the top three at three consecutive tier 1 tournaments, along with a stunning victory at the Dota Asian Championship, they have racked up winnings of almost $14 million.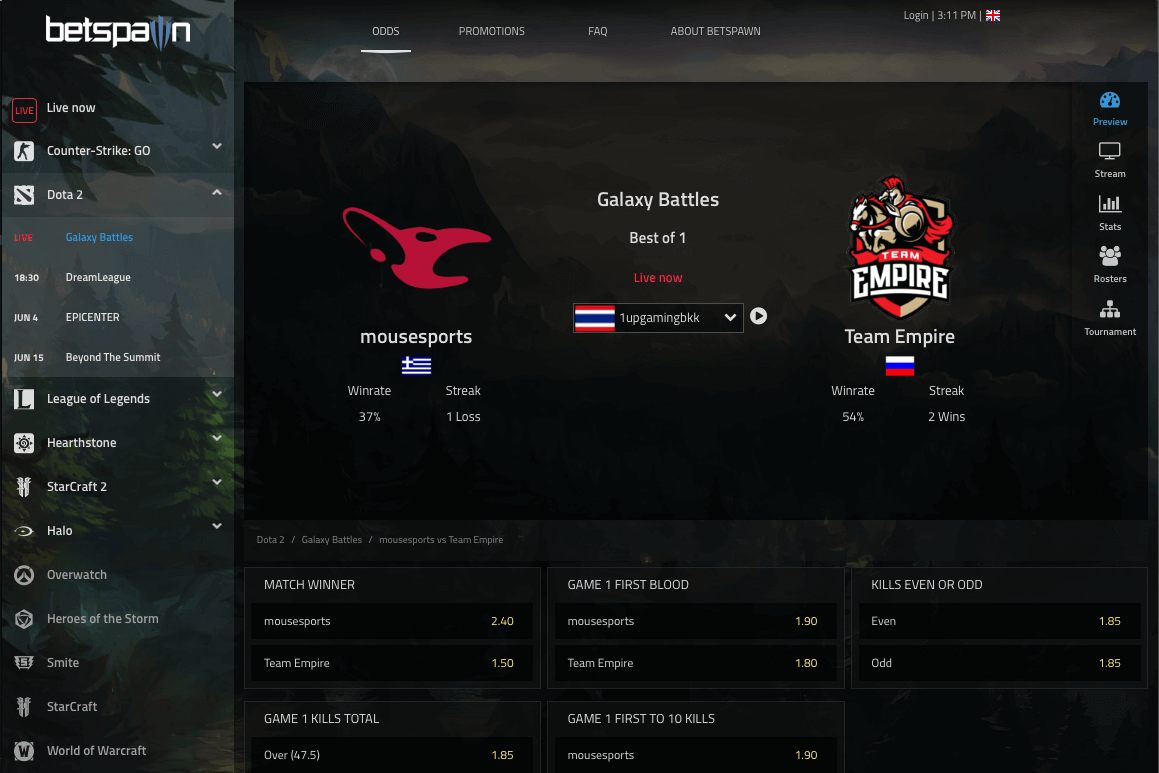 5 Dota 2 Betting Tips
Given the unpredictable nature of Dota 2 matches, along with the amount of different markets available to customers, it is important to take on as much advice as you can before placing any bets. Below is a list of five of the most important tips when it comes to backing Dota 2 teams online.
Look at recent match history
You will often see the top teams go on long unbeaten runs, with huge amounts of confidence being gained by going on a winning run. There are a whole host of outlets where recent match history can be located, which will undoubtedly aid your betting strategies when it comes to Dota 2. A team that has lost their last four matches are rarely going to be worth backing, whereas a team in the middle of a winning streak are often among the favourites in Dota markets.
Keep an eye on new patches
New patches within Dota 2 often bring about heroes and strategies, which can in turn effect match results. Teams that had previously been struggling can quickly see their fortunes turn, should the meta games suit their style of play.
Roster changes
Dota 2 teams are constantly changing their rosters in order to try and improve their performances. As a result, you should also keep up-to-date with changes to team's rosters, with stand-in players often taking the place of more experienced regulars for certain tournaments. Most teams will look for roster changes after a poor showing in a particular match or tournament.
Think about the long-term
Upon registering with a bookmaker, it can be very easy to place a multitude of bets on your favourite Dota 2 teams. However, it is important to keep betting to a sensible level, ensuring that you always have something left in your account for another day. If you know that a major Dota event is coming up in the near future, be sure to wait for it, rather than backing teams that you know little about.
Avoid the favourites
Given the success rates of the top Dota 2 teams, bookmakers tend to offer them very low odds. As a result, earning rewarding amounts of money off such teams can be a long and arduous process. This is especially valid during events that stage best-of-one matches, with even the top teams being left with no time to recover from a poor start to a match. Should your selected team come out on top, the returns are still going to be relatively low.
Dota 2 Betting FAQ
Here we will provide answers to some of the most commonly asked questions when it comes to Dota 2 betting, ensuring that you are fully ready to embark upon your new pastime.
What is Dota 2 betting?
Along with other eSports titles, Dota 2 is relatively new to the world of sports betting, with customers now able to bet on teams in tournaments around the world. Based on the increasingly popular Dota 2 game, markets are created by bookmakers, with odds offered being reflected by the stature of the teams involved, along with the likelihood of certain events occurring during matches.
Where can I bet on Dota 2?
A whole host of bookmakers and websites now offer real money wagering on Dota 2, each of which range in terms of markets offered, live streaming and odds. You can select from a wide range of traditional sportsbooks, along with more modern, dedicated eSports sites. Check out our operator reviews for more information.
Where can I watch live Dota 2 matches?
Live eSports action is becoming more and more common on a whole host of streaming platforms, with the likes of Twitch, YouTube, Facebook and Twitter now showing high quality action, including Dota 2 matches from major tournaments.