Types of Horse Racing Bets
There are mainly two types of horse betting: Straight wagers and Exotic wagers. If you are a newbie, it's better to stick to the straight wager. They are simpler to navigate, and you don't need a lot of money to bet. Basically, in straight wagers, you pick a horse you think is going to come at the first, second or third place. For most tracks, the minimum bet to place for a straight wager is only $2.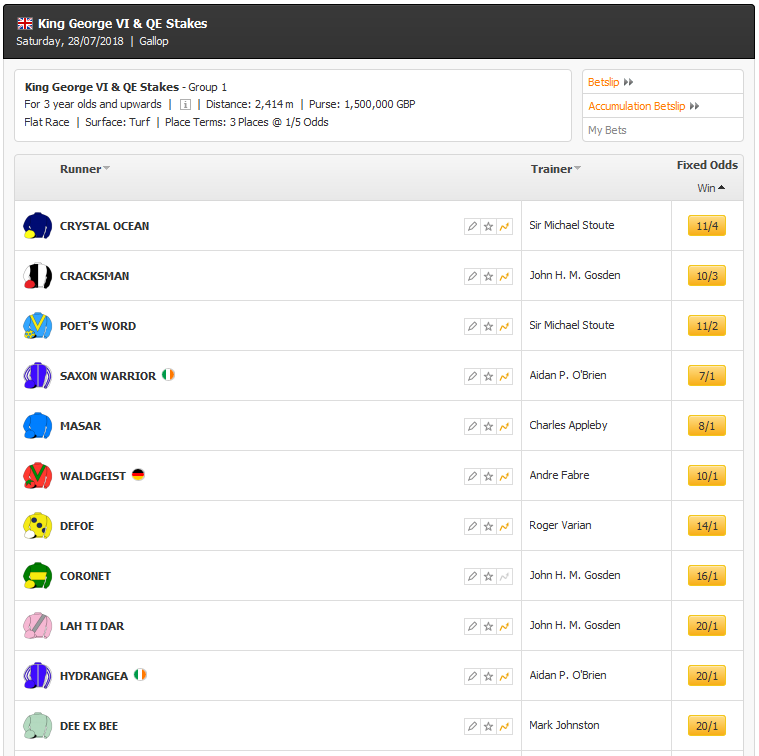 Exotic wagers, on the other hand, is a bit more complicated in nature. You need to make multiple bets on multiple horses with a single wager. Generally, exotic wagers are harder to win than straight wagers. You need to know about the horses' skills and past performance record. You also need to bet more than $2. For obvious reasons, the payoff for exotic wagers is much more than straight wagers.
Let's talk about these two categories in detail to draw a better picture.
Straight Wager
With a straight wager, you will bet on only one horse in a single track. But depending on their position, there are many different sub-categories.
Win
In this case, you bet on one horse you think is going to come in the first place. You will get to collect the reward if the horse finishes first.
Place
When you bet with a Place, you are betting that your horse is either going to come in First or Second in the race. You get to collect the reward if your horse finishes at either first or second place. The payoff for the Place bet is slightly lesser than the Win bet. This is because you are taking a lesser risk here, as placing in the top two spots is getting you a payout. But for a complete newbie, this is better than Win. In horse races, it can get pretty unpredictable, and even the best horse out of the race might finish second at the very last moment.
Show
In the Show bet, you are betting your horse to come in the first, second or third position. You have a higher chance of winning here since you are taking an even lesser risk than Place. The payout, hence, is also lesser than a Win or Place bet.
Across the Board
Across the Board is the combination of the three mentioned above. Its 3 different bets combined into one, hence it's also called Combo Straight Wager. Because you are placing 3 bets as one, it's more expensive than the other 3 types. For example, a $2 across the board wager will cost you $6 to place the bet, as you are essentially placing three $2 bets. You might be confused about how it all plays out but it's actually relatively simple. If your picked horse comes at first place, you win all 3 bets, as in Win, Place, and Show. If it finishes 2nd, you win the Place and Show bets. If it comes 3rd, then you win only the Show bet. Across the board are not actually the best kind of bets as they are expensive, and the profit potential is lesser than that of the individual bets.
Win/Place or Place/Show
As you can probably already guess from the title, this is also a combo bet of the previous three. You are also placing multiple straight wager bets in a single one. In the Win/Place bet combo, you are betting your horse on Win and Place bets. If the horse finishes 1st, you get both Win and Place money. If the horse comes at the 2nd place, you win only the Place money.
In the Place/Show bet, similarly, you are betting on your horse to win the Place and Show money. If your horse finishes at 2nd spot, you get the Place and Show money, and for 3rd place, you only get to collect the Show money. In case of multiple wagers like these, you are placing more money than you would on a single bet. A $2 Place/Show bet is actually going to cost you $4 as you are betting $2 each on the Place and Show bets.
Exotic Wager
With Exotic wagers, you can place bets on multiple horses with a single bet. This means your profit potential has now increased. But they are harder to win when compared to Straight wagers. They are also more expensive so you need to be careful before placing the bet. You need to have prior experience of seeing the horses race in the track before. If you don't have any clue about the race, don't place a bet on an Exotic wager. Only try your luck with Exotic wagers once you have played some with the straight wager bets.
Exacta
First of all, we have this sub-category. In this case, you are betting on two horses to come in the 1st and 2nd places in that order respectively. So you are making not one prediction, but two. And you can only get the payoff when both of your predictions come true. Exacta bets are hence expensive, as you are putting on twice the money than you would in a straight wager. A $2 Exacta bet will cost you $4 in total as you are placing bets on two horses.
Quinella
This is similar to Exacta, but the main difference is that in Quinella, you are not predicting the order. You will place your bet on two horses you believe will come in the top two spots. The Quinella bet is also cheaper than the Exacta bet. Instead of placing $2 bets on each of your two horses, you can place $2 in total. The payout is hence, definitely lesser than the Exacta bet.
Trifecta
You will place bets on 3 horses in this case, which you believe will finish at first, second and third places in the correct order. So you are predicting for 3 different horses here, not one. If you place a $2 trifecta bet on horses 2-5-7, you can only collect your money if the horse 2 comes in 1st, horse 5 in 2nd and horse 7 in 3rd positions.
You can alternatively box your trifecta bet, meaning you can choose to place your bets on the three horses as a package, rather than individual places. This means now your chosen 3 horses can come in the 1st, 2nd and 3rd places in any order and you will still get to collect the money. Boxing the trifecta will, however, increase the cost of the bet as there are many combos possible. A $2 trifecta boxing bet will cost you $12.
Superfecta
In the Superfecta bet, you place your bets on 4 horses to come in the exact order in the 1st to 4th spots. With an additional cost, you can choose to box the Superfecta bet. The minimum betting amount is only 10 cents in many tracks, which is why this is a very attractive offer.
---
How to Place your Bet?
Now that you know all about the types of bets and how they work, let's learn how to actually place a bet. If you are a beginner going for your first horse race betting, this will surely be useful to follow.
If you are on the track in person, only deal with the human tellers. The automatic tellers will almost always have long lines. There's also a chance of missing out because of someone making multiple wagers with no clue about how to work the computer. You also run the risk of messing up your bet by pushing a wrong button. Human tellers, in general, tend to be much faster, precise and friendly.
When you go up to the human teller, have your money in your hand. Things are going to move fast from here. You don't want to be holding up the line, looking into the depths of your wallet for 2 bucks. Once you reach the end on the line, let the teller know about the track and number, how much you want to bet and in what type of bet. Lastly clearly mention the horse's number.
The teller will now take your money and give you a ticket. Make sure to keep it safe as you will need this piece of paper to collect the money you win later on.
---
Strategies to Win
Now that you know all the essentials to go to a horse race and bet your money, let's talk strategies. You can go to horse racing for fun and just put your money to whichever horse you think might win, but to win real money, it's important that you strategize. There are a bunch of strategies that the pro bettors follow to win at horse racing bets. Based on these strategies, you can up your chances of winning as well.
Recent Winner Strategy
As the name itself suggests, you will bet on the winner from most recent past races. Check the form of the horses which are taking part in the race and see if they've won any in recent tracks. Any horse that's been a winner in the recent past also carries a stronger chance of winning the next. You can find this information for free online. Hence this is actually a pretty easy strategy to use. But know that you won't be able to place very high bets on the recent winners. So this will be a relatively safe bet to place. If you want to enjoy your bets, even more, there are other strategies to follow.
Horse and Jockey Partnership Strategy
For this strategy to work, you need to find a horse that's finished at the 2nd spot in its previous race. The catch is that the jockey has to be the same in these two races. The idea is that the jockey now knows about the strengths and weaknesses of the horse, so there's a fair chance of it coming at 1st place in this track. You have to a bit of research here, but it's relatively simple to find out from online or horse race magazines.
Laying Horse Strategy
This one is rather complicated, especially compared to the previously mentioned ones. To follow this strategy, you need to bet against an outcome rather than betting on one. So basically you are going to bet on a horse which isn't picked as the favorite to win the top spot.
To do so, find a race with 10+ horses participating. Now choose the top 3 favorites from the list. Check out the individual odds of these horses' winning. Pick the ones with odds between 2/1 and 4.8/1 and bet against the one with the lowest odds. Based on statistics, this strategy can get you a winner a whopping 80% of the time. This works because the top 3 favorites will only win 17% of the time, with odds as mentioned. So on average, you get an 83% chance of winning by betting like this.
Beaten Favorite Strategy
This is when you bet on a horse that has lost its recent race but has been a winner in its previous tracks. This is a still a good contender for placing at the top spot. But the bookies will likely overlook this, and you will have a higher payoff for the win. Your chances are unpredictable here, but if you win, you get a bigger payout than you would be betting on a favorite.
---
Major Events
The major events for horse racing bets in the coming months are:
Ireland, County Kildare
The race track is 1 mile long with 4 furlongs on turf. Leading winner is Morny Wing with 6 wins.
King George VI and Queen Elizabeth Stakes 
UK, Ascot
This started back in 1951, and many alumni go on to race in Paris. This is a track of 1 mile with 4 furlongs.
Prix de l'Arc de Triomphe 
France, Paris, Longchamp
This was first run back in 1920. Leading winner is Frankie Detroit with 5 wins in this 2,400M race.
Australia, Flemington
The Melbourne Cup is known as the 'Race that stops a nation'. This high-value race is considered one of the highlights of Australian sports.
Horse Racing Betting FAQ


How are the payouts calculated in the horse racing bets?
Payouts depend on a $2 wager. You need to multiply the odds times $2 and then add the $2 wager back, to get your final payout figure. For example, #7 is 6-1, so 6 x $2 = $12 + $2 = $14 payout. For odds other than X-1, convert the odds to decimal and do the same math.


What do they mean by odds in horse race betting?
For example, if the odds is 9/4, it means for every 4 units you stake, you will get 9 units plus your stake if you win. If the odds are the other way around such as ¼, it's an odds-on and it means the horse is a favorite.


How is the Trifecta payout calculated?
This is done by dividing up the pool of money from the community bet in the amount of correct $1 bets. So if you have a $7 trifecta bet, it means you will get 7 shares from the winning bet pool.
---
Racing Tips
Check Going Reports: Check on the grounds. Very few horses will excel on a heavy ground. A sudden change can definitely change the dynamics of a race.
Study: Study the jockeys along with the horses. Your selection should have a decent form in recent tracks with a similar distance and ground.
Keep Records: Keep track of your investments if you're any serious about this.
Keep Up-to-date: Follow horse racing on a regular basis to get useful information.
---
Top Operator | The Best Horse Racing Betting Site

Like all things, horse racing bets are available online as well. Here are some websites:
William Hill
Another site for betting on horses. Similar to BetBright, you get all the features to win from your home. There are also many offers available to get bonuses.
---
Final Thoughts
Horse racing betting can be an exhilarating and fun game to bet on. Do your research and study the strategies if you plan to win on the tracks.