Best Horse Racing Betting Sites


Horse racing has long been a firm favourite for betting customers, with the excitement and regularity of meetings meaning that the sport attracts interest from all areas. Despite being one of the most popular sports across the globe, it is undoubted that the UK is where many of the most historic and famous meetings take place, with a number of bookmakers having looked to get in on the action as a result. Wagering is now synonymous with the sport, with backing your favourite runners and riders having become second nature to many.
Best Horse Racing Betting Sites
With our article you will become familiar with everything surrounding wagering on horse racing, it is time to look at some of the best options around for those looking to kick-start their betting strategies involving the sport. From welcome offers and odds to live-streaming and usability, the following sites have earned a good reputation as a result of their services and features within the industry to date, with all offering something different to potential customers.
BetBright – Our Best Horse Racing Betting Site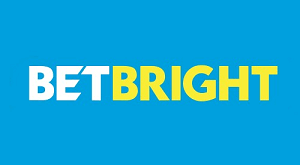 Despite having only been founded back in 2013, BetBright have already made a significant impact upon the industry, with their UK markets particularly impressive. From the off on their site, it is clear that horse racing plays a significant role in their offerings, with both international and UK meetings clearly listed down the left-hand side of the page. Such coverage means that punters are rarely short of options in this area, and even though their relative inexperience means that that sometimes they cannot compete with some of their more well-established rivals when it comes to odds, they more than make up for this when it comes to additional features.
Users at BetBright are able to watch the action as it unfolds thanks to the live-streaming of a huge amount of UK & Irish horse racing meetings, with just a £1 bet required in order to gain access. Meanwhile, the bookmaker also provide useful information surrounding the runners and riders for upcoming races, including form and previous outings on the track. Such statistics can often prove invaluable when looking to separate the favourites for a race. BetBright also show customers whether the odds for a particular runner are shortening or lengthening, which can also provide some form of indication as to their eventual performance come race time.
Betway – Strong Horse Racing Offers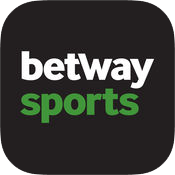 Betway have gained a reputation throughout Europe for being one of the best options when it comes to horse racing markets, despite their betting site not being one of the more visually pleasing around. Betway effectively utilise a simple user interface, where "Next Off", "Today", "Tomorrow" and "Ante Post" tabs make it clear as to how punters should locate their preferred markets. Despite not having offering as many markets as other major bookmakers, Betway are able to compete when it comes to odds, with their best odds guaranteed promotion meaning that customers will get the best price on their selection, no matter when bets are placed. Elsewhere, while Betway do offer live-streaming surrounding the sport, their offerings are unfortunately limited in comparison to the likes of RaceBets and William Hill. However, for those who do not require such a feature, Betway excels in the majority of other areas.
William Hill – The Classic in Horse Racing


William Hill are perhaps the most recognisable bookmaker around today, with their history and tradition having helped to attract a huge number of new customers over the years. The British bookmaker offer a wide range of features when it comes to horse racing too, with specials, an A-Z of horses and jockeys and live-streaming making them a viable option for virtually any potential customer. Upon entering their horse racing page, customers will be greeted by all upcoming races, as well as any relevant promotions that might be worth taking advantage of at that time.
Despite the William Hill site having rightly been accused of becoming too cluttered over recent times, their betting platform is still easy to use, with all future races and other relevant information easily accessed at the top of the page. As well as this, punters are able to watch action from all UK & Irish races, as well as a large number of meetings from across the pond thanks to their Betting TV feature. The popular bookmaker also offer one of the largest offerings when it comes to the type of bet available also, which means that more unique betting strategies can be adopted here.
Paddy Power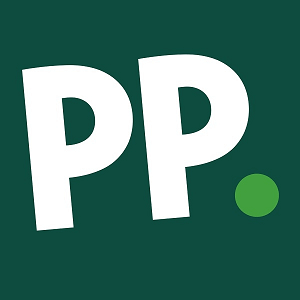 As an Irish bookmaker, it perhaps comes as little surprise that Paddy Power have long been considered one of the best platforms for horse racing fans. Users will be delighted by the odds available on a large percentage of markets, with punters having the option to back their favourite runner and rider with an outright win, each-way, forecast, reverse forecast or tricast wager. Their betting site is also one of the best when it comes to the ease of use, with their recently revamped platform making it quick and simple for users to navigate between markets. Their designated horse racing page also makes it easy for customers to view all upcoming races, as well as any specials that they may be running at the time. Paddy Power also offers best odds guaranteed on all UK & Irish meetings, while also generally offering a better starting price than the majority of their competitors. Coupled with the fact that they also provide live-streams of a large number of races and money-back specials on selected meetings, it is clear to see why more and more racing fans are gravitating towards this bookmaker.
Whether it be backing your pick to win outright at Cheltenham or with an each-way bet at Aintree, there are almost endless options when it comes to wagering on horse racing. However, some betting sites are certainly better than others in this area, whether it be surrounding the number of markets available, the live-streaming of races or in-play opportunities. As a result, it is important to find the bookmaker that best suits your needs, with not just the odds available now separating the weak from the chaff. Before we take a look at some of the best bookmakers around when it comes to horse racing, let's first focus on the criteria involved when making your selection.
Benefits of Top Horse Racing Betting Sites
As previously mentioned, it is now more important than ever to find a betting site that best suits your needs when it comes to wagering online. However, this notion is even more enhanced when it comes to horse racing, with a number of bookmakers operating differently surrounding the sport. As a result, the following are just some of the factors to consider before registering with a bookmaker, which these benefits almost certain to make your wagering experience all the more enjoyable and successful.
Markets – Despite many within the UK sticking to home-based horse racing meetings when it comes to horse racing betting, there are of course a wide range of regions that offer high-quality action. Whether it be from the US, Australia, France of South Africa, be sure to research the depth of markets available with a particular bookmaker before signing up. Meanwhile, for those UK specialists, it is also important to ensure that your betting site does not only cover major meetings from the likes of Cheltenham, Aintree and Kempton, with more regional offerings often bringing about larger potential earnings.
Odds – When it comes to horse racing, many bookmakers will now offer best odds guaranteed on their site. However, this still does not mean that you are getting the best odds around. As a result, be sure to compare the odds between sites beforehand, with even a small difference sometimes significantly effecting winnings.
Interface – With more and more people placing horse racing bets online nowadays, the ease at which punters can do so is also likely to have a significant impact on where they do so. The ability to quickly and easily move between markets and access your favourite selections is key, especially if your bookmaker offers in-play horse racing markets, where time is everything.
Bonuses & Promotions – While this shouldn't be the most important factor to consider when looking for a new betting site, a generous welcome offer or horse racing specific promotion can certainly effect your wagering strategy. Many bookmakers now offer promotions such as best odds guaranteed and final fence insurance, as well as potentially lucrative welcome bonuses, in an attempt to attract interest from potential customers.
How Does Betting on Horse Racing Work?
Despite wagering on horse racing being one of the most traditional forms of betting around, many are still unfamiliar with some of the finer details involved. For those new to the sport or looking to gain a better understanding, let's take a closer look at some of the key points to consider when placing a bet on horse racing.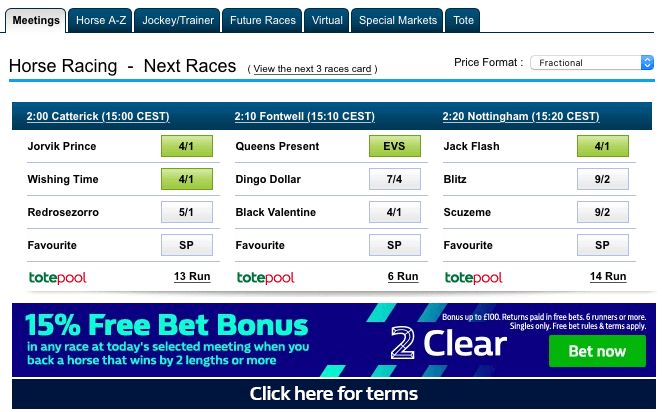 One of the first things that you will notice when viewing horse racing markets with your bookmaker is the amount of different options that are available. As a result, developing a horse racing betting strategy is perhaps more important than with any other sport. The simplest form of bet on the sport is simply to back a particular horse to win, often referred to as "betting on the nose2" within the industry. Meanwhile, if you are not so confident or if there is a large field for a particular race, you can opt to back a horse with an each-way bet. Such a wager is effectively betting on them placing come the end of the race, with the scope depending on the bookmaker itself. Depending on the number of runners within the race, this can range from the top two to the top five. The favourite to win the race will be offered the shortest odds by the bookmaker, while outsiders are given the highest odds, whether it be due to inexperience or the type of track in which they are competing on.
Elsewhere, a placepot is another form of betting on horse racing, where a placed horse must be selected in all six races, including a treble consisting of three selections, a tricast, where the customer picks the first three finishes in the correct order, or a yankee, a multiple bet featuring six doubles, four trebles and one four-fold accumulator. Meanwhile, handicap racing has become increasingly familiar in recent years, which is where the best horse is offered more weight than its competitors in order to offer a more even playing field.
As a result of all this, it is important to find the betting site which offers the best odds and markets for the type of bet in which you intend to place, whether it be odds on an outright win or the number of places allowed for an each-way bet.
Best Horse Racing Betting Sites: Conclusion
There is certainly plenty of food for thought when it comes to betting on horse racing, however you should now have a much better understanding of just why some platforms are better than others, as well as the site that potentially best suits your wants and needs. Those bookmakers who offer useful statistics and information regarding runners and riders are certainly worth considering for serious gamblers, while those who offer live-streaming are perhaps more suited to recreational punters.