How to Choose the Right eSports Bookmaker
When you first start out betting on eSports, your first port of call will be to select the right online bookmaker to suit your wants and needs. From traditional sportsbooks, to dedicated eSports betting sites, the number of bookmakers offering eSports is rapidly increasing. There are a whole host of factors that will affect your decision, with bonuses, odds, customer services and live streaming features all potentially contributing. However, the best way to select a bookmaker is by taking into consideration some important factors in relation to eSports betting platforms. Despite eSports betting still being in its relative infancy, it has come on leaps and bounds over recent years, with the number of bookmakers providing content only set to grow in the near future. However first of all, we must learn about what a bookmaker actually is.
What is a Bookmaker?
Bookmakers are organisations offering and processing bets within a range of different markets, with pre-agreed odds being agreed between both parties. Having previously become popular thanks to sports such as horse racing and football, eSports is now an industry which features heavily among a variety of bookmakers, with a range of bets available. Nowadays, the majority of customers will take advantage of online sportsbooks, with all markets and odds readily available at a clear and concise platform. When it comes to eSports, the variety of markets available will differ from bookmaker to bookmaker, while some will specialise in a particular area of wagering.
Factors to Consider When Selecting a Bookmaker


When choosing the right bookmaker for your eSports betting, you should consider two key factors. Is it the right bookmaker for you, and do they offer promotions that might support you in your quest to add to your income. Factors to consider include the odds offered, trustworthiness, markets and bonuses, all of which can help you to enjoy the whole process, as well as betting successfully. Let's take a look at some of the most important areas to consider before signing up with a bookmaker:
Bookmaker Margins
Undoubtedly the most important factor to consider initially is the betting markets found at different bookmakers. This is the factor that will determine how much you make from successful bets, and although it can be a difficult area to research, it will be worth it in the long run. In short, if one bookmaker is running at 110%, while another is at just 105%, it makes more sense to go with the former. In order to calculate the betting margin, you need to take into account the odds for all possible outcomes within a market. Selecting a bookmaker with high margins will pay off in the long run, with anyone serious about eSports betting likely to place multiple bets over time, with margin eating into potential profits.
Bonuses & Promotions
While welcome offers can often be overrated when considering which bookmaker to register with, the bonuses and promotions provided can be both generous and potential lucrative. With welcome bonuses ranging from 100% matched initial deposits to free bets of up to £50, such promotions can provide the perfect platform for which to begin your eSports betting on. Terms and conditions will invariably need to be met before withdrawing any potential winnings, with certain odds and number of bets tending to be utilised by bookmakers. While welcome bonuses and ongoing promotions are certainly welcome when received, they are not the be all and end all, with value within eSports markets far more important. Also remember that bookmakers offering bonuses that appear too good to be true often will be. Reputable bookmakers will be unable to sustain such substantial give-aways, with the most popular platforms generally offering limited bonuses.


Customer Service
There is nothing more frustrating than waiting for extended periods for a bookmaker to come up with a solution to resolve a problem surrounding betting on eSports. As a result, selecting a bookmaker that has a good reputation for customer care is another important consideration. Before opening an account, check out the customer service features available on the site, with telephone, email and live chat among the most effective in the industry. Before registering with a particular bookmaker, contact their customer service team, in order to gain a sense of their response times and helpfulness. It is also worth bearing in mind where a bookmaker is located, with many potentially not having English as their first language when it comes to customer service.
Mobile Betting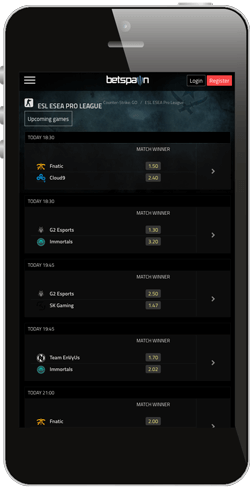 With the amount of eSports matches taking place on a daily basis, there will be certain times as to when you are not able to access your bookmaker via your computer. As a result, researching the mobile capabilities of different platforms is also key when making a decision. Whether it be a dedicated mobile app or mobile friendly site, the ability to bet on eSports action on-the-go is always an added bonus. Some bookmakers will even accept bets over the phone, however smartphone and tablet betting is generally preferable.
Additional Features
When selecting a bookmaker, the majority of us will look primarily at eSports betting markets and odds. However, there are a number of other features which can significantly effect a decision, including live-streaming, in-play betting and enhanced odds. The ability to simultaneously bet and watch high quality matches from the world of League of Legends and Dota 2, among others, has quickly become a favourite pastime among eSports customers. While live eSports streaming is not something in which a whole host of bookmakers currently offer, it is certainly an attractive proposition with those that do. Watching a match means that you can quickly take advantage of any changes to the score line, as well as gaining a better understanding of how the involved parties are performing. Meanwhile, in-play betting offers the opportunity to wager on a whole host of markets during an eSports match. The opportunity to back your favourite LoL, Dota 2 or CS:GO team to come back from a losing position or continue their dominance will often provide more attractive odds, with markets such as first blood, first to 10 kills and correct score all available. Finally, many bookmakers will often offer enhanced odds for major eSports events, including DreamHack, LoL World Championships and Dota 2 Asia Championship. This means that while many of the top teams are often offered short odds throughout the season, during this period, more appealing odds are available.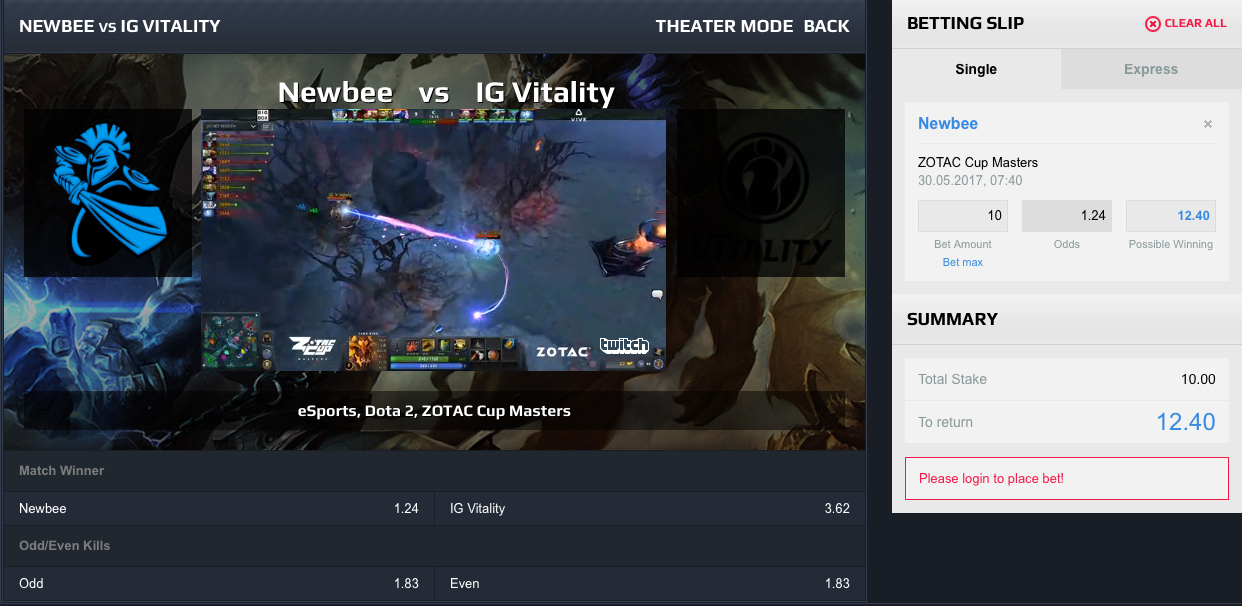 Banking Options


While the majority of bookmakers in the modern era offer a wide range of options when it comes to both depositing and withdrawing money, it is important to know that they can cater for your preferred method. Whether it be traditional credit and debit cards, or more modern e-wallet style payments, check out transaction times, as well as the cost of making them. Ultimately, you will want to have any winnings transferred into your bank account in the quickest possible time, with certain banking methods taking longer than others.
Betting Limits
Different bookmakers will set both minimum and maximum stakes when it comes to betting on eSports, and although they are likely suit the requirements of most recreational punters, it is still important to understand them, especially for those looking for major profits. Some bookmakers may even limit your earnings should you start to become too successful for their liking, and with eSports relatively new to the betting industry, some platforms are still erring on the side of caution when it comes to pay-outs. So, for those who do not want to find themselves in a position where you are being restricted in terms of wagering of withdrawals, find a bookmaker that can cater for your needs in this area.
Having taken on board all of this advice, you should now be in a position to select a bookmaker that is near-on perfect in terms of fulfilling all of your desires when it comes to betting on eSports. Be sure to check out our individual operator reviews, which provide an in-depth breakdown of many of the major players within the industry. Remember to take your time in making this decision, as well as understanding that you are free to utilise as many betting platforms as you wish. Whether it be odds, bonuses, customer service or reliability in which you are most focused upon, given the growth of the market in recent years, you should be able to find a bookmaker to meet your demands.