Counter Strike: Global Offensive (CS:GO) Betting


Counter Strike: Global Offensive (CS:GO) is a multiplayer first-person shooter video game developed by Hidden Path Entertainment, that has quickly become a mainstay on the eSports scene. As the fourth game in the Counter-Strike series, released back in 2012, the game pits two teams against each other, the terrorists and counter-terrorists. By the time the fourth version of the game was released, its creators had turned it into a full-fledged game, with Counter Strike: Global Offensive now played by millions.


With six game modes in total, CS:GO has proven to be a huge hit with gamers, both in the playing and gambling markets. Major events, including the DreamHack Masters and ESL Pro League now attract audiences of millions from different regions throughout the world, with last 2016's World Electronic Sports games offering a total prize pool of $1.5 million. With teams such as FaZe Gaming and SK Gaming regularly battling it out for the top CS:GO prizes, betting markets have seen huge growth, with any number of bookmakers now offering bets on matches. In this piece, we will provide readers with a much clearer understanding of the game, as well as how and where you can bet on CS:GO matches.
What is Counter Strike CS:GO Betting?
Counter Strike: Global Offensive is now one of the leading eSports games around, having grown significantly over recent years thanks to its variety. As a result, it comes as little surprise that bookmakers have been just as quick to notice the potential of the game in terms of betting markets, which has helped to revolutionise the industry. Whether you are a CS:GO player yourself or not, the opportunity to both place and win real money bets is something not to pass up on. Even if this is the first time you are hearing about the game, if that is possible, there are now a whole host of platforms for you to choose from, and with our help, you can quickly find yourself in a position to add to your bank balance. Although the amount of markets and types of bet available will depend on the bookmaker, stature of the CS:GO event and teams participating, favourite markets to date include the ESL One and ELEAGUE Major, where teams such as Fnatic and Astralis have come out on top in the past. With over 250,000 eSports fans tuning in to such events, betting on CS:GO is only set to increase.
Where to Bet On Counter Strike CS:GO
There are now numerous online bookmakers battling it out in order to secure the services of new CS:GO customers, in the shape of traditional sportsbooks and modern eSports dedicated sites. With all being fully licensed throughout most regions, it can be extremely difficult selecting the right platform to suit your CS:GO betting needs. With the likes of Betway, Ladbrokes, William Hill and Ladbrokes all having different advantages and disadvantages surrounding their services and features, it is important to spend some time researching this area. With markets, bonuses and promotions, odds and live streaming all potentially swaying your final selection, our operator reviews can provide a helping hand here. Especially given the fact that many choose to focus more upon the likes of League of Legends and Dota 2, given their standing within the industry, you will want to ensure that your bookmaker provides enough CS:GO opportunities on a regular basis.


Type of Bets in Counter Strike CS:GO
Due to the nature of the game, betting markets within Counter Strike: Global Offensive tend to focus mainly around the team/player aspect of the game. This means that a whole host of outright betting markets are available, where you can be on the winner of individual matches and tournaments. Meanwhile, during extended tournaments, such as ESL Pro League and Intel Extreme Masters, which contain both group and knockout stages, the opportunity to back teams to make it to a certain stage of the event will often arise at many bookmakers. You can even bet on the success on certain regions or nations, for example backing a European team to win the StarLadder i-League Star Series. Given the way in which the CS:GO world rankings currently look, with the top 10 made up of European, American and Brazilian teams, this is often a market in which attractive odds can be found.
Handicap Counter Strike Betting
Handicap betting within CS:GO is becoming increasingly popular, which is often utilised in order to counter a perceived bias in ability between two teams. As a result, bookmakers offer a handicap of points/maps in order to level the playing field, as well as making it more exciting for customers. These points or maps are added to the game's final score, with the winner then determined. Taking advantage of such a bet within CS:GO is best carried out during a best-of-three series, with any potential overtime also being taken into consideration. For example, backing Cloud9 at -1 means that they will need to win by 2 clear points or maps in order for your bet to come in.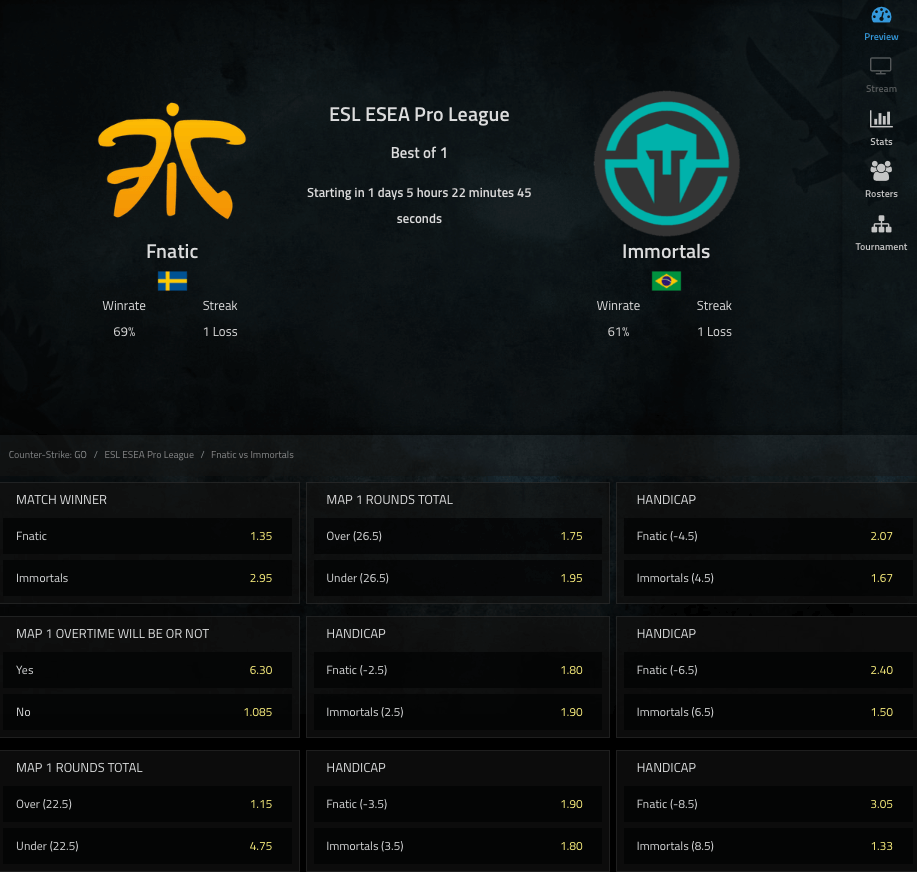 Pistol Rounds
For those looking to gain a better understanding of the game, Pistol Rounds are undoubtedly one of the most important aspects of CS:GO. Teams that come out on top during pistol rounds are at a major advantage when it comes to the latter stages of matches, with the first team to win 16 rounds winning the overall battle. By winning both pistol rounds, CS:GO teams can quickly find themselves 6-0 up in a match, which is pretty tricky to recover from. So, as you are potentially backing teams such as SK Gaming and Fnatic with your hard-earned cash, understanding this area of the game is key. Pistol Rounds are notorious for their unpredictability, with many bookmakers two bets during this period.
Counter Strike CS:GO Teams you can bet on
Despite Swedish players generally dominating the competitive CS:GO scene, reportedly earning almost 50% of all winnings in recent years, the gap between the top teams is relatively little. Although betting on the world's best CS:GO teams is unlikely to earn you substantial amounts in the short-term, in the long-run it is definitely a clever strategy to adopt. At the time of writing, the Counter Strike: Global Offensive rankings look like this:
FaZe Clan – Having originally been assembled as a group made up of fan favourites, FaZe Clan have evolved into one of the world's leading CS:GO roster, which is made up of players from all around Europe. The team recently added the well-known "Karrigan" to their team, who's tactical knowhow has helped get the best out of the rest of the roster.
SK Gaming – Brazilian team SK Gaming have gone from the virtually the bottom of the ladder to the top, having won the ESL One Cologne back in 2016, as well as backing up this success with victory at the IEM Sydney in 2017. The likes of "FalleN" and "fer" help to make up one of the most formidable rosters in the ELEAGUE Major.
Astralis – Danish team, Astralis, have proven themselves to be one of the most consistent teas around over recent years, despite often faltering at the final hurdle. However, having answered their critics by winning the 2017 ELEAGUE Major, they are never a team to write off.
G2 Esports – French outfit, G2 Esports, have recently announced a new CS:GO roster, involving players such as "shox" and "body", which helped them to win the DreamHack Tours 2017, having also won the Esports Championship Series Season 1 the previous year.
North – Another Danish team who feature heavily within CS:GO betting markets is North. They have climbed the rankings significantly over recent times, thanks to two of the industries two best young players. Despite not having a major win to their name as of yet, they are a roster full of potential.
Fnatic – Known as the kings of Counter-Strike, despite recent struggles, Fnatic are a team often backed in CS:GO bets. With three major titles to their name, they will be looking to return to the top of the rankings with a strong showing in the ELEAGUE Major.
Mousesports – With an international roster, made up of players from various European countries, it is "NiKo" that is the main threat in the mousesports team, who is one of the best players in the world on his day.
Cloud9 – North American team, Cloud9, consist mainly of players still existing from compLexity Gaming, with their biggest achievements coming at the iBUYPOWER Cup in 2015 and the ESL Pro League Season 4 Finals a year later.
Gambit Esports – With a squad made up of players from Russia and Kazakhstan, including some of the oldest players on the CS:GO competitive scene, Gambit Esports have seen an upturn in fortunes over recent times, ever since the arrival of "Zeus".
Immortals – Despite often being left in the shadow of compatriots SK Gaming, Immortals have achieved great things over the years, winning the 2016 iBUYPOWER Masters and DreamHack Summer 2016.
Counter Strike CS:GO Tournaments to bet on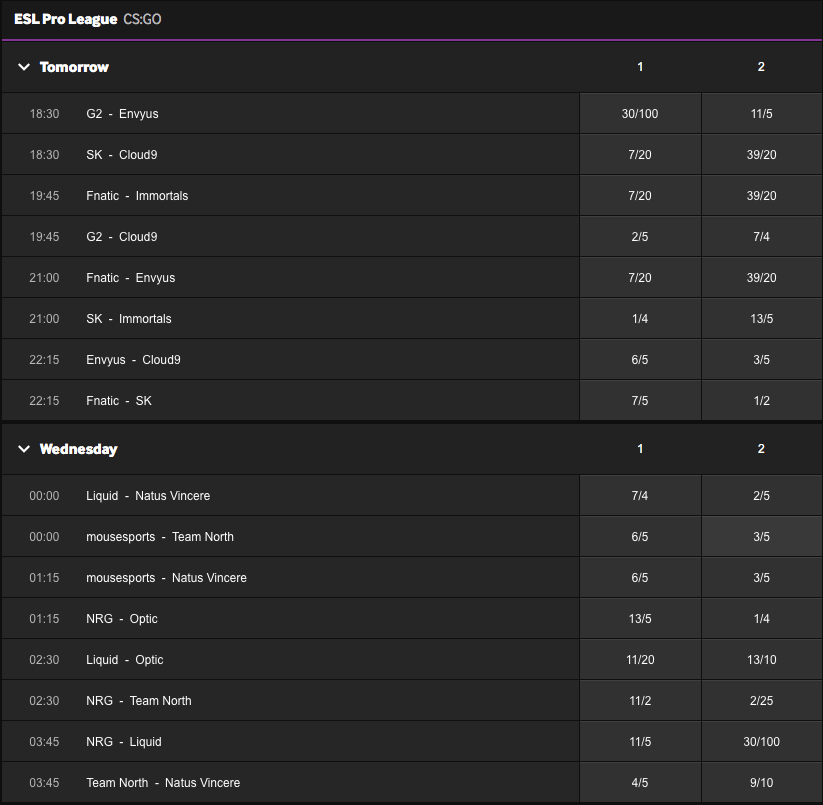 As with a large amount of eSports titles, Counter Strike: Global Offensive receives a huge amount of attention during DreamHack events, which attracts gamers from across the globe. Despite this, tournaments are available at all stages of the year, with the ESL ESEA Pro League, Counter Pit League and CEVO Professional among the most exciting. Despite CS:GO events still substantially behind both Dota 2 and League of Legends when it comes to prize pools, the World Electronic Games, ELEAGUE Major, Esports Championship Series and MLG Major Championship all offer prize money of over $1 million, with the potential for punters to get involved on the action increasing all the time.


5 Counter Strike CS:GO Betting Tips
Whether you consider yourself a seasoned professional when it comes to CS:GO or a relative rookie, taking some important factors into account before placing a bet can often prove to be the difference between winning and losing. With potentially so many factors combining to determine the winner of a Counter Strike: Global Offensive match, take a look at these betting tips before making your selections:
Pace Yourself – Upon registering with an eSports bookmaker, you will be greeted by a large array of appealing markets and odds. However, no matter what your knowledge when it comes to CS:GO, it is important to be patient when it comes to betting. Wait for the right match, tournament or event before placing a bet, meaning that you may go long periods without backing one of your favourite CS:GO teams. Although you may plan to win big quickly, going against this is a sure-fire way to lose cash.
Safe Odds – Although there is a risk element to any bet, staying within a "safe zone" when it comes to CS:GO betting will ensure that you avoid placing bets that have very little chance of being successful. When beginning your CS:GO betting strategy, stick to the most successful teams in order to maximise your early winnings.
Going "All in" – No matter what your account balance shows, always be sure to bet with a percentage of your inventory, rather than splashing the whole amount on a punt that may not provide any returns. Stick to around 20-30% of your balance, allowing more than enough for another day.
Do Your Research – As previously mentioned, CS:GO matches are some of the most unpredictable in the whole of eSports. As a result, giving yourself the best chance of success can be achieved by carrying out research ahead of placing a bet. Factors including roster changes, form, opponents and the tournament involved will also have a significant bearing on the outcome, with plenty of information available online.
Bet Last Minute – Leaving it until the last possible opportunity before placing a bet will also help to improve your chances of success when betting upon CS:GO matches, as you will have all relevant information regarding the match beforehand.
Counter Strike CS:GO Betting FAQ
Here we will provide answers to some of the most commonly asked questions when it comes to Counter Strike: Global Offensive betting, surrounding rules and regulations, betting platforms and CS:GO markets.
What is Counter Strike CS:GO Betting?
Many of the major bookmakers have now introduced Counter Strike: Global Offensive markets onto their sportsbooks, with a wide range of tournaments and events available to bet upon. As with more traditional sports markets, customers are free to bet on teams to win outright matches and tournaments, as well as handicap betting, group betting and teams to reach the final.
Where Can I Bet on Counter Strike CS:GO?
There is now a whole host of bookmakers to choose from when looking to begin placing CS:GO bets, from traditional bookmakers, to modern dedicated eSports sites. Many platforms will offer welcome bonuses in a bid to attract you, however it is also important to look into the odds, markets and customer service provided too. You can view our operator reviews for more information regarding this.
Which Tournaments Are Available to Bet On?
From major events such as the ESL One, DreamHack Masters and CS Summit, to more recent additions to the CS:GO calendar, including the iBUYPOWER Masters and European Minor Championships, the tournaments covered by bookmakers varies. However, given the amount of action throughout the year, you will rarely be short of CS:GO action to bet on.