William Hill Sports Betting App Review
One of the most established names in British bookmaking, William Hill has been a dominant force in the world of online gambling since 1998. With its sports betting app, the brand seeks to conquer the mobile betting market too. William Hill is one of the most recognisable names in sports betting, with more than 80 years of experience in bookmaking. In recent years, the company has cultivated online play, and today mobile and app-based gaming is a key component of the William Hill enterprise. In 2015, mobile betting accounted for 56% of the William Hill Sportsbook turnover, while 41% of all profits for the William Hill Group was generated via its digital and online operations.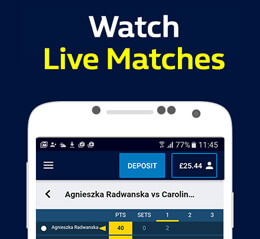 Expertly designed app, and mobile-optimized user interface
Place bets in multiple languages
Stream live events and media content in-app
---
The William Hill App: Overview
In the world of online and app-based gaming, William Hill has greater resources than most with which to build a first class customer experience for account holders. When evaluating any William Hill product, expectations are therefore high. Our review will assess how competently this top flight brand matches those expectations, and delivers an appealing customer experience through its mobile gaming service.
---
Betting, Features, and Facilities


In-App Navigation
The user interface (UI) is designed in a way that consciously reflects the in-browser experience of the desktop user. As such, if you are already familiar with the William Hill betting site, the app does everything it can to make you feel immediately at home in the mobile environment, and navigating the various options is a satisfyingly intuitive affair.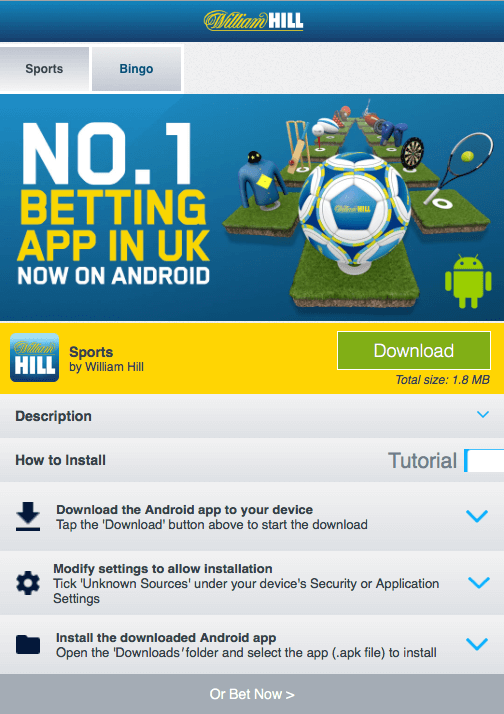 The app itself does not merely render the layout of the website onto a smaller screen, however. It offers users a compacted version of in-browser pages, reformatted and redesigned with touch-screen interactivity in mind. For instance, the home page still displays featured markets and in-play events, as well a various sporting categories.
However, rather than presenting these as a series of in-frame menus, the events are browsed via tabs, and categories are selected from a scrollable carousel. Live betting slips appear as pop-up windows which can be swiped to the right of the screen and held in place before confirmation has been completed. This allows users to hold a wager while they check live odds or even view the streaming media content – without being forced to complete early, or lose any previously-entered selections.
Managing multiple slips proves to be a quick and reliable experience. As one of only a handful of truly international players in the sports betting industry, the William Hill app is consciously global in its appeal. Beyond the many international events and specialist-interest sports that it provides coverage for, the app itself offers in-built translation features for multiple languages, including: English, German, Greek, Japanese, Russian, and Swedish. In an industry where convenience and easy access provides a competitive advantage over other brands, William Hill has taken the lead by catering directly to overseas gamblers in this respect.
Overall, interacting with the app is a pleasant experience. The software has a robust and high quality feel to it: touches are responsive and transitioning between the various elements of on-screen data proves fast and fluid.
Pros and Cons of William Hill mobile
Pros
Very good selection of sports and events
Stream live events
Multiple Languages
Cons
To Many Clicks to Make a Bet
Slow Update of Live Odds
Streaming Content and Live In-Play betting
Many of the larger bookmakers have sufficient resources to stream live sporting events to their customers. While initially seen as a bonus feature, live streaming has now become one of the most popular functions of online gaming for many gamblers. Customers will therefore be pleased to know that the William Hill app features a live streaming service, too. The most impressive feature of the service is its extensiveness: nothing is lost in the streaming service in the move from desktop webpage to mobile app. All of the available content is accessible free of charge to William Hill account holders and, from a technical perspective, the broadcasts are impressive. It is possible to view live streaming footage while continuing to build betting slips and receive live odds updates. While the slowest internet speeds may hamper this part of the service somewhat, even a moderate connection allows every element of the app to load and respond with very little in the way of lag or latency issues.
William Hill live streaming caters to its traditional core sports – racing and soccer – as well as some of the more diverse competitions. Snooker, darts, ice hockey and handball are just some of the specialist interest sports to receive coverage in the streaming service. Account holders can even access selected television shows where betting markets are open: national elections, talent contests, and reality TV can all be found via the app. Every user with a credited account has access to horse and greyhound racing coverage – and the list of domestic race days and world meets is extensive. The top flight football streaming service is also entirely free, but remains somewhat selective in the fixtures that are broadcast.
To be clear: owning a William Hill account does not represent a low cost means of accessing all top flight football. However, it does enhance the live betting experience considerably whenever coverage is available. Live betting on in-play contests relies heavily on responsiveness and, in this respect, the William Hill app is technically proficient and up to the task. Markets update in tandem with the on-air action as it develops. The aim is to allow users the chance to quickly place a bet on the outcome of any specific action, in real time – such as penalty kicks, corners, or bookings – and to be able to make execute these split-second wagers even when timing is crucial. In this respect, the live betting feature works exactly as intended.
Bonuses
There are currently no specific promotions that are exclusive to the William Hill mobile app. However, all of the offers and promotions that are featured on the Group's web page can also be located within the app. Almost all of these offers consists of one of three types of incentive: a new membership bonus; augmented earnings for bets placed on selected special events, and a full refund on certain losing bets. The new members' offer at William Hill rarely fluctuates in its value: when a new account holder places a bet of at least £10, they automatically receive £30 worth of free bets credited to their account. The full amount of this bonus must be wagered at least once within a 30 day period however, or it is forfeited. Equally, not every event or market will qualify in this respect, and new users should understand the terms of their membership bonus to avoid losing any credit.
While the amount (£30) is by no means the most generous joining bonus available today, the requirements for keeping hold of this credit are relatively lenient. New members are therefore more likely to retain some of this bonus money with their William Hill account than would be the case on other betting apps.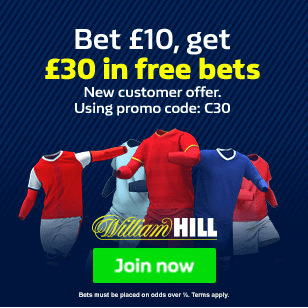 Some of the more popular events in the sporting calendar are selected for additional winnings bonuses. These are usually contests that generate a high volume of betting activity, and events such as the Euros, the Rugby Six Nations, Cheltenham Gold Cup, and tennis Grand Slam tournaments are perennial favourites for this type of promotion.
Events bonuses are paid as a percentage of overall takings: for example, the company offered a 40% bonus on winnings during the 2017 Cheltenham festival. Daily earning limits do apply, however, and any bonus which takes winnings over that threshold within a 24 hour period will be lost. For long term gamblers, many of the most appealing bonuses are not free credit or special earnings, but options that are found within the betting slip itself. These are offers which help to offset risk and reduce losses, and are available any time a customer places a bet. For example, when you lose an accumulator by just a single result, William Hill will return your initial stake. Equally, a successful accumulator reaps a handsome 40% win bonus when the ticket is built from fixtures in certain qualifying events. These are popular features, and provide some level of insurance against loss when executing a high risk betting strategy.
Nice Free bet offer for new Customers
Attractive bonuses for new and existing account holders
Many Odds boosts
---
Membership and Account Information


Operating Systems, Installation, and Compatibility of the William Hill App
The app is an accessible and relatively lightweight (55.6mb) platform. Installation is fast and straightforward for iPhone users: simply locate the free app on the iTunes webstore and download it directly. The current version of the app (Version: 7.5.1) is fully compatible with any model iPhone that runs iOS version 9.0 or later. New customers should note that both Apple and William Hill terms of service prevent individuals under the age of 17 from downloading and installing the application from the iTunes store. The installation process on Android is slightly more complex, due to the Google code of ethics which prevents support of all gambling applications on its sales platforms. Android users will not be able to find an official version of the William Hill app on the Google Play Store itself, even though several support apps are listed. None of these unofficial downloads will allow users to place any bets, however.
Instead, Android users can find the official APK installation files on a number of third party hosting sites. In this instance, it will be necessary to enable permissions for third-party apps in order to complete the install. Customers should always check the veracity of any website which they use to download content from and, as such, none can be recommended unconditionally. Android users who do decide to install the application will find that most hardware is compatible with the software, and any device running Android 4.1.2 Jellybean or later should encounter no difficulties accessing the William Hill service.
Account Creation and Payments
Both account creation and cash transactions can be completed easily within the app, meaning that William Hill customers need never access the service from anywhere but their hand-held device, should they wish. Equally, your William Hill membership is universal, meaning that one account provides full access to all of the Group's facilities on any platform. So you can sign up using the Sportsbook app, and then access the bingo or casino services through the same account, via the website. Membership and payments require only a minimal amount of personal data for each request. Both processes are verified automatically and – in most cases – instantaneously. It took us a little over five minutes to create a fresh account and successfully deposit money into the account via debit card.


William Hill offers secure transactions via one of a number of different payment methods. All major credit and debit cards are accepted, as well as bank transfers and many of the larger digital payment solutions, including Paypal, Skrill, and UKash. Minimum deposits begin at £5, and range up to a daily limit of £99,000, dependant on the payment type. New members should also be reminded that a minimum deposit of £10 is required to secure the £30 joining up bonus. William Hill charges no fees for cash transactions into or out of your gaming account. However, some banks and eCash services will charge their own set fees, and these may still apply. Overseas clients should also note that some regional authorities place limitations on online gambling services. It is not possible for William Hill to accept payments originating from the United States of America, Hong Kong, or Singapore at the present time.
William Hill App: In Summary
There is little doubt that William Hill has produced a competitive, market-leading product with its sports betting app. The wide range of options and the clear, easy to navigate functionality shows that time has been spent making sure the essentials are in place before using resources to add bonus features or extra content. With tens of thousands of individual markets open across hundreds of events, and countless sports and competitions, the app is catering for serious sporting enthusiasts and casual gamblers alike. At the same time, many of the extra features that are on offer are a welcome addition, and executed almost without fault. Live streaming works fantastically well – even on older devices. The desktop experience has been recaptured without the loss of any key features and, in several areas of the service (for instance, when creating a betting slip), the mobile experience is superior to the full desktop alternative. Swipe and touch interactivity provides an improved method of controlling selections and navigating markets, for example. Of the few criticisms levelled at the service, the most common complaints are that it takes too many clicks to complete a betting slip, and that live odds can be slow to update. The effect of both of these flaws becomes more apparent when betting on in-play matches and split second timing is crucial. However, when creating a betting slip in advance the impact of these flaws is negligible. Overall, William Hill offers one of the most robust, secure, and comprehensive sports betting apps on the market today. For clients who enjoy a diverse set of options and the choice of thousands of markets to play at any time, the product will prove an indispensable sports betting tool.