A system bet is a bet where you don't need all of your selections actually to win, or to go in your favour. So they're very different to bets such as accumulators, which if one leg fails, you end up losing. The chance of winning through a system bet is higher as more bases are covered.
Are systems and perms the same?
System bets are commonly referred to by people as Perms betting or Permutations. Knowing that you only need a few of your selections or legs of your bets to come in to get a return is an attractive proposition for some gamblers. Clearly the more choices that you make that win, the bigger the profit you'll make.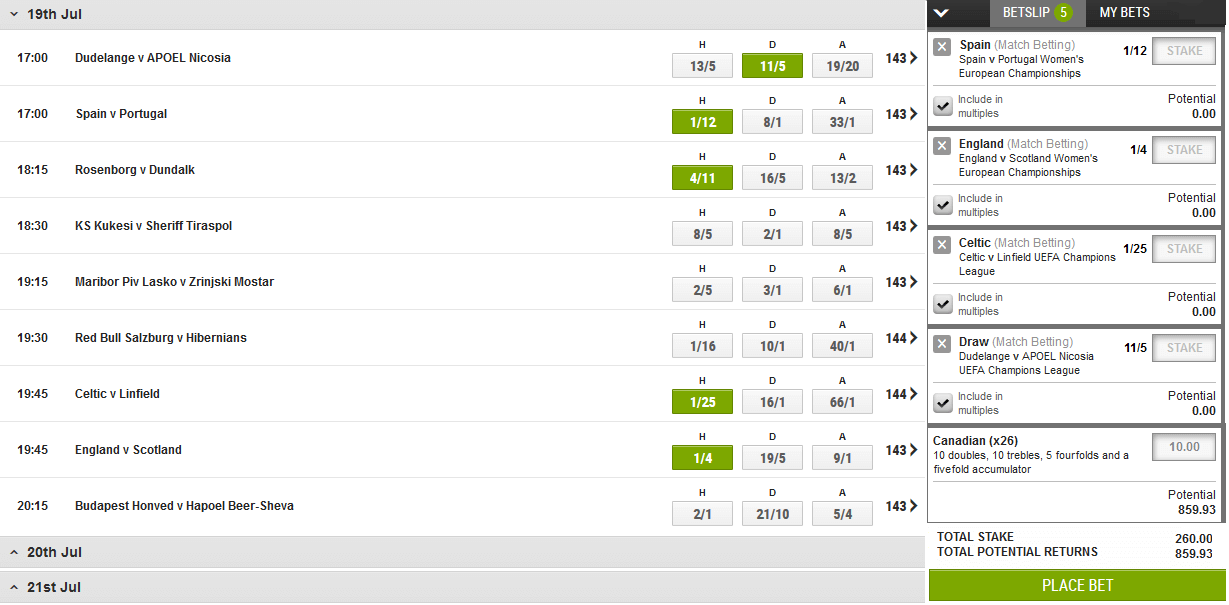 Types of perm bets
Trixie, Yankee, Canadian and Heinz are all commonly known types of perm bets.
A Trixie is three doubles and a treble which make up four selections.
A Yankee consists of four selections, made up of six doubles, four trebles and a fourfold.
In a Canadian, you have five selections spread over ten doubles, ten trebles, five fourfolds and a fivefold.
Finally, a Heinz consists of 6 selections. There are 15 doubles, 20 trebles, 15 fourfolds, six fivefolds and a sixfold, making up 57 bets in total.
What are the best strategies for system bets?
There are many strategies when it comes to system bets. Some people tend to back favourites when in a system bet. That is because they are more likely to come in. Don't forget though it pays to do your research first. It is wise to check trends, form and head to head records, for example, before placing any bet. You don't have to just bet on teams winning. Certain bets, such as draws, will have bigger odds which will increase the returns. This comes into play well here because you don't need all of your selections to come in to make a return.
Benefits of system bets
As with any form of betting, there are risks and pros and cons. With a system bet, there is a higher winning percentage. That's because you are covering more bases and you don't need all your selections to be winning selections. You can also choose the system bet that fits your betting style.
Negatives of system bets
Cons would be things such as you need to remember a return is not necessarily profit. That means that system bets usually need to be placed at longer odds to ensure an attractive return profit wise. Even though it will be harder to get an accumulator to come in, they do return a lot of profit usually. In comparison, the returns with system bets are usually a lot lower.
When to use system bets
People often used system bets in higher-priced markets such as the correct scores in football and horse racing. This is because with the odds usually being pretty good, getting a couple of selections right could still land you a decent amount of profit. Whereas, if you made four selections, all favourites and two didn't come in. You wouldn't get much profit, if any at all. So some people, when backing favourites, will just stick to a typical accumulator bet.
Useful tools
Like most betting types, there are resources available online that can assist you in selecting and planning your bets. System bet calculators are a great tool when it comes to calculating and working out your bet and potential returns as well as the stake you'll need to place. You can even work out what your returns would be if specific legs of the bet won or lost. You'd then know if the bet is worth placing as a system bet in any form or whether to use a standard accumulator. A system bet is just a form of an advanced accumulator, after all.
So whether your strategy is to back all favourites, longshots or a combination of the two, as always, it's best to do your research first. Don't just research what you're betting on, have a look to see which type of system bet, if any, is best suited. Then through the use of a system bet calculator, you'll be able to work out potential returns and stakes accurately. System bets tend to require a larger stake than a standard accumulator as you are placing multiple bets. You are covering various outcomes in the process though.
Remember also, when placing system bets, to try and secure the odds at the time of placing the bet. If odds shorten in the run-up to the event, you could find the returns lessen considerably.