Ladbrokes Mobile Betting App Review
2023
One of the oldest bookmakers in the world, Ladbrokes has always moved with the times to offer its customers improved and innovative services as well as value for money. The Ladbrokes betting app proves once again that the company has a clear understanding of what sports betting fans value the most when it comes to online gaming.
The Ladbrokes brand is arguably the most prestigious of the established names in British bookmakers. The company was founded in 1886 and has remained a competitive force throughout its 131 years of trading. Ladbrokes has undergone many evolutions in its long and illustrious past, and today counts itself among the largest entities in the British sports betting industry.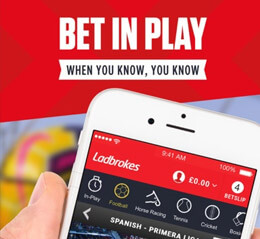 User Interface (UI) is clear, concise, and easy to use
One of the fastest platforms for placing bets online
Flexible betting options with low minimum and high maximum stake limits
---
The Ladrokes App Overview
In November 2016, the company completed a successful merger with rival bookmakers Coral, thus creating the Ladbrokes Coral Group plc and becoming one of the most dominant entities in high street bookmaking.
The Ladbrokes betting app is the company's most recent attempt at staking a claim in the lucrative world of online betting. Traditionally, Ladbrokes has struggled to match its high street profits with success in the digital world, and its services have often been seen as a poor alternative when compared to rival offerings. Will the Sportsbook app fare any better?
---
Betting, Features, and Facilities
In-App Navigation
The Ladbrokes app is perhaps the cleanest looking interface we have come into contact with during our recent investigations. The number of on-screen options has been reduced to a bare minimum and the design is easy on the eye. The downside is that each menu field displays fewer choices at any one time, so be prepared for a lot more scrolling to find a specific market or an event not featured on the landing screen.
On the whole, the UI is pleasant and incredibly simple to navigate: displaying important information and odds when required, and removing superfluous data from the standard view. When it comes to making a good first impression, the Ladbrokes app has everything in the right place.
Pros and Cons of Ladbrokes mobile
Pros
Clear and Easy-to-use interface
Fastest Platforms for Placing Bets
Thousands of live events
Cons
Sometimes Extra-long Menus
Lack of Service for the App
Live betting and Streaming
Ladbrokes provides a fine streaming service that hosts a decent amount of live content: annual coverage of individual contests is in the high tens of thousands. It may not be the market leader in this respect, but the selection is still relatively comprehensive. Horse racing receives the best of the coverage here, and soccer is also well represented, too. This streaming service is freely for any account holder with a credited account to access. It will not allow you to access premium sports content at no cost, but it does allow customers to respond quickly to the action on-screen, and place bets as the action unfolds.
The live streaming certainly brings an added layer of intensity to the Ladbrokes mobile experience, and is one of the most appealing aspects of the app.
From a technical perspective, the media loads quickly and suffers little in the way of lag or latency issues on a moderately fast broadband connection. If there is one criticism to be made, it is that the usually minimal interface looks rather cluttered during the stream: the developers have chosen to place advertising for other events and offers over one quarter of the screen; perhaps the inclusion of additional live markets would have been a smarter use of the display space. Overall, though, the live streaming is not simply an after-thought or a gimmick: it brings genuine added value to the service.
Betting Slips, earnings and limits
It should be clear at this point that Ladbrokes gets the important parts of online betting absolutely right. Predictably then, the process for placing bets in the app is one of the quickest and most intuitive we have yet discovered in our research of mobile gaming. Popular selections are available as multiple choices within the betting slip, and users can select common stake values (£5, 10, £20) with a single touch. With this method, a single bet can be executed with just three touches of the screen. Although seemingly a small consideration, this feature comes into its element during in-play betting, where timing a wager against live odds and unfolding events can be the difference between a valuable win and a missed opportunity.
Earnings and betting limits via the app reflect the browser-based Ladbrokes experience. This means that a lucky punter can earn up to £1Mn on top flight football and horse racing in any 24 hour period, or £500,000 on greyhounds and other major sporting events (Grand Slam tennis tournaments, the Super Bowl, and more). When betting slips involve events covered by different limits, the lower amount always applies. With a host of bonuses and insurance offers, the Ladbrokes app offers smart punters a chance for solid returns.
Mobile Bonuses and Free Bets
The Ladbrokes app features several forms of bonus and promotion, ranging from its daily specials to new members' bonuses. However, some of the high profile offers that are readily available under the "Promotions" tab of the Ladbrokes website are seemingly absent from the app. Instead the option to view "Today's Promotions" returns fewer choices when selected.
While it is possible that these missing bonuses are located somewhere in the app, the fact that we were unable to locate all of them – even after devoting a considerable amount of time to our search – is a problem in itself. Far more likely, however, is that these promotions have been deliberately removed from the app in order to incentivise the Ladbrokes text notification service – which sends these missing offers via SMS. It is hardly a generous way to treat a loyal membership, though.
just three touches from logging in to completing your betting slip
Credit your account in-app, using one of a number of payment methods
Credit your account in-app, using one of a number of payment methods
New account holders are able to claim free bets when they download the Ladbrokes betting app. This makes the Ladbrokes joining offer one of the most generous available to punters. However, the bonus is not awarded to every new customer automatically, and requires activation with the promotional when completing the registration form.
To qualify, new users must place both a minimum deposit and a minimum stake of at least £5 on their first bet; the stake is then matched by Ladbrokes in the form of free credit. This new members' bonus will not be released as earnings until it has been wagered in its entirety at least once. Not every market will be eligible, and bets with short odds in particular are excluded from the promotion.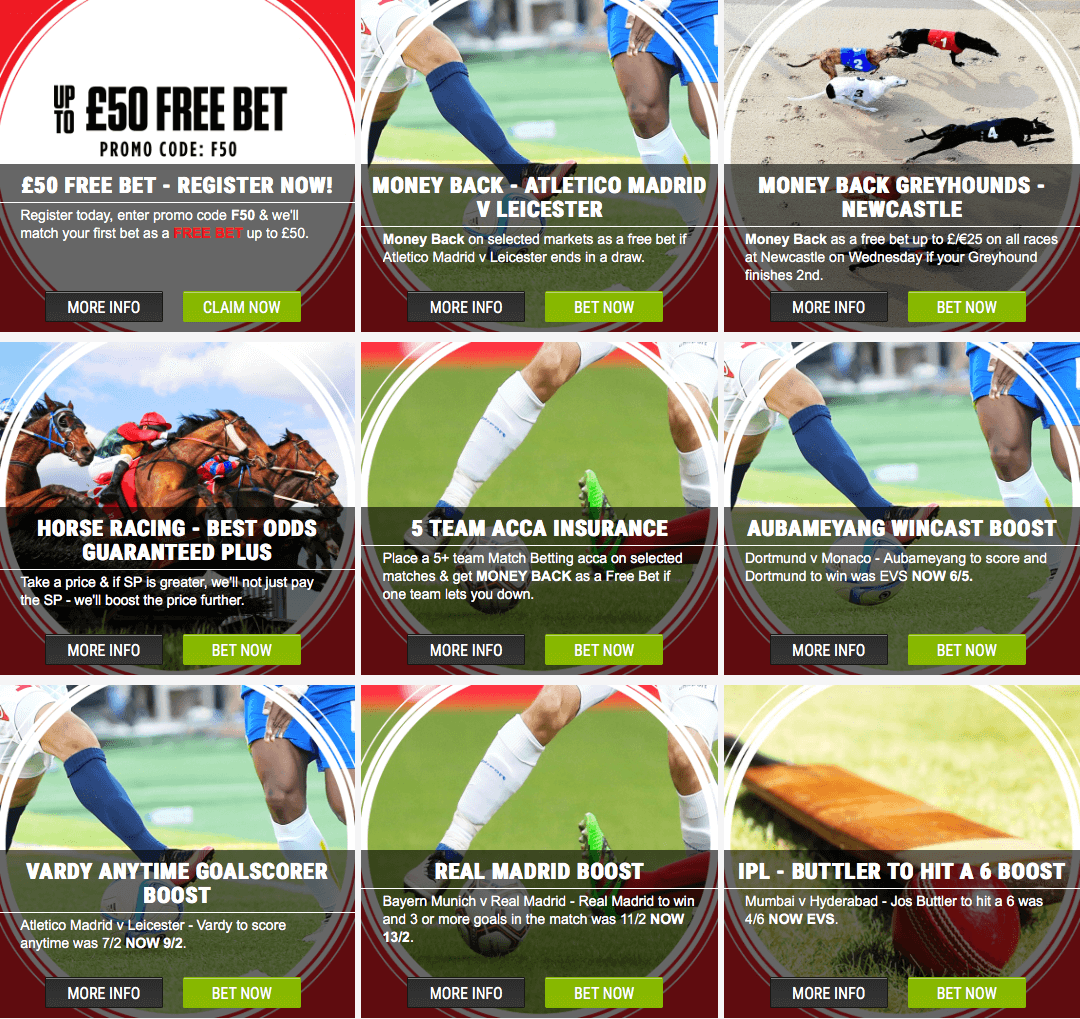 Other offers that are readily available on the app are tied to a specific upcoming event, or to certain types of qualifying wager. The Acca Insurance, for example, allows gamers to claim back the initial stake on losing accumulator bets of five or more matches, if only one choice is incorrect. Meanwhile, winning bets on showcase events are typically rewarded with a percentage increase of winnings.
---
Ladbrokes Membership and Account Information


Installation, Operating Systems, and Compatibility
Installation for iPhone users is quick and easy: simply search for the app on the iTunes store and download it, free of charge. At time of writing, the current version (4.8.5 ) is widely compatible with all hardware devices running iOS version 8.0 and above.
Android users will not be able to locate the app on the Play Store, however, as Google terms of use block the distribution of gambling products though its services. However, the app is not essential for gaming at Ladbrokes, and it should be noted that even the company's own homepage recommends that account holders with Android devices should instead use the in-browser version of the site. The online experience is optimized for touchscreen devices, and it recreates an experience that more closely resembles the iOS app than the standard desktop webpage.


Android users who are still tempted to use the app may find the apk file available from a number of third party host sites. Be warned, however, that these files are not verified, and may provide a less secure experience. Our research was also unable to locate a download for the most up to date version of the app: another reason to show caution, as older versions are vulnerable to security breaches.
Accounts and Customer Experience
It takes little effort to create an account with Ladbrokes from within the app. The software demands only a few items of personal data before a new user account can be authorized and activated. It is then a simple matter of depositing credit to the account, and starting to play.
Members will find that a Ladbrokes account grants access to every area of the business's online activities: with a single account – and even the same deposited funds – account holders may place bets on live sports events, bingo, or the casino features.
Unlike its top tier rivals in the business, Ladbrokes is geared firmly towards the UK-based gambling market, and international players may struggle to find support from Ladbrokes in their own location. The list of countries whose residents are barred from placing bets via the Ladbrokes app is extensive, and includes all parts of North America, Asia, and several high value EU markets, including Denmark and France. With almost nothing in the way of customer support for foreign languages or overseas members, there is little reason to recommend the Ladbrokes app to foreign gamers. In balance to this, anecdotal evidence suggests that the app continues to function well for UK account holders who attempt to place bets while overseas.
Deposits and Transactions
Ladbrokes is well placed to accommodate several forms of payment into users' accounts. As well as the standard credit and debit card options, members can opt for digital payment solutioins such as PayPal and Skrill, or direct bank transfer. It is also possible for UK residents to deposit cash into their account simply by visiting a Ladbrokes shop.
Deposits for the most popular transaction types (cards and PayPal) are usually instantaneous, so new members can usually sign up, deposit funds, and begin placing bets within fifteen minutes of installing the Ladbrokes app.
Withdrawals are equally straightforward, and high daily limits give account holders the freedom to transact as they choose. Withdrawals to a Visa credit or debit card are limited to £55,000 in any 24 hour period, and Mastercard at £36,000. Ladbrokes policy prefers withdrawals to be made with the same transaction type as that used for the initial deposit. In all cases, the recipient of a cash withdrawal must be the named Ladbrokes account holder.


There are no fees associated with transfers into or out of your Ladbrokes account. The business is prompt, efficient and secure when it comes to handling the earnings and private data of its clients and in this respect, the Ladbrokes brand is a market leader.
Ladbrokes App: In Summary
As an established brand in the sports betting industry, test driving the Ladbrokes app has proven to be an almost underwhelming experience. It is by no means a poor betting service. It is at once fast, secure, and packed with thousands of markets at any time. However, the Ladbrokes mobile gaming experience proves to be much less ambitious than many of its rivals. The brand has got the basics right, but has shown little sign of attempting to offer its members anything beyond the barest minimum in app-based bookmaking. For a top tier brand, most customers would expect a little more.
Despite this less than glowing first impression, the Ladbrokes app is by no means a bad piece of gambling software. It does contain all of the fixtures and features that one would hope to encounter within a mobile betting platform – and some welcome bonus services, too. It is also pleasingly clean in its visual appearance, and the procedure for executing live bets is among the fastest we have come across.
Yet even here there is a downside: the de-cluttered interface may be optimized with hand-held devices in mind, but it can also make navigation a more laborious process: tapping and scrolling through extra-long menus because so few of the active options are visible at any one time.
Of the more serious drawbacks to choosing the Ladbrokes app, the lack of equality between the services found on the app when compared to the desktop website is one of the more disappointing discoveries. The fact that the app is essentially limited to the domestic market with few services for overseas clients is another indication that the company has lacked direction in its online offerings to date.
It is perhaps no surprise that Ladbrokes has struggled to match its expectations in digital bookmaking then, or that profits in this area have fallen short of projected earnings over consecutive years. Indeed, the company has identified mobile gaming as a key area of growth and improvement for the future. It may not be quite there just yet, but even the smallest of improvements could help to transform this Ladbrokes betting app into something of value. Currently, the Ladbrokes app is a solid back-up for sports betting enthusiasts. But it is not a market leader yet.