Greyhound Racing Betting Guide


Despite not being among the most popular sports, Greyhound racing still gains a significant amount of attention in the UK, particularly when it comes to betting customers and bookmakers. The majority of major betting platforms offer markets on greyhound meetings, with many punters developing wagering strategies in this area in an attempt to beat the bookies on a consistent basis.
Although there is no guarantees when it comes to betting on major greyhound events, customers looking to come out on top surrounding the sport must do their research, remain patient and take advantage of promotions. Whether your are enjoying a night out at the dogs or taking in the action from the comfort of your own home, our greyhound betting guide provides everything that you need to know before placing a bet, including popular markets, tips and strategies.
About Greyhound Racing
Greyhound racing has long been a popular pastime in the UK, with the legalisation of gambling on the sport only adding to the interest surrounding it over recent years. Despite a lack of television coverage and sponsorship deals meaning that greyhound racing was extremely close to vanishing from the UK, online bookmakers stepped in to save the sport. Nowadays, a large number of meetings are available to watch online, helping to make the betting process all the more exciting. A large number of bookmakers have affiliations with greyhound events, while they also regularly offer generous promotions surrounding the sport, including best odds guaranteed and price boosts.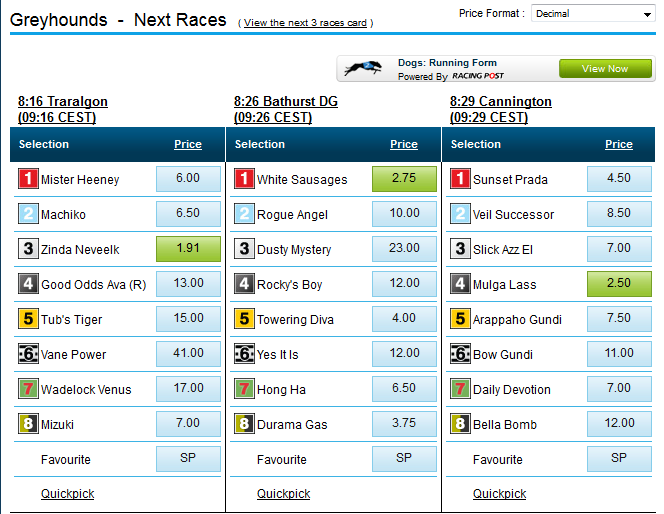 There are now over 20 licensed greyhound circuits across the UK, with the sport being regulated by the Greyhound Board of Great Britain. Among the most frequently visited tracks are the Owlerton Stadium in Sheffield and circuits in locations including Romford, Doncaster and Wolverhampton. Major greyhound races often offer prize money over £50,000, helping to attract around 150 entries in the process. As well as derbies, category one, two and three races help to make up the race calendar, along with minor open and invitation meetings.
How to Bet on Greyhound Racing
When entering the greyhound section of major online bookmakers, punters will be greeted by a variety of betting markets, which will generally range in number depending on the stature of the race. Most commonly, customers will have the chance to back the dog in which they believe will win a particular race, or back their favourite with an each-way bet. As well as this, some bookmakers offer live betting markets when it comes to greyhound racing, with odds changing based on the on-track action. Tote betting is also another form of betting that is becoming increasingly popular, where all bets placed across the UK are placed into a pool, with prices being determined by the number of winning bets placed. Finally, 'trap betting' is something that greyhound racing fanatics will be more than familiar with, with this form of wagering being based around races that are taking place at the same time. Customers have the opportunity to bet on which trap will be the most successful over the course of the meetings.
Greyhound Racing Betting Markets
As previously mentioned, there are an increasing number of betting markets available when it comes to greyhound racing, with the total figure depending on both the bookmaker and race itself. Let's take a look at some of the most popular markets available today.
Win Bets – Undoubtedly the simplest form of bet when it comes to greyhound racing, this is a straightforward decision regarding which dog you believe will finish in first place in a particular race.
Each Way Bets – This type of bet means that punters are effectively placing two bets on the same runner. Half of the selected stake will go on the dog winning the race, while the other half will be placed on the dog placing in the race, which often means that it will finish in the top three of four, depending on the bookmaker.
Ante-Post Bets – Ante-post betting has long been a popular form of wagering for serious punters, due to the fact that such markets often offer enhanced odds for future meetings. Despite there being many risks involved, including whether a particular dog will ultimately end up racing, the rewards are certainly appealing.
Special Bets – Many bookmakers now offer promotions surrounding greyhound racing, which can include enhanced odds for particular runners of trainers, further incentives for televised races and best odds guaranteed on all UK races.
Greyhound Racing Betting Tips
When it comes to greyhound racing, there are a number of factors to bear in mind before backing your favourite. Below are just taster of the things that must be considered.
Conditions – As with horse racing, the conditions of a track can have a significant impact on the eventual outcome of a greyhound race, meaning that it is important to check out this beforehand, as well as researching how your potential selection has performed in the past. Some dogs will perform better in wet conditions than others, while it is also preferable to have a wide runner during such weather, with the contours of greyhound tracks making the inside rail tricky to navigate.
Specialist Tracks – While the temptation to place bets on all kinds of greyhound races will initially be high, it is important to stick to a small number of tracks when kick-starting your wagering. Keeping up to date with the ongoings at three or four circuits will undoubtedly improve your success rate, with doing so allowing punters to improve their knowledge of such tracks, as well as the runners that regularly race there.
Back Well-Drawn Dogs – Many runners are offered short odds by bookmakers as a result of being unlucky in defeat in previous outings, such as coming unstuck on the final bend. Quick dogs are regularly underpriced as a result of the public having made a note of what happened last time around, meaning that it is often more effective to back well-drawn runners.
Greatest Greyhound Races
English Greyhound Derby – The English Greyhound Derby is perhaps the most prestigious greyhound racing event across the globe, with the meeting taking place either in June or July. Prize money of around £350,000 helps to attract the biggest names in the business, with the race taking place at Towcester over 500 metres. for the final race totals a ridiculous £175,000 from a total pot of £350,000. Starting in 1927, it used to run at Wimbledon over
Scottish Greyhound Derby – Scotland's biggest race, the Scottish Derby offers £20,000 to the winner, with the race taking place over 480m at Shawfield Stadium in April.
Irish Greyhound Derby – Sponsored by Boyle Sports, the Irish Greyhound Derby has a total prize offering of €240,000, €125,000 of which goes towards the winner. It has been going on ever since 1928; first taking place at the now shuttered Harold's Cross, its home is now Shelbourne Park in South Dublin. It takes place over 550 yards and is considered the most important event in the Irish racing calendar.
East Anglian Cup – The flagship race at Yarmouth Stadium in Norfolk, the East Anglian Derby has taken place there ever since 1975. Ran over 462 metres, the race awards £15,000 towards the prize winner, while the runner up gets a reasonable £2500, and third place lands £1500. All dogs have clocked times under 30 seconds, but the fastest ever performance was by Any Dak in 2013 in 27.34 seconds.
Greyhound Racing Betting Strategies
Now that you are fully aware of what greyhound racing entails and the type of bets that are available from bookmakers, it is of crucial importance to come up with a strategy that suits your objectives when it comes to wagering on this sport. As with any sport, form is perhaps the most important factor to consider, which can easily be researched, by looking into a dog's recent outings. However, when looking into form, it is important to also look at the trainer, as well as the dog's weight, age and career results.
Newcomers to greyhound racing are recommended to focus on simple bets, meaning that either win or each-way bets are preferable. When placing such bets, studying the form of runners is often all that is needed to locate a successful dog. However, when designing your greyhound racing betting strategy, it is important to have a number of different bookmaker accounts, meaning that you can always take advantage of the best odds and promotions around.
Greyhound Racing FAQ
What is the Best Greyhound Racing Bet to Place?
Ultimately, the best bet to place on a greyhound race is a winning one. However, betting on a single dog to win a specific race is undoubtedly the most effective throughout the calendar, especially for those who continuously back the favourite. Elsewhere, each-way bets and ante-post markets are always worth checking out.
What Statistics do I Need to Look Out For?
It is always important to look into the dogs in which you are betting on, which includes researching their form and health ahead of a race. Weight plays a key role in determining their potential success, as well as their training and career winnings.
Should I Always Back the Favourite?
Greyhound racing punters will most often back the favourite, however this is not always the most effective method of betting. According to statistics, favourites have a winning record of around 40%, meaning that you may well wish to carry out additional research in the future.
What's the Best Strategy?
The best strategy for you will ultimately depend on your objectives when it comes to wagering on greyhound racing. However, your strategy must include some form of research, arming yourself with as much relevant information and statistics as possible. As well as this, it is certainly worth taking advantage of the promotions offered by bookmakers, which help to both maximise winnings and minimise losses.