Coral App – Placing Mobile Sports Bets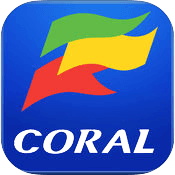 As the UK's third largest bookmaker, with a huge online presence adding to over 1,700 betting stores, Coral have also made a name for themselves in the world of sports wagering thanks to their in-depth sportsbook. However, with the demand for betting on-the-go increasing at a rapid rate, with customers fearing missing out on the opportunity to back their favourite player or team, Coral are just one of a number of bookmakers that have had to move with the times. As a result, Coral now offer a detailed and effective mobile app, allowing users to gain access to a whole host of services and features on their devices.
Available free of charge for iPhone, iPod, iPad and Android, as well as certain Blackberry and Nokia devices, the app was first launched back in 2014, and has gone on to receive praise for its simplicity and number of features. This review will provide readers with a breakdown of all areas concerning the Coral app, both positive and negative, allowing customers to gain a better understanding of its functionality and performance. Whether it be access to bonuses and promotions, live streaming or customer support, we have all bases covered in our write up.
---
Software of the Coral App


Coral mobile takes advantage of software developed by PlayTech company, MoBenga, who have long been a leading organisation within the technology industry. Their expertise and knowledge has helped to develop and support an excellent betting platform, that is available across a host of popular providers. As well as the app, which is free to download from the App Store and Google Play, customers are also able to gain access to Coral through internet browsers on their device. As a result, users can quickly gain access to their favourite sports markets, along with a variety of other features provided by Coral. For those that enjoy taking advantage of other Coral betting platforms, the ability to quickly navigate between their sportsbook and casino lobby is an added bonus.

---
Coral Mobile Features


A significant positive when it comes to Coral, is that customers can enjoy virtually all of the same features as found on their desktop site, by using the app or mobile-friendly page. Coral have long been famed for their abundance of in-play betting markets, with the mobile app offering all of the same options, with customers gaining access to hundreds of live-betting options at any one time. Whether it be traditionally popular events such as football or horse racing, or up-and-coming betting sports including basketball and cycling, then Coral have all bases covered their mobile offerings.
Despite live-streaming now not featuring as heavily at Coral as it once did, the ability to view high quality action as is happened via Coral mobile is certainly one of the most impressive findings from this review. Coral now stick solely to UK horse racing when it comes to their live-streaming service, with a dedicated live racing tab being displayed on both the mobile app and mobile site. Users are required to place a bet of at least £1 on a race in order to gain access, with streams on mobile devices of the highest quality in terms of resolution and speed. Streams for races will typically begin between 3-5 minutes before the start.
Elsewhere for horse racing fans, Coral also offer useful information surrounding runners and riders for upcoming races on their mobile platforms, which is available at just the touch of a button from the home page. Customers can also signify how they wish to view odds from now on, as well as being able to easily gain access to current promotions, customer service and help features, along with all account information and bet slips.
---
Coral Mobile Interface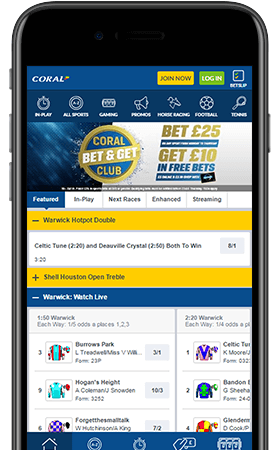 As is often found when looking at the major bookmakers in greater detail, the Coral betting app and mobile site are both more visually pleasing than the main desktop page. Although generally being viewed via a smaller screen size, the simplicity of Coral Mobile ensures for a smoother and more enjoyable experience, while still sticking to the core principles of the company. Without extraneous tabs and generally irrelevant information, customers are able to quickly locate their preferred markets, perfect for those looking to bet on the move.
Both sport and gaming sections are clearly separated at the top of the page, however their constant presence makes it easy to navigate between the two, as previously mentioned in this review. Underneath, customers will find a series of tabs, which allow for rapid movement between different sports and markets. On top of this, the all-important betting slip, where users gain access to their current odds, wagering options and potential winnings, can be accessed via a third tab.
While the full Coral website can sometimes be accused of being cluttered, their mobile platforms are nothing of the sort, with live-streaming and in-play options clearly separated in the centre of the screen at all times. Coral Mobile is certainly user-friendly, and it is clear that a lot of thought has gone into the navigation too. Long-standing Coral customers will be happy to know that the traditional colours and interface of the organisation has been kept, with Coral even providing some accompanying music and new graphics to make the betting process all the more enjoyable.
Pros and Cons of Coral mobile
Pros
App-download for Android & iOS
>HTML5-version offered
A lot of side information provided
Good In-Play and Live Streaming
Fast and well-designed interface
Cons
App-download not easy to find
---
Bonuses & Promotions


With Coral updating their promotions on an almost daily basis in order to keep up to date with the sporting events from around the world, as well as offering an attractive welcome bonus to new customers, it will come as a pleasant surprise that all can be utilised using Coral Mobile. Those looking to register with Coral can do so using the mobile app or mobile site, gaining access to a free bet of up to £/€50 upon doing so. With all that is required being an initial deposit, another thing that can be done using your mobile device, there is no need to restrict yourself in terms of what you use.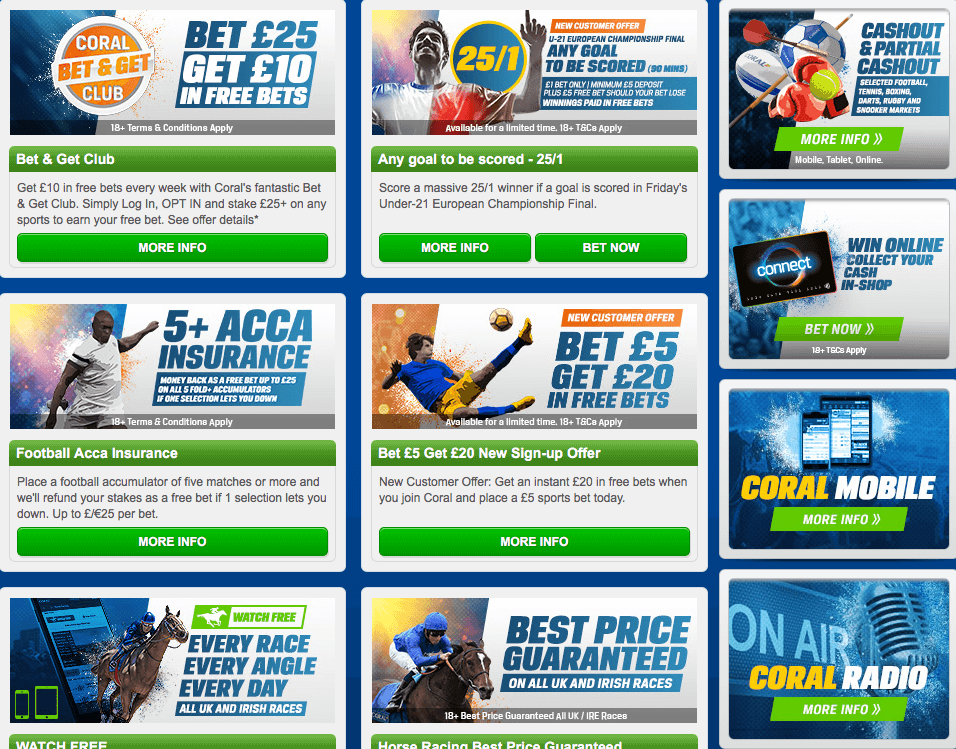 No matter what your preferred sport is, whether it be horse racing, football or tennis, you are almost certain to find a promotion to suit your needs at Coral. As previously mentioned, all offers can be found at a dedicated promotions tab for those using Coral Mobile, meaning that you can check on a regular basis in order to keep up-to-date. Enhanced odds, price boosts and free bets are just some of the forms in which promotions are offered to Coral customers.
attractive welcome bonus to new customers
promotions that suit your favorite sports
Enhanced odds, price boosts and free bets
---
Placing a Bet Using Coral Mobile


With anything from Aussie Rules football to UFC available at Coral, you will rarely be short of options when it comes to placing a bet. However, those looking to wager using your mobile device will be wondering just how easy it is to do so with Coral. Having signed up and made your first deposit, you will be greeted by a huge amount of options, no matter what platform you select from. However, as previously mentioned, using Coral Mobile is an efficient method of cutting out areas in which you are not interested, while quickly navigating towards the markets in which you favour.
Upon reaching your desired sport or market, Coral Mobile users will be greeted with both upcoming and in-play options, as well as the odds available for each selection, just like normal. Having made your selection, customers are required to move to the bet slip tab, where their complete bet can be reviewed before wagering. Users will be able to view the complete odds of their bet, as well as the returns received should it prove to be a winning selection.
---
Account Management & Support


Accounts with Coral can also be fully managed using the mobile app, with a dedicated tab located on the home page for issues in this area. All betting history can also be accessed via the app, with a knowledgeable and helpful customer service team on standby to help deal with any problems or queries in which you may have. Contact can even be made through the app via the popular live-chat feature, while details of email and telephone numbers is readily available too. A useful FAQ  page is also available to use on the app, answering some of the most commonly asked customer questions.


In terms of safety and security, betting using the Coral app or mobile site is just as effective as their desktop pages, thanks to the use of the latest mobile security options and technologies. All transactions and personal details are fully encrypted, whilst all account information is password protected, ensuring that only you can gain access. One downfall of using the app is that you can potentially be logged-out due to inactivity, forcing you to log back in. However, this is another security measure that has been implemented by Coral.
Elsewhere, all of the same payment options as found on the main Coral site are also in use using the app, with major credit and debit cards still the most popular method, alongside e-wallet style platforms such as PayPal and Skrill.
Conclusion regarding the Coral Sports Betting App
The Coral app is certainly something in which they can be proud of, with more and more customers making the transition to using their devices when wagering. With live-streaming, in-play markets and promotions all fully functional via the app, there is no need to miss out on anything. As well as this, an attractive interface and easy-to-navigate platform make using the Coral app and mobile site an enjoyable process, rather than a last resort.