What is MuchBetter?
For those who are not already familiar with what MuchBetter actually is, the following points are among the most important to know and understand:
Much Better was founded in 2017.
The official partner of West Ham United Football Club.
Allows users to load their accounts directly from an app on mobile devices.
Ensures for quick transactions when it come to both deposits and withdrawals from betting sites.
One transaction processed every five seconds using Much Better.
---
How Does Much Better Work?
Much Better is a payment app that provides users with an alternative e-wallet style platform. The app is both easy to use and secure, with customers being rewarded for spending money using their Much Better wallet, which is available in a variety of currencies.
Users can deposit funds onto their preferred betting site account, as well as managing their spending and transfer money via bank transfers and cards. A dynamic 3-digit CVV code is generated with each transaction made, while the lack of any complex passwords and redirects makes Much Better one of the most convenient payment options available to punters today.
---
History of MuchBetter
Despite having only been established back in 2017, Much Better has already been able to quickly make an impact in the industry, with the company being operated by MIR Limited UK Ltd, one of the leading e-money issuers around today. The Much Better app has been available on both iOS and Android devices from the outset, while their association with West Ham United has also seen their reputation grow, especially in the UK.
---
Advantages of Using MuchBetter
There a number of advantages to using MuchBetter, which have already helped them attract a large number of customers. The first positive for users is the Much Better allows for instant deposits on betting sites, meaning that they can quickly take advantage of attractive odds and markets. Meanwhile, all payments made using Much Better are 100% secure, with the company being licensed and regulated by the Financial Conduct Authority, while they also have a number of safety measures in place, including their 3-digit CVV code.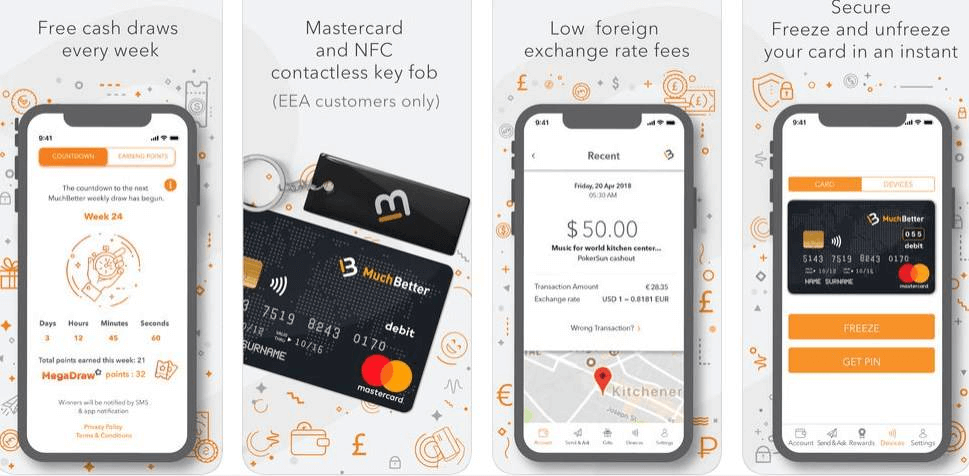 As well as this, punters using Much Better can look forward to receiving a number of rewards in doing so, with a points-based reward system enabling customers to gain prizes along the way. Finally, no betting activity appears on bank transfers, with Much Better instead taking responsibility.
---
MuchBetter in Betting
MuchBetter is now available through a number of betting sites, with its security, speed and convenience making it the preferred method of banking for many. Despite deposits and withdrawals only being available using mobile devices, Much Better is set to go from strength to strength in the industry, as more and more bookmakers and punters take note of their services and features.
---
How to Deposit and Withdraw Using MuchBetter
When it comes to depositing and withdrawing cash using Much Better, the following steps must be taken by punters:
Deposits – The first step for those looking to make a deposit is to download the Much Better app using either an iOS or Android app. This can be done via through links found on both the App Store and Google Play store respectively, with the entire process taking just a matter of minutes. Having done so, complete the registration process, including entering the 4-digit code in which you will be sent. Now, log in to your bookmaker account and access the "Banking" or "Cashier" page, before entering the amount in which you wish to deposit, as well as selecting Much Better as your preferred method. Confirm your Much Better account ID in order to complete the process.
Withdrawals – Meanwhile, withdrawals are processed in much the similar way, with punters having to specify the amount in which they wish to take home from their balance, before confirming their wish. Withdrawals through Much Better take longer than with deposits however.
---
How Secure is Much Better in Betting?
Much Better is one of the securest methods of banking when it comes to online betting sites, with the company being licensed by the Financial Conduct Authority, already demonstrating the excellent work they have done in this area. Meanwhile, in order to prevent fraud or third party access to personal details, Much Better accounts are protected by both 4-digit passwords and Touch ID, with each transaction requiring confirmation before processing. Users will also be logged out of their individual Much Better accounts in the event if inactivity for over 90 seconds. An excellent customer support team is also on hand at Much Better, helping to sort out any issues that may potentially arise.
---
MuchBetter Fees
Unfortunately, using MuchBetter does come with some additional fees, which is perhaps the biggest negative of this method of banking. While deposits are processed free of charge on betting sites, those looking to withdraw winnings are likely to incur a small fee, which can be as much as 5% when using Mastercard or Visa cards. Elsewhere, currency conversion also comes with a 1% fee, which may be an issue for some customers.
---
Alternatives to MuchBetter
If MuchBetter does not quite meet your needs, there are a number of alternatives to consider, whether it be a traditional bank or e-wallet platform. In our opinion, the following options should be taking into account when depositing and withdrawing cash on betting sites in the UK:
---
How to Set Up a MuchBetter Account
Potential users can set up a new account with MuchBetter in just a matter of minutes, while the process is also 100% free to complete. All in all, the following steps must be taken in order to gain access to the services and features in which they offer:
1. Download the Much Better app on iOS or Android devices.
2. Complete the registration process, including entering information such as your full name, date of birth, mobile number and email address.
3. Set up a passcode and submit a proof of identity, whether it be a passport of driver's license.
4. Verify your account by email or mobile telephone.
---
Betting Using Much Better FAQ
The following are questions and answers surrounding some of the most talked about topics when it comes to the use of MuchBetter and online betting, offering readers a better insight into how they work.


Is it safe to use MuchBetter when sports betting?
Yes! MuchBetter has put a number of security features in place on their mobile platform, meaning that both deposits and withdrawals can be processed safely at all times.


Do I have to verify anything when using MuchBetter?
Verification is required when registering for a MuchBetter account, while each and every transaction made must also be verified using their code system.


Will there be any fees added when using Much Better?
Some fees may be incurred when withdrawing funds using Much Better, so be sure to look into this further before processing such transactions.


How long will it take before my deposit is received by the betting site?
Deposits made using MuchBetter are instant, meaning that there is no frustrating waits to see funds hit your betting site account.


How long will it take before my withdrawal is received from the betting site?
Withdrawals processed using MuchBetter are likely to take between 2-5 working days to complete.
Best MuchBetter Betting Sites Summary
Despite being a relative newcomer to the betting industry, MuchBetter has already made a significant impact within the marketplace, meaning that it comes as little surprise that more and more online bookmakers are offering their mobile wallet platform as a method of banking. Perfect for those who are constantly on the go, Much Better is fast, secure and convenient, with the only real negatives surrounding their withdrawal fees. However, with Much Better offering reward points with all transactions made, it is well worth considering utilising their service.