The Sky Bet Club is perfect for those looking to gain regular rewards for betting on sports action. Sky Bet have long been a name synonymous with the betting industry, with a range of welcome bonuses and ongoing promotions. This new one however is a brilliant loyalty scheme to reward regular punters, which is available to both new and existing customers. Should you bet a total of £25 or more each week, you will be rewarded with a free bet of £5 by Sky Bet.
Although loyalty schemes are certainly not a new scheme for bookmakers, the Sky Bet Club is undoubtedly one of the best around, due to the speed at which free bets are received by customers. Head over to Sky Bet today in order to opt in to their Sky Bet Club, with new customers also able to utilise their generous welcome offers.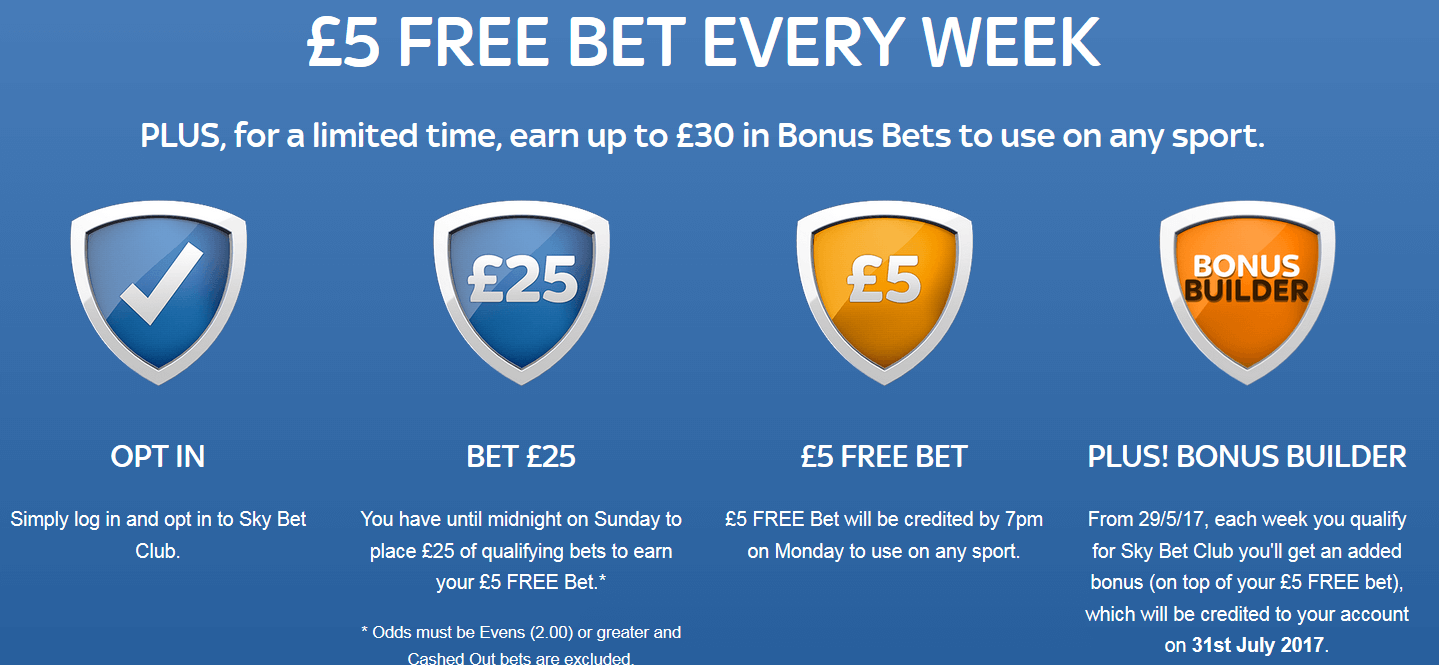 No matter what your preferred sport, whether it be Premier League football, International rugby, Formula 1 motor racing or Golf Majors, Sky Bet offer one of the most in-depth sportsbooks around today. For many customers, £25 is not an extortionate amount to deposit each week, with a guaranteed free £5 bet making it even easier to part with.
Those looking to take advantage of the Sky Bet Club must be aware that any qualifying bets must be placed before 23:59 on a Sunday, which can be from any sport available. Bonuses will then be available to take advantage of until 23:59 on the following Sunday, where the process will then be repeated if sufficient bets have been placed. As well as this, odds of 2.0 (Evens) or greater must be met before any earnings can be withdrawn.
With a busy summer of sporting action to look forward to, including the British & Irish Lions tour of New Zealand in rugby, the Confederations Cup and European Under-21 Championship in soccer and the continuation of the Formula 1 World Championship, there has never been a better time to join the club!