Everton have been busy in the summer transfer market and their big sale of Romelu Lukaku to Manchester United for an initial £75m set a big mark for the rest of the big clubs to up the ante a bit in terms of spending power. It could well get the ball rolling, that's for sure. Chelsea had reportedly made a matching bid to get Lukaku back to the club after having sold then to the Toffees for £28m in 2014, but it is off to Old Trafford Lukaku goes and that will keep the ante post Premier League Top Goalscorer market ticking along.
Lukaku has the stats to back him up to warrant United having spent a hefty chunk of cash on him. After having netted 68 Premier league goals for the Toffees, Lukaku has already netted over 80 goals in the English top flight, one of just four players to have done so before turning 24 years old. The others, if you are interested, are Robbie Fowler, Michael Owen and Wayne Rooney. So that is the kind of firepower that Manchester United are going to be leaning heavily on next season.
Lukaku is easily a 20-goal per season player at the moment and it will be hoped by United fans that he can take it on even further. The move to Old Trafford will see Lukaku go into direct battle with the likes of other proven scorers Sergio Aguero, Harry Kane and Alexis Sanchez in the Premier League Golden Boot race next season, a personal award that he has yet to win. It is a bit of a no-brainer that he is going to be odds-on to be United's top league scorer next season.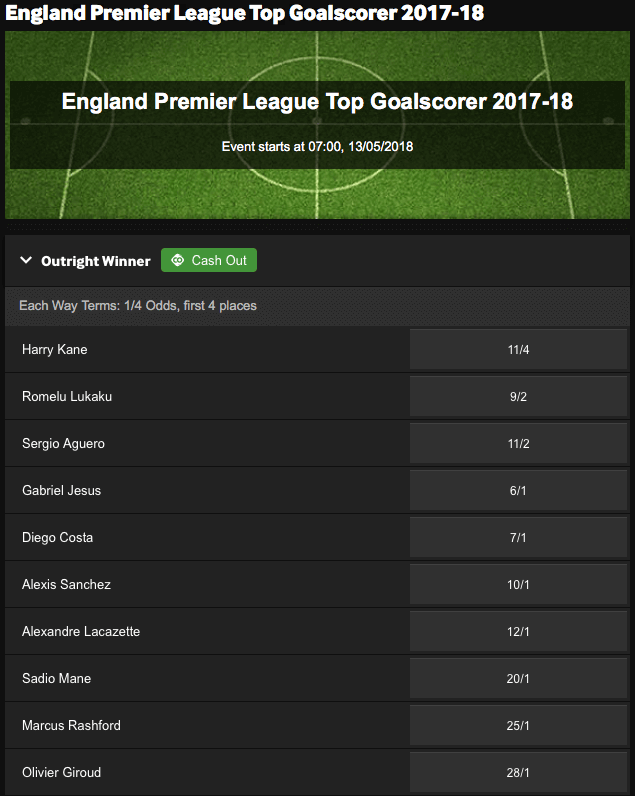 That's because frankly, the club doesn't have anyone else there who can raise much of a challenge to the output that Lukaku has in him. We saw that season when only Zlatan Ibrahimovic was really producing for them. As a side note to that, Lukaku had a 22.7 shot conversion rate in the top flight last season which was way ahead of Ibrahimovic's 14.8% so the big Belgian is a lot more clinical than anything United had going for them last season.
Lukaku has two key things about him. He is a physical bully on the pitch and can annoy defences because of that but he also has that very natural goalscoring instinct. Yet, still, I don't quite trust him to deliver. Interestingly, Lukaku has played against Chelsea, Man Utd, Man City, Arsenal, Spurs and Liverpool 36 times in total over the last three seasons. How many goals has he scored in all of those games? Just five.
That's the big criticism about him, that he hasn't performed against the better teams in the league. He'll have to work hard to shake that off. But will that change at Old Trafford? It may be worth holding back on Lukaku sweeping the Golden Boot because he isn't going to change United's entire output overnight on his own. Ten of United's home draws last season in the top flight were against sides lower than them in the table.
In none of those games did United score more than one goal in. They just didn't have the killer touch about them, even when Ibrahimovic was in the mix carrying the can for them. That problem isn't solved by just returning a new striker. It needs some backup around him to the average drudgery that they produced as a whole last term. Manchester United's goal output has to considerably increase this season if they are going to harbour genuine title ambitions.
That's a lot to expect Lukaku to do all on his own. He will start to turn draws into wins for United, he will improve their cutting edge but he doesn't fix all of their problems. Harry Kane remains as 3/1 outright favourite for the Premier League Golden Boot with Sergio Aguero at 6/1 and who knows who else is going to be arriving in the Premier League next season? Patrick Aubameyang? Alvaro Morata? it's tempting to back one of the rest to come through by laying Lukaku on an exchange for a round 6.0 as there's still that stigma of Lukaku not producing in the big games.