What is League of Legends?
Launched in 2009 by Riot Games, League of Legends is one of the earliest MOBA (Multiplayer Online Battle Arena) games to have reached such a phenomenal position today. In this competitive gameplay, players have to engage in an RTS (Real-Time Strategy) and RPG (Role Playing Game) style action in order to win against their opponents.
Featuring multiple gaming modes, eye-catching visual, top-notch graphics quality, and over 140 champions, League of Legends is known as the most iconic esports in today's world. In fact, more than 100 million players join in LOL matches every month, making it a top-ranked esports game among numerous titles.
What makes LOL still maintain its firm reputation over the last decade lies in its aesthetically pleasing character buildup. Each champion in League of Legends has unique skins, dedicated songs, dance moves, and battle styles that captivate both new and existing LOL players. By engaging in a team-play, players have more options to explore the vast unknown world of League of Legends and form newer strategies to defeat their opponents.
As for betting on League of Legends, the application of this theory was always inevitable as LOL is unarguably the most structured and organized esports event. With every information laid out there, event calendar marked, and markets offered way ahead of the events, betting potential on League of Legendsenhanced, and thus, increased the number of LOL esports bettors and LOL betting sites.
---
How League of Legends is Played
League of Legends can be played in a few different modes; however, the competitive gaming layout is set out on a 5×5 pattern. This means that a total of 10 players can team up having 5 members each, and battle it out against one another to win the ultimate title.
In this Summoner's Rift mode, the players have to select their champions before they begin the gameplay. With more than 140 options available, selecting a champion is more challenging than you may think. Each team should consist of a champion with a Top, Mid, Jungle, Support, and Bot features. The goal is to move forward in the given map and destroy the opponent's Nexus.
Along with head to head combats and team battles, each match also allows the players to collect gold coins by defeating the opponent's champions and killing their minions. These coins can be used for purchasing skins, updating skills, and other in-game features.
Before you proceed to the next sections, here is a bonus part regarding the champion's role in the game:
Tanks
Tanks are great for holding the team's defense; however, they do not cause much damage to the opponents.
Assassins
Assassins are known exactly for the opposite reason. They are skilled fighters who can cause major damage to the opposition but not that good when it comes to defense management.
Fighters
With an average percentage of damage and defense mechanism, fighters maintain the balance in a team battle.
Mages
Poorly skilled in defense maintenance, mages are an important part of the team who can cast magic spells over the opponents to inflict major damage.
Marksmen
Marksmen can cause long-lasting damage, and therefore, their skills are usually used against opponent's towers and turrets.
Support
Supports protect the important members of the team and maintain balance throughout the game.
---
How We Rate the Best League of Legends Betting Sites
Accessing a sportsbook offering League of Legends markets can be done in a few simple clicks on any browser, but there is a potential risk factor involved if you are not dealing with a legal esports betting site.
Along with competitive odds, a good range of markets, attractive bonuses, the safety and legality of a betting site is highly significant when you are betting with real money. Therefore, it is always suggested that you join a safe and licensed betting site that offers the best deals when it comes to League of Legends markets.
To understand how the process works, check out our method of rating the best League of Legends betting sites for you. While numerous factors are involved in our ranking procedure, these are the most important factors that we consider first.
---

Markets – A good League of Legends betting site should have a large number of markets available, covering regional and international events. There should also be a wide range of LOL betting types that cater to different esports bettors as per their expertise level.
---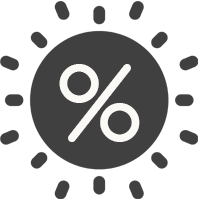 Odds – Odds are the amount that the bookmakers returns to the punter if he wins the bets. Therefore, a League of Legends betting site should have value odds on different matches and tournaments so that the bettors can enjoy the game and win a significant amount of winnings.
---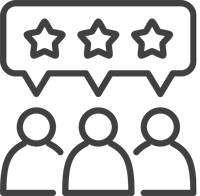 License and Safety Measurements – Proper licenses and regulations are some of our topmost priorities when it comes to rating League of Legends betting sites. We ensure that the sites are licensed by a reputed gambling jurisdiction with the likes of UKGC (United Kingdom Gambling Commission), MGA (Malta Gaming Authority), Government of Curacao, etc. Having an SSL encryption technology enabled on the site is also a must-have factor in our ranking process.
---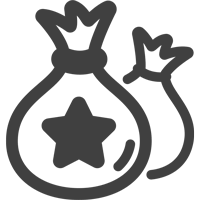 Bonuses and Promotions – Offering a generous welcome bonus package is a part of every bookmaker's promotional activities. We take into notice how lucrative the bonus package is and whether the wagering requirements are attainable. Regular promotions like free bets, refund bonuses, price boosts, etc. also help us rate the best League of Legends betting sites.
---

User Interface – Any renowned League of Legends betting site should have smooth and fast accessibility from desktop and mobile platforms. Simple layout, attractive design, ease of navigation, etc. are also kept into consideration during the ranking.
---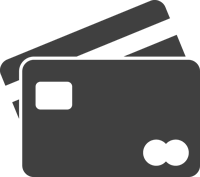 Banking Options – Our recommended LOL sportsbooks must ensure that they offer a wide variety of payment systems along with fast payouts. They should also remain fair in terms of payment policies.
---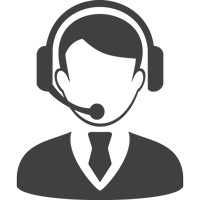 Customer Support – The best League of Legends betting sites offer customer support via live chat, telephone, and email services. Many of our top-ranked LOL sportsbooks also offer customer support services via WhatsApp, Twitter, Facebook, and other social media platforms.
---
How to Bet on 
League of Legends
There are a few ways you can place bets on League of Legends matches. The most common betting methods include the following:
Skins/Items Betting on League of Legends
Skins betting can be enjoyed in a skins betting League of Legends site where wagering can be done with in-game items like skins, weapons, and other collectibles. Although skins betting was initially popular, in recent years, its appeal is lessening due to the majority of the skins betting sites not being regulated properly. Potential scamming and fraudulent related activities may be involved in the skins betting sites and therefore, we do not recommend it to our readers.
Fantasy Betting on League of Legends
In places where betting on real-life esports events are banned, you can take advantage of fantasy betting to satisfy your punting cravings. In fantasy betting, you can create your own team of champions and win rewards based on their performance in the match.
Real Money Betting on League of Legends
Real money betting on LOL is the most popular and well-sought method of betting as it heightens the excitement of the game even more. In a real money betting site, you can place a wager with cash, bonus money, free bets, etc. depending on the bookmaker you choose.
However, the most noteworthy aspect of a real money League of Legends betting site is that it is licensed, regulated, and promotes a safe and fair betting environment. This is why all our recommended betting sites here include the best real money LOL sportsbooks in the market.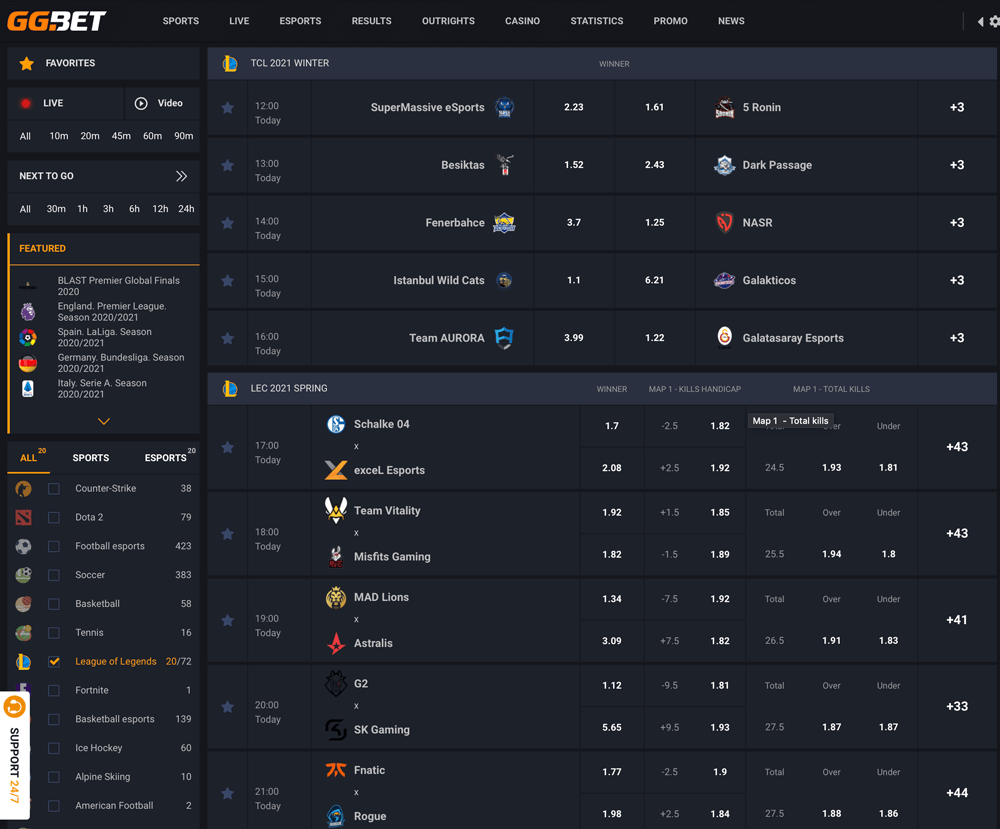 ---
League of Legends Betting Types
When it comes to betting types, League of Legends probably has the most diverse range of options. While the majority of our best-rated LOL betting sites offer special bets on these events, here are some of the most common betting types that you may find at almost every League of Legends betting site.
Outrights
Outrights bets are placed to determine the potential match or tournament winner. Generally, the odds are higher with the underdog and lesser for the match favourites.
Map Winner
In a map winner bet, you can place bets on the winner of individual maps. This is made possible because each LOL match is played on a few selected maps. This market is usually offered both for pre-match and in-play betting.
Correct Score
In best of 3, best of 5 matches, odds are usually higher for the Correct Score betting type. Here the bettors can place a stake on the exact score of a LOL match.
Total Maps
Based on the players' stats, gaming styles, and other factors, bookmakers set a certain number of maps count. Punters have to bet over or under the set number to predict the total number of maps in that match.
First Dragon/Baron
In this betting type, bettors can place a wager on the team to kill the first dragon or baron.
First Tower/Inhibitor
Punters can bet on a certain team to destroy the first tower or inhibitor in a specific map in this betting type.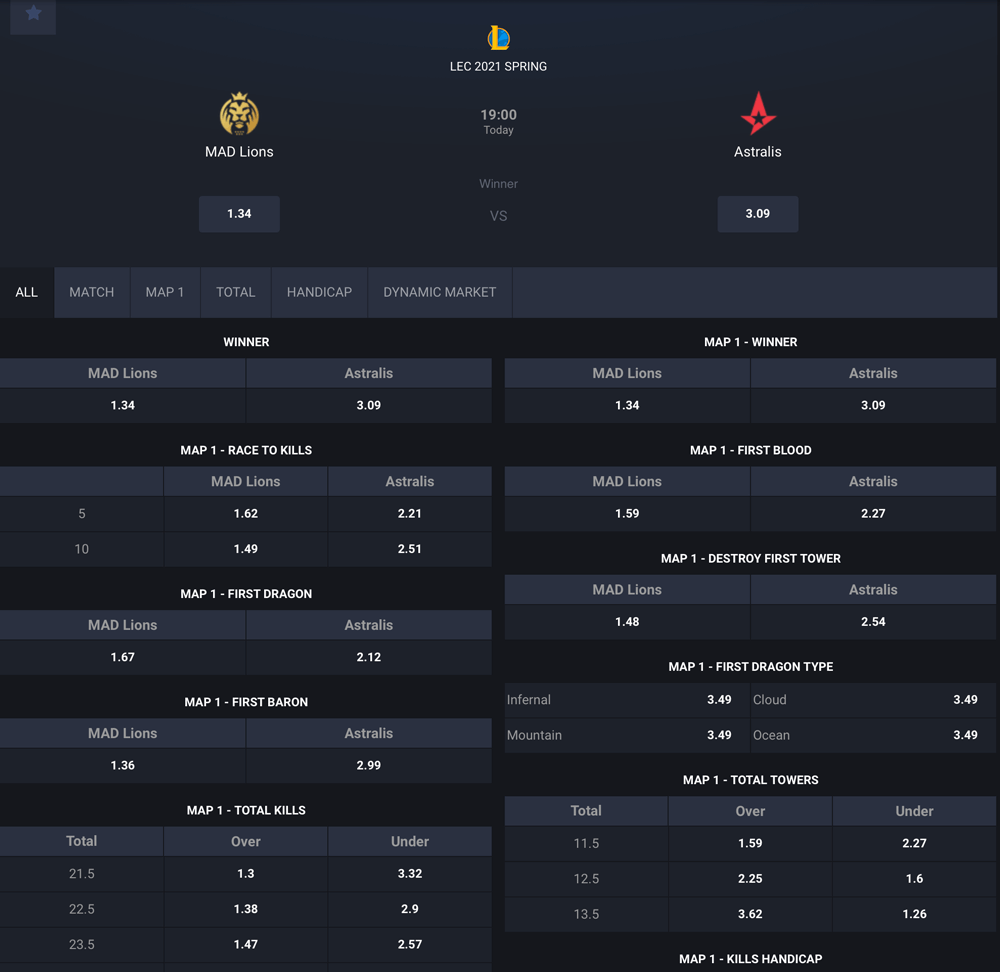 ---
How to Place a Bet at a League of Legends Betting Site?
After you have selected a League of Legends betting site from our recommendations, visit the desktop or mobile site of your chosen bookmaker. If you are more comfortable in betting on the go, then you may also consider downloading the sports book's dedicated mobile betting app.
Here is a detailed guideline to help you sign up and place your bet at a League of Legends betting site.
First off, click on the "Register/Sign-Up" button and fill up the form providing authentic information regarding your personal and banking details. Complete the registration process and wait for the confirmation email.
Next, log in to the site with your user name and password and visit the "Bonus" section. Opt for a welcome bonus suitable to your betting style, and make your first deposit as per the bookmaker's requirements.
Now, it's time for the fun to begin! Visit the "Esports" sections and look for available League of Legend events. Place a stake keeping our League of Legends betting tips (explored later in the article) on the mind and enjoy your rewards!
---
Which League of Legends Events Can be Bet on?
Being one of the most trending esports in the gaming world, League of Legends boasts of hosting both major and minor events throughout the year. In fact, there is a high possibility that you can visit a League of Legends betting site any time of the day and find at least one event to place bets on.
Although we recommend the beginner punters to start their LOL betting journey from the regional competitions for gaining experience first, we also understand the hype regarding the most competitive League of Legends events can escape none. If you belong to this category, take a look at the major LOL tournaments and championships below.
The prize pool, the markets, and the odds are relatively higher in these events, and therefore, these events are a melting pot for players, fans, and esports bettors alike!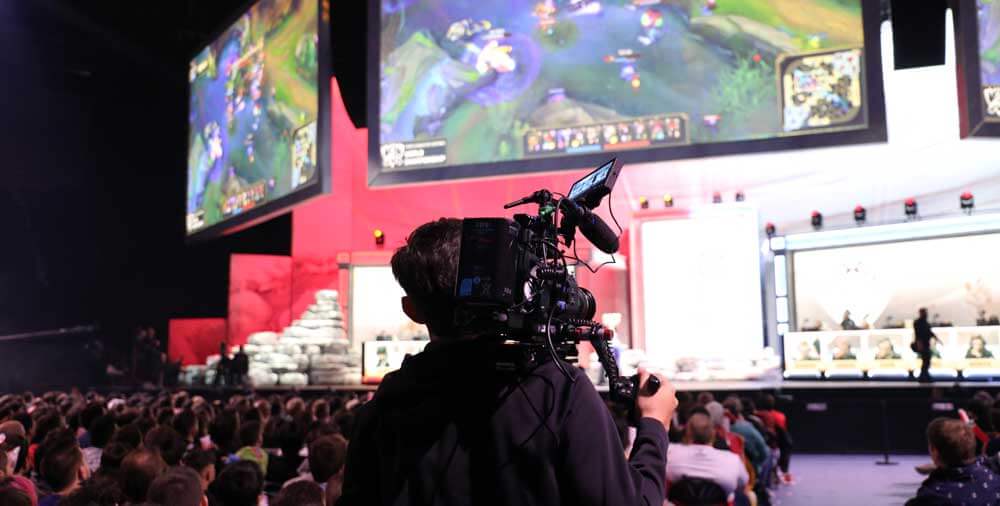 League of Legends World Championships
Hosted by Riot Games since 2011, the League of Legends World Championships consist of a series of matches where the best 22 LOL teams take part to win the £2 million prize pool and the title of the champion.
Each year, the event begins with a Round-Robin group stage, knockout rounds, and the last round with the finalists. The teams competing in this championship come from all across the globe. To prepare for the upcoming LOL World Championship battle in Shanghai in 2021, you can start looking at the best team stats from now.
Mid-Season Invitational
Mid-Season Invitational is another annual tournament event organized by Riot Games that hand-picks the best teams from different regions. Beginnings since 2015, the event emphasizes the winning teams from the Spring Split events and allows them to compete for the massive cash prizes. The ultimate winning team can take part in continent-based events later in the year.
Legends Championship Series
Legends Championship Series highlights the LOL gaming hubs and brings out the best of the best teams. The event holds competitions in Europe, America, China, South Korea, etc. and lets the first three teams in the leader board to qualify directly for the League of Legends World Championships.
Kespa Cup
Kespa Cup focuses on the South Korean LOL gamers and offers a prize pool of over £150,000. The event is organized annually by the Korean Esports Organisation and is mostly dominated by the Asian LOL teams.
---
League  of Legends Betting Tips
Before you begin League of Legends betting with real money, give the following tips a read. While we cannot promise you the ultimate win, we can ensure that with these tips, your LOL betting sessions will remain enjoyable and relaxing without creating a massive dent in your wallet.
Understand the gameplay by playing the game yourself or by watching live streaming of pro gamers.
Keep track of the team stats, player performances, latest updates, and upcoming events.
Look for value odds by comparing a few betting sites.
Set a betting limit with a fixed amount you can afford to lose.
Review your previous bet outcomes to form improved strategies.
Focus more on the thrill of betting than monetary gain.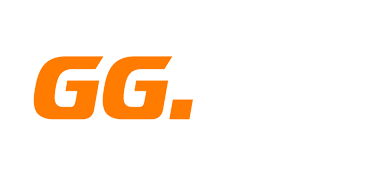 Great variety of esports markets
Both skins betting and real money wagering
Live streaming on most esports markets
---
League of Legends Betting Sites – FAQ


Is betting on League of Legends legal?
Generally speaking, yes. If esports betting is accepted in your country, betting on League of Legends should be legal as well. To ensure whether your selected betting site is legal in your region, be sure to go through the bookmaker's terms and conditions before you place a wager.


Is League of Legends still popular?
Although League of Legends has been in the online gaming scene some 2009, the game is still popular and receives over 100 million players per month.


Which is the best League of Legends betting site?
The best League of Legends betting sites comprises of a good range of markets, great odds, quick payouts, license from a reputed gambling commission, 24/7 customer support service, user-friendly layout, etc.
You can choose one of our recommended League of Legends betting sites for a hassle-free start to your LOL punting journey. However, if you have some time on hand, go through a few of our top-ranked sites and settle for the one that matches your betting needs.


Can I use cryptocurrencies while betting on League of Legends?
A large number of League of Legends betting sites offer cryptocurrencies like Bitcoin as a payment system. Before you decide to use it for online betting, be sure that you understand the value difference between real money and cryptocurrencies.


How much should I bet on a LOL match?
As a rule of thumb, bet an amount that you can afford to lose on a bet. You can also start with smaller stakes and place bets on different markets to see the outcomes. When a certain market and betting strategy seems lucrative enough, you may consider raising your stake a bit high.


Which mistakes should I avoid during LOL betting?
While betting on LOL betting, avoid underestimating the importance of the latest team stats, backing your favourites only and most importantly, avoid chasing your losses.
Consisting of a large following of gamers, fans, and bettors alike, League of Legends is one of the most trending esports today. Even if you are new to League of Legends betting, you can still gain an upper hand in the area, thanks to all the information available online.
Now that we have backed you with the basics of League of Legends betting and introduced you to the best League of Legends betting sites, be sure to join the vast multi-verse of LOL and enjoy esports betting sessions like never before!