England might be doing battle in the first Test with South Africa at Lord's, but at the same time, the Friends Life T20 is underway. For a few years at least, this is the closest thing England (and Wales) has to the IPL – and truth be told, it's not really close – as all 18 first-class counties battle it out to make it to Finals Day in September and then lift the title on the day.
As the summer holiday kicks in, it will take the T20 limelight and packed crowds will take in all the action up and down the country.
Format
The 18 counties are divided into two groups of nine (North and South) along geographical lines. Each team plays 14 matches in the group stage, meeting six of the other teams twice and the other two once. The top four teams in each group progress to the quarter-finals.

These are played over three days in late August and the winners head to Finals Day, where both semi-finals and the final will be played at Edgbaston on the longest day in the county cricket season.
Form & previous winners
This is the first official Twenty20 cricket the counties will have played all season as up to now they have been focused on one-day and first-class matches, so teams that get off to a good start – or are in form in other formats – can often steal a march on their opponents.
While traditional powerhouses such as Notts Outlaws, Surrey, Yorkshire, and Warwickshire (called Birmingham Bears for T20 only) can usually be expected to be strong, look out for some of the "smaller" counties.
The likes of Essex, Gloucestershire, Leicestershire, Northamptonshire, and Somerset generally excel in the shortest format of the game and will often divert resources towards T20 cricket as they are unable to regularly host international cricket which brings in big money.
Last year, Northamptonshire beat Durham Jets in the final to claim their second title, while the year before Lancashire beat Northamptonshire. Other previous winners are Birmingham, Leicestershire (3 times), Hampshire (2 times), Kent, Middlesex, Somerset, Surrey, and Sussex. If any team gets on a roll, they can be hard to stop.
Overall and group winners
As finalists of the one-day cup that recently concluded, Surrey (13/2) and Notts Outlaws (7/1) are the early favourites to win the tournament with Ladbrokes. Last season's champions Northamptonshire are only 16/1, perhaps because no team has ever retained the trophy. If they show good form early on, then they could buck the trend and would be worth a bet but Notts deserve their favourites tag. Get on them now before their price drops!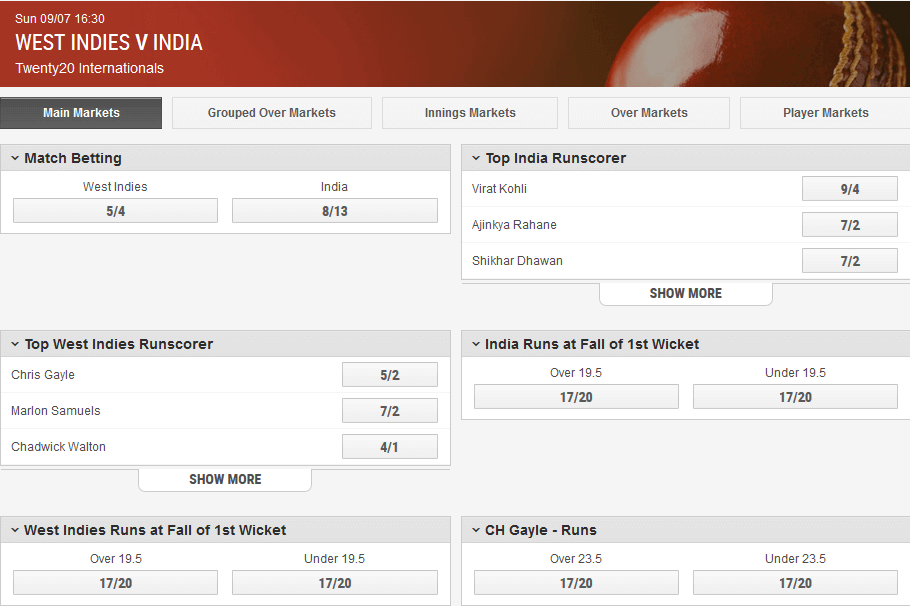 Notts are 10/3 favourites to win the North Group and Surrey 7/2 to win the South Group. Essex at 6/1 to win the South Group (Ladbrokes) could be worth a small bet at those odds in an open contest. Although some bookmakers closed those markets once the tournament got underway, there are still plenty of betting options available on the individual matches and to be fair, that's no bad thing, because it is very hard to pick an overall winner before seeing how teams perform in the early stages.
Pointers and other markets to keep an eye on
Try to watch, or catch up on the results of, some of the early matches and get a feel for which teams are in form and which teams are not. Home advantage is often important due to familiarity with conditions. There will be washouts so towards the end of the group stage consider which teams are under pressure to get a result and how they might react. Towards the end of the group stages, teams that are out of contention may rest players and give youngsters a chance. Factor that into your betting as this may add value to backing a favourite.
While backing an obvious favourite to win against an out-of-form opponent may not win you very much, you can look at other markets. Consider the top batsman market for each side. Look at who is scoring the runs for each team and take a punt on one of the players in the top five in the order as that is usually where the runs come from.

So, taking the Derbyshire v Northamptonshire match as an example, while Northamptonshire's odds of 1/2 don't give us much to work with, we see that Richard Levi was 5/2 with bet365 to be the team's top scorer. Given that he was the team's top scorer in the one-day cup, that he has an outstanding T20 record including an international century, and he opens the batting, he would be worth a small bet at this early stage of the competition.
Runs, runs, runs
You could also take a look at a punt on the tournament's leading run-scorer. This doesn't necessarily come from a team that wins the title or even makes it to Finals Day as players can rack up enough runs during the group stages to top the table, so it is a hard one to judge. While England pair Jason Roy (9/1) and Alex Hales (10/1) lead the market with Paddy Power, they may not play a full campaign if they are called up for international duty and they can be inconsistent. A safer bet is an experienced overseas international such as Gloucestershire's Michael Klinger (12/1) or Birmingham's Brendon McCullum (14/1). Klinger was outstanding for Gloucestershire last year when he topped the charts and opens the batting, so he would be my choice.