The world has never seen anything quite like it. The build-up to the 26th August Las Vegas fight between Floyd Mayweather and Conor McGregor has been extraordinary. It is expected that $30 million will be wagered on the fight in Nevada alone. But can the fight itself live up to the billing? And where can you get a bet on – whatever your budget?
It is highly unusual for a fighter to challenge another fighter from another discipline, so it is easy to understand why the clash has such a huge profile. The two men are already huge stars of their sports so that adds another layer of intrigue and interest. Both stand to earn a fortune from the fight, whatever the result, so it's already been named "The Money Fight".
Fight preview
In some respects, it is a really hard fight to preview in terms of what to expect. Mayweather is undefeated as a professional boxer and a champion at five different divisions. He is an outstanding defensive boxer and one of the most accurate punchers the sport has ever seen. However, he retired for the second time in 2015, only to return chasing a 50th victory. At the age of 40, this will surely be his final appearance.
McGregor, 29, is the current UFC lightweight champion and the first man to hold titles in two weight divisions at the same time. He began boxing at the age of 12 and held national junior titles before moving to Mixed Martial Arts in 2006, where his boxing is seen as a key strength. He boasts a slightly longer reach than Mayweather and as the younger of the two, should be a little more mobile.
The Irishman will likely be the more aggressive of the two fighters, going by his UFC style, and the match-up between his aggression and Mayweather's renowned defence could be the key to the fight. If he can land some early blows and bring Mayweather out of his shell, it might be game on. If Mayweather's defence holds and he is able to absorb the punches, McGregor will be wide open for a counter-attack later in the fight, particularly if he tires.
When he strikes, Mayweather will land punches and there are doubts about whether McGregor is strong enough to take them. Some are predicting that McGregor will fail to even land a punch on Mayweather but that's unlikely.
Form
Over his career, Mayweather is 49-0, winning 26 of those fights by knockout. He has literally beaten all challengers at every division he has fought at but his last seven fights all went the distance and his last knockout win was when he beat Victor Ortiz back in 2011. There was controversy over that particular bout, however, and the previous one was the technical knockout of Ricky Hatton in 2007.
McGregor has a 21-3 UFC record, and has no professional boxing bouts to his name. Of those losses, one was on featherweight debut, another when he switched divisions, and the most recent was when he made his welterweight debut. Not starting well when he switches divisions does not bode well for the Irishman although he has never been knocked out. He also has an excellent record of beating or knocking down opponents who were unbeaten or had unblemished records before they fought him so his threat cannot be completely dismissed. But Mayweather is in a different league to anything he has faced in his career to date.
Best Odds
All bookmakers have made Mayweather the big favourite to win the fight. His experience and record as a boxer and the little time McGregor has had to adapt to life back in the boxing ring all point to the American coming out on top.
The best price available at the time of writing was 2/11 with Marathon Bet for Mayweather to win with most bookmakers either 1/6, 1/7 or 1/8 in favour of the American.
The best price available if you want to back a McGregor win was 11/2, offered by Blacktype. Most bookmakers will give you 4/1, 9/2 or 5/1 with the draw available at anything between 33/1 and 50/1.


In terms of betting on the method of victory, the bookmakers expect Mayweather to win by either a knockout, a technical knockout, or a disqualification, and you will find a range of odds from 3/5 to the 4/6 offered by Ladbrokes, PaddyPower and many others.
Mayweather winning by decision is a best price of 12/5 with betway and around 2/1 elsewhere.
If you're gambling on a McGregor victory, him winning by knockout or disqualification is between 5/1 and 6/1 (BetVictor, Betfair, Betway) and by a decision is hardly favoured at all, with the best price the 40/1 offered by 888Sport.
Where it gets really interesting is in the round betting, where you can bet on which round you think your chosen fighter will take his victory in.
Despite Mayweather winning by stoppage being favourite in the method of victory market, the current favourite in this particular market is for him to win on a decision or technical decision, where betway offer 11/5.
You can get fairly similar prices on Mayweather to stop the fight in any of the rounds between round 4 and 10 while an early stoppage is not well favoured. You can get 28/1 for first-round stoppage with bet365, 25/1 for one in the second-round and 20/1 in the third. You'll get between 14/1 and 18/1 for stoppages until after round 10. Unibet go 25/1 it'll be a stoppage in the 11th and 33/1 it'll be in the 12th.

However, every one of those prices is shorter than any knockout for McGregor. Sportingbet make him 40/1 to knock Mayweather out in the first round. If you really want to go for the outside bet, then Unibet offer 100/1 for McGregor to pull off a knockout in the 12th round.
If you are looking for a bet on the over/under in terms of rounds, then most bookmakers have priced these up similarly. However, Unibet are offering better odds than most others if you want to bet on an over (e.g. betting that the fight will last over 2.5 rounds) while bet365 are heading the market for betting on an under (e.g. if you think the fight will last less than that).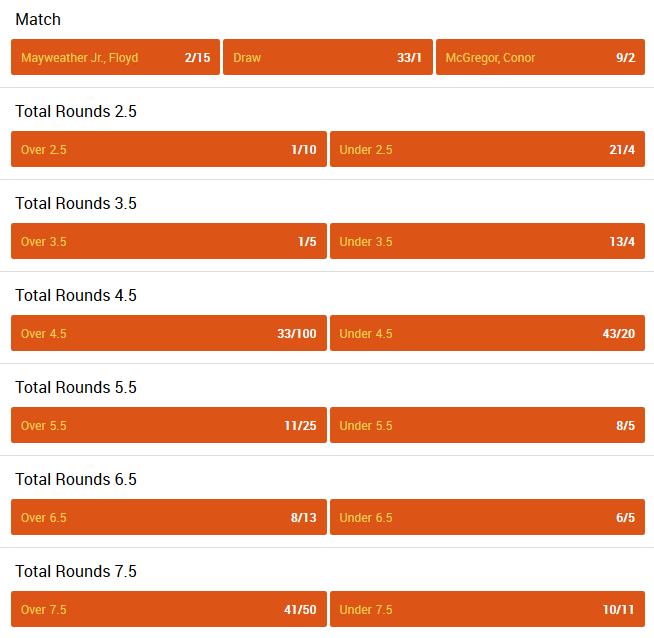 There are a number of other bets available as well. For example, Paddy Power have a range of markets where you can bet on what minute the fight will end, the specific way the fight will end, and how many punches each boxer will land, for example.
Figure 4 – Some of the odds available at Paddy Power
Top Betting Offers & Promotions
With an event of this magnitude, bookmakers are falling over themselves to entice people to have a bet on the fight, with a range of offers including enhanced odds and bonus or free bets – in addition to regular offers and promotions.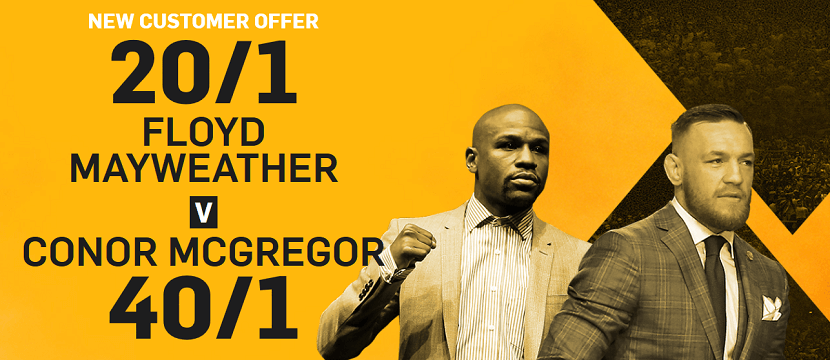 For new customers, both Betfair and Paddy Power are offering enhanced odds of 20/1 for Mayweather to win while Betfair will also give you 40/1 for McGregor to win, although you can only bet a maximum of £1 if you want to take advantage.

Paddy Power also have a £20 risk free bet offer with money back in cash if you lose.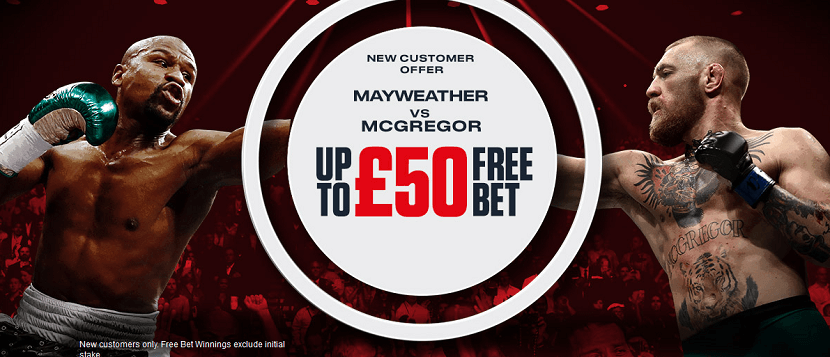 Meanwhile, Ladbrokes are offering up to a £50 free bet for new customers signing up and betting on the fight.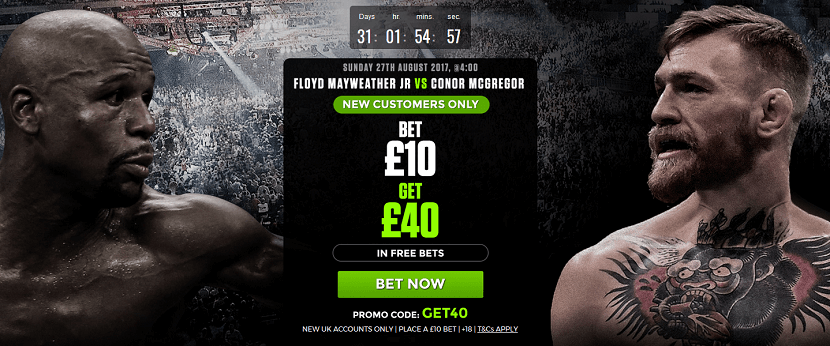 Prediction
Everything points to a Mayweather win. McGregor may be younger, and fresher, but that is unlikely to be enough to overcome Mayweather's experience and considerable power in the ring. After all, McGregor hasn't boxed for more than 10 years. Mayweather would not be taking this fight on if he and his team didn't think he can win it and his ring-nous has to give him the edge. He has come up against and beaten younger men before – Ricky Hatton, Ortiz, and Manny Pacquiao, for example – so he won't feel the age difference is a factor.
The bookmakers probably have it right that although Mayweather can be expected to clinch his 50th career victory, he is unlikely to complete the victory early in the fight. It will take both fighters time to work each other out and as a champion in his own discipline, McGregor is used to the big occasion and will – literally – go toe to toe with Mayweather. The question is how long can he last?
Betting Tip
Our tip is that Mayweather will win, but he won't do so until after the fourth round and possibly even after the eighth. We recommend looking for the best odds you can to bet on over 7.5, 8.5 or 9.5 rounds and to also take a punt on the round betting – you could even back Mayweather to win in rounds 8, 9, 10, 11 and 12 and still make a profit if McGregor holds out as long as we think he can. A safer bet would be to take the 9/4 PaddyPower offer for Mayweather to win between rounds 7 and 12 or the 7/4 bet365 offer on the fight going the distance.