I was doing some serious pondering at the start of Wimbledon 2017 about whether or not this would end the dominance of the Big 4 at SW19. Going into the tournament you had reigning champion Andy Murray running on a season which has been thrown off track time and time again because of injury or illness. You had former world number one Novak Djokovic who was in the biggest slump of his professional career and with only one title on the ATP since January.
You had Rafael Nadal, whose recent form on the grass courts of the Grand Slam should have sent punters fleeing from backing him, and then you had the aging legs of Roger Federer who was going into the tournament as favourite, but you still can't help that niggling feeling that at any time he is just going to run out of steam. But then the action starts and things change. You see Federer looking as light on his feet and making the game look as effortless as ever.
You have Andy Murray turning up the aggression like never before and scrapping his way to form. Even Novak Djokovic decided to turn up and play ball at the Grand Slam and so predictably the remainder of the big four, with Rafael Nadal having crashed in the fourth round in that epic duel with Luxembourg's Gilles Muller, are dominating the Wimbledon outright winner market, with Feds leading the way at 6/4 and Murray at 7/2. Nadal actually subtle had a portent of his day on Monday after announcing to the press that the Big 4 are obviously getting older and aren't going to be around forever.
Then he goes and loses. But Murray, Djokovic and Federer are there making up almost half of the remaining eight. The demise of Nadal in a way favours Andy Murray because they were on a collision course for the semi final in the top half of the draw. Instead, world number one Murray will face the winner of either what is likely to be a tired Gilles Muller or Marin Cilic in the semi. Cilic at 6/1 represents fantastic outsider value as he is playing very well on the grass.


In the bottom half of the draw, Federer and Djokovic appear to be heading to an inevitable final four showdown. No player since Lleyton Hewitt's win in 2002 has won the Wimbledon title other than one of Murray, Nadal, Federer and Djokovic. So it's worth sticking with one of them to come through. But how do you pick out a winner now and find a bit of value at the same time now that all the prices have shortened drastically? Cilic is worth a flutter as he will trouble Murray greatly if they meet in the final four.
My faith is in Novak Djokovic serving up a slice of Wimbledon wonder, is where it is at. He has been untroubled in the tournament so far, and he won't meet the dangerous Dominic Thiem in the quarter finals after the young Austrian was just finding his grass form. Instead, Djokovic will carry a 25-2 head to head record against Tomas Berdych at the quarter final stage (assuming Djokovic gets past Adrian Mannarino in his delayed fourth round match).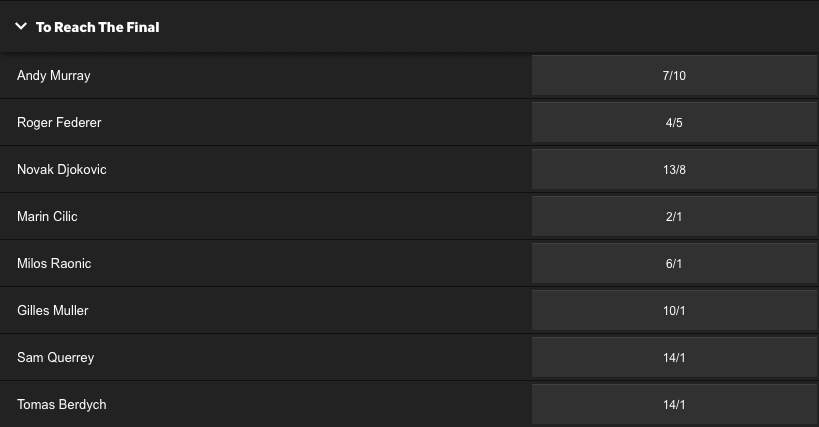 Djokovic should have been snapped up at around 6/1 pre-tournament because that screamed value all the way to Centre Court. He has looked relaxed and flying under the radar a bit, which he'll enjoy after a difficult season. Yes, he may meet Federer in the semi finals, but why worry when stress when Djokovic has won his last two Wimbledon duels with the Fed Express? Oh and Murray in the final? You would trust Djokovic way more to deliver as of the big four, Murray always looks the most likely to lose sets.