One of the most intriguing and built up fights will take place next month, when Boxing superstar Floyd Mayweather gets into the ring with UFC superstar Conor McGregor. This fight has been spoken about for a very long time, without ever being signed by both parties. However, they have now struck a deal and we can finally build up to one of the most intriguing sporting events of 2017.
The fight will take place on August 27th in Las Vegas, a fantastic venue to mark this great sporting occasion.
This is a fight that everyone will have an opinion on I am sure, and because of that I expect a lot of money will be placed on the fight. Right now, Mayweather is favourite to win the bout, although who knows what twists and turns we will see in the build-up.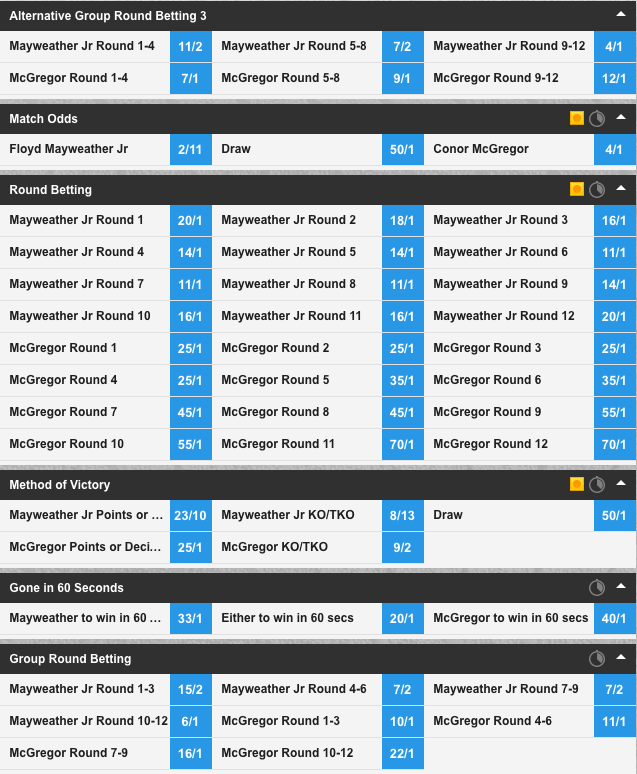 To get people interested in the event early, Betfair have put together two great offers for new customers on the fight.
For those of you out there who fancy Floyd Mayweather to win the bout, you can back him to win at 20/1 when signing up to a new account with Betfair. The bet you place is to a maximum stake of £1, and all winnings will be paid out in free bets. For those who are looking to place an early interest on the fight and want to pick up some great odds, then this is definitely an offer for you to take a look at. With low investment required, and great odds on offer for Floyd Mayweather to win, this is a great offer from Betfair that anyone opening a new account should be taking advantage of. There is no way you will be able to back Mayweather at this price nearer the event, so take advantage now.
There are plenty of people out there who fancy an upset in this fight, and they think that Conor McGregor can win the battle. For those people, they can take advantage of the same offer with Betfair, but this time the odds are a huge 40/1. Again, the same rules apply, this bet is to a maximum stake of £1 and your winnings will be paid out in free bets. For those of you that fancy McGregor to cause an upset in Las Vegas, this offer gives you the chance to back him for small stakes at a huge price. This price is surely not going to be on offer nearer the time, so take advantage now while you can.
The excitement is building and people are getting ready to see the spectacle that will be the fight between Floyd Mayweather and Conor McGregor. As we edge closer to fight night, the build-up will be all over our television screens and the excitement for this fight is sure to grow.
A lot of money will be wagered on this fight over the coming weeks, but the smart time to place your bet may be now. With a great offer available with Betfair, this is a great time for fight fans to place their bets. Choose who you are going to side with, either Mayweather or McGregor, and take advantage of the best price currently available when you open a new account with Betfair.