The Betway Sports Betting App Review
Betway has been operating in the market for a long period, having been founded back in 2006, managing to achieve good levels of success to date. Thanks to their ranging and interesting betting selection, sports betting lovers are in for a treat. For those looking for a provider with a good mobile variant, you will not be disappointed either. Although Betway do not really score outstandingly in terms of design within their mobile app, while other negative factors also surround their payment options, the betting selection is certainly impressive.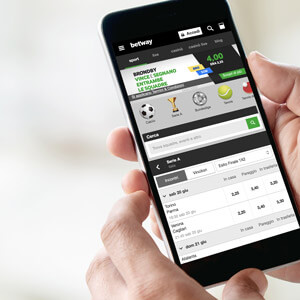 Good Selection of Betting Markets with Focus on Top Leagues
Well-designed user interface and low latency
Simple & Quick Installation
---
The Betway App: Overview
Fundamentally, the British bookmaker Betway need not be ashamed of its betting selection, as it actually has a good selection of sports betting markets. However, the bookmaker is known to focus primarily upon the top leagues and events, rather than more diverse competition. This means that if you are interested in football, you can only have access to the first three leagues for most countries. Even less competitions are available with regards to other sports, meaning that users who are interested in a wide range of action will possibly be disappointed here.
---
The Betting Selection – The Sports Betting Selection of betway


At Betway, around 30,000 single bets can be chosen from per day though.  The selection is also complemented by various special bets.  For this reason, Betway sits at a very good mid-range platform when compared to the rest of the market. Their markets can also be accessed via the Betway app, which includes a large number of live bets. However, live-streams are quite scarce, there is a small number of them from time to time. This is a shame for some customers however because this area keeps on gaining interest – especially with experienced bettors.
Conclusion: The betting selection on the Betway app is still impressive, even though it does not score highly thanks to its large bandwidth, since it simply cannot prevail against the competition.  Whoever is expecting something big will probably be disappointed by the conciseness. However, particularly for beginners in the area of sports betting, the mobile variant is definitely sufficient.
---
Registration at betway via the Sports Betting App


In order to be able to place mobile bets at Betway, the app must of course be installed on the your device. The bookmaker offers an app for iOS, as well as for Android. By downloading, Betway does not really prevail against the competition. Even if the operating systems, which are particularly often used, are provided in this way, there are also users of Blackberry and Windows Phones, who would enjoy being able to place mobile sports bets.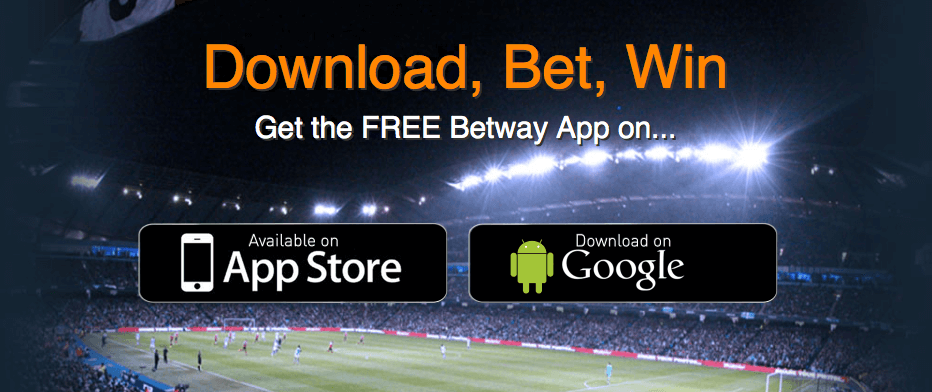 Conversely, the installation of the app is quite simple and quickly completed. After the app has been found via the Store, the download only needs to be clicked on. Within a short period of time, it is installed and can be used directly. An interesting fact is that one or more tests have shown that the app can also be used for Blackberry devices. Here there are always still a couple of wobbles and crashes, which can be very irritating in a sector like sports betting, where everything must work quickly. Experience shows that the app works very well for the foreseen operating systems.
Conclusion: The download of the app is simple and carried out quickly via the Store. Within a few minutes the application can be installed on devices with iOS or Android.
---
Membership and Account Information


How does the registration via the app of the provider look like? Here you do not really need to worry too much actually, because it works well via the mobile application. To do so, users simply go to the login button and receive directly a template which makes it possible to register. For those who are already registered, you will simply need to enter your user data. Meanwhile, those wishing to register should simply continue using the "register" tab, before completing this part of the process.
The template itself has been kept very clear and simple. In reality, it is simply a short form that must be filled out at this stage. Requested are the first and last name, the birthday and the e-mail address, as well as residential addresses. Customer telephone numbers must also be given, before users can select their preferred language, as well as determining a username and a password at end the registration process.
Conclusion: The registration process via the Betway app is possible without any problems and can quickly be carried out. Those who are curious about how the app is structured and wishes to start right away do not need to wait much time for the account to be created.
Pros and Cons of Betway mobile
Pros
Regulated by the Gambling Commission of Malta
Solid loyalty programme
Diverse betting selection
Higher bonus
Cons
Support is simple
Payment methods for payouts are partly limited
---
Structure and Clarity – How simple is the betway app?


In order for an app to present a good platform on which customers can place sports bets, it should be structured as clearly as possible. In this test, we examined what the Betway structure looks like, and to what extent the entire app is clearly designed. Experience showed that in this area there is little that can be criticised. When the app is opened, at first sight everything that you must know is shown. The upper menu bar is made up of four different tabs which can be selected from. The user decides whether he would like to go to the sports area, try his luck with the live bets or maybe make an excursion into the casino or the virtual Vegas. The login and logout section is also to be found via these tabs. There is even an option for customers to remain logged in at Betway, meaning that you do not need to enter your account details again and again.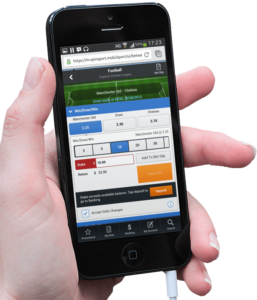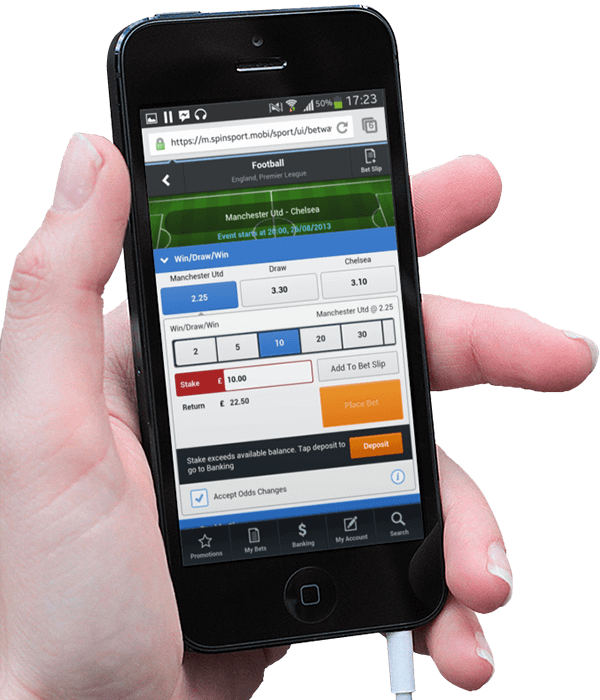 Another menu is located on the left-hand side of the app, while via an additional window which opens, you can select the relevant areas to you. Thus, users can go to the live bets for instance, or inform themselves about the current promotions. In addition, the cash-out feature is also available here. For those wanting to edit their individual account settings, this is also easily accessible too. In case of questions, ambiguities or potential problems with the app or your account, it is possible to make use of the support via the app.
Regarding the colour design, the provider makes use of quiet tones and uses predominantly black, white and green. The fast search at Betway is is very handy too. With it, users can quickly search for a particular sport, without needing to go through the menu. This is especially useful on the mobile app, with many wanting to save time and are not keen on searching a lot. With the fast search, this problem resolves itself.
The betting slip was also able to pass our test. After the desired games are selected, the betting slip can be found in the lower section. With the betting slip, you can decide whether it should be a combined or a single bet. Those wanting to can also place side bets. Stakes are entered, meaning that bets are ready to be placed.
Conclusion: The structure of the Betway sports betting app is impressive. A very simple menu and a clear structure make it easy to find one's way around as a beginner, newbie or even as a long-established punter. A lot of time is also saved when looking for Betway's betting offers.
---
Deposit and Payout: What the betway sports betting app offers in this area


Depositing via the betway app is designed almost as simply as the registration. This is a good thing, since a lot of bookmakers do not even make it possible to make a deposit via the mobile variant. With them, it is necessary to login via the website and then to carry out a deposit so that the account can be used.  This is different with this provider. After you have logged in and found the menu, you can almost get started right away. You only have to press on the £ symbol at the bottom part of the page and already the template opens itself. Here you can chooses from different variants for depositing.
At betway the range of possibilities is definitely large. Of course there are credit cards as well as direct debit to transfer the money.  Then Instant Banking, Neteller and Skrill are available as well. Even PayPal is offered.
However, some difficulties can arise during payout if you are set on a particular payout method. Payouts are not possible with all methods. For this reason it is important to inform yourself beforehand whether the desired variant is offered.
Conclusion: The selection of deposit methods via the app is large. Here the bookmaker does not fall behind the competition, but rather scores due to variety. For payouts though the range is rather limited. Whoever prefers a particular payout method can reach his limits.
---
The Mobile Bonus – What does betway provide?


There is no mobile bonus exclusively for users who have opted for the app. However, Betway is quite generous when it comes to promotions. The bookmaker offers promotions time and again, which can be utilised at different periods.
Conclusion: There are definitely promotional offers provided by the bookmaker. In the area regarding the offers, users can have a look at the current promotions and decide whether they wish to participate or not.
Nice Welcome Offer
Well-designed user interface and low latency
---
Customer Service – What does the support look like at betway?


It is possible to make use of the customer support via the app too. Requests can be made directly by e-mail for instance, however they must be made quickly. In this context, it makes sense to use the live-chat. The Betway customer service team reacts rapidly and can give competent answers. However, the live-chat and the e-mail communication are not the only areas covered.  There is also a hotline offered, which can be called for free from landlines.  Those using mobile phones to call must bear the costs.
Conclusion: Betway does not make any cutbacks regarding support and this speaks in favour of the bookmaker. Here there are the most diverse ways to reach the staff. In case of problems, you are quickly helped.
Conclusion regarding the betway Sports Betting App
Up to now Betway only offers an app for iOS and Android, which also works partly for other mobile operating systems.  Those able to use the app will certainly be satisfied. Even if the betting selection could be a little broader, the odds are fair, while the structure of the app is clear and the selection of deposit methods is large. The bookmaker itself is not inexperienced and as such it is a reliable partner concerning the placement of bets. Therefore, the Betway app should be interesting for beginners, as well as for advanced players.