On Friday night in the Championship Derby face Hull in a game where they will be looking to get back on track following a big defeat before the international break. Both teams have been indifferent in their start, and both have the same record of two wins, two losses and one draw.
After the break it is now the time to find some form and kick on, both teams will want to do this to prove they can contend for promotion. This will be an interesting clash, both teams like to attack and score goals and we should be in for an entertaining game on Friday evening.
Derby Form
After a below par start, Derby won two games in a row, picking up three points against Preston and Bolton to give them some much needed confidence. However, when another win would've been great for them going into the break, they were beaten 3-1 away at Sheffield United to bring them back down to earth with a bang.
Derby are certainly capable of challenging for promotion, but they need to be more consistent if they are to have any chance of being involved. What we have seen glimpses of, we need to see more of and it will be their big test in September. A consistent Derby have a chance of promotion, but if we see them remain inconsistent then they are sure to fall back and become a mid-table team this season. This is an important month for them.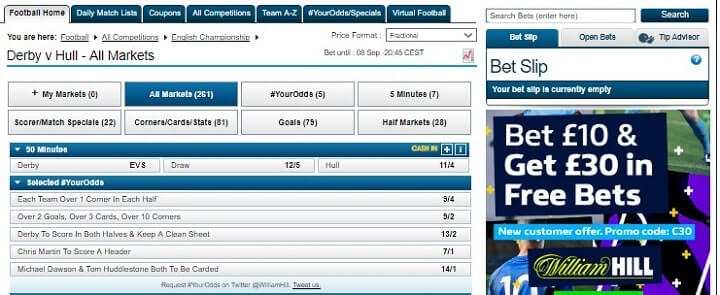 Hull Form
Just before the international break, Hull recorded a very impressive 4-0 victory over Bolton and that win will have sent them into the break very happy. However, what they need to do is they need to build on that win and make something of it. The break probably came at the wrong time for them, they would have loved another game just a few days after to take the momentum into.
Overall, it has been a similar story for Hull as it has for their opponents Derby in that they have been very inconsistent so far and September is all about them putting together a string of performances. Hull are capable of promotion just like Derby, but they have to perform week in week out in the Championship, it is a very difficult league to get out of and only the top teams manage to do that. We have seen patches of brilliance from Hull, but we have also seen them struggle and against a top team in Derby, they need to bring their A game if they are to pick anything up.
Team News
Derby have struggled to score so far this season, with just five goals in their opening five games, a figure that must improve. They have Chris Martin and David Nugent to play as the main target man and they need to produce goals for themselves and wide men like Andreas Weimann, who need to get more involved. Consistency and goals are what we need to see from Derby in September.
Hull have scored a lot, but they've also conceded more than expected. With Michael Dawson remaining at the club after the transfer window it will be up to him to make his defence work and keep things tight. Along with consistency, this is the most important thing for them to show in September.
Top Betting Tips
This game puts together two very inconsistent teams who will be desperate to find some form in September. Both clubs have the same aim for the season, as well as the same aim for this month, consistency is the key to their success.
With home advantage I am going to back Derby to win this game, hoping that they can put behind them the 3-1 defeat to Sheffield United before the international break. Derby are available to back at evens with William Hill and Stan James and I think that represents good value for a team who are more than capable of winning this game, and challenging for promotion.
I am looking forward to seeing these two play in September, it is a big month for both but I think Derby will be the ones to start the month off in the right way and it will be them who are celebrating at the end of this game. I am backing Derby, who are available at evens to win this game on Friday night, before going on to perform well in the month of September.