---
Most Popular Odds Formats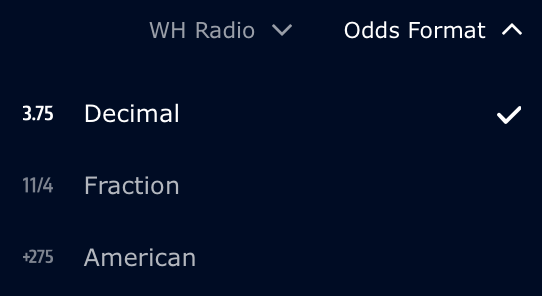 Decimals Odds – There's a huge push these days to make decimal odds the universal betting format. Betfair is leading this push and now only offers odds in decimal format, while some, but not all, Asian bookies are now supporting this format as well. In any case to explain Decimals odds are listed as how much a bet will return per 1 unit wagered. For example odds of 1.942 returns 1.942 units for each unit wagered. Unit refers to currency. If betting in Euros a €100 bet returns €194.2. If betting in Indian Rupees a ₹1000 returns ₹1942, if betting in USD a $10 returns $19.42. You see no matter what you bet if the odds are 1.942 just multiply your stake by that amount. Note: the return also includes the amount you staked, as in this already built in and your return is win + stake.
American Odds – American odds are used in the US and Canada and are often times referred to as moneyline odds. With this odds format the odds can be expressed as either a positive or negative number. In the case the odds are positive this is how much a $100 bet would pay in winnings. For example $100 staked at +144 is risk $100 to win $144 profit. When the odds are negative this how much you'd need to stake to win $100. For example -200 requires risk $200 to win $100.
Fraction Odds – Fraction are sometimes referred to as UK odds because this where they're the most frequently used. To calculate the amount of winnings solve the fraction and then multiple. For example 11/10 is 11 divided by 10 = 1.1, so if you stake £50 the payout is £10*1.1=£55 in winnings plus your £50 stake.
Hong Kong Odds – This odds format works very similar to decimals odds, but the difference is the return is not included in the odds. Therefore if the decimals odds are 1.91 the Hong Kong odds are 0.91, if the decimal odds are 3.50, the Hong Kong odds are 2.50. So the decimal odds represent how much a better will be returned in winnings, and he also additionally gets back his stake on the side.
Indonesian Odds – This odds format works exactly like American Odds except the odds are always priced as a single digit with decimals. For example, if American odds are +300, Indonesian Odds are +3.00. If American Odds are -250 Indonesian odds are -2.50. So, in this odds format +3.00 is risk 1 to win 3, and -2.50 is risk 2.5 to win 1. You also get back your stake on the side.
Malay Odds – In this odds format once again numbers can be negative or positive, but this is a little more confusing than other formats for reasons negative odds represent an underdog. For example if the Malay odds are -0.2500 this means you need to risk 0.25 to win 1, and is the equivalent of +400 in American odds, 4.000 in both Indonesia and Hong Kong odds, and 5.00 in decimal. Now when the number is positive the odds work just like Hong Kong Odds. Meaning odds of +0.86 is risk 1 to win 0.86 profit.
Now that you understand betting odds formats around the globe, no site servicing your country is off limits. Once again be reminded that no matter what sport you're betting the more betting websites you shop, the better odds you'll receive.