What a day on Wednesday Roger Federer had at Wimbledon in the quarter-final stage. It really couldn't have been scripted better for the tennis legend. In the fourth round, Federer received a boost with old foe Rafael Nadal getting eliminated. But then on Wednesday, things got even better for Federer who won his last-eight showdown against Milos Raonic (who was runner-up at Wimbledon last year) without breaking much of a sweat. But on top of that, he saw injuries to both Novak Djokovic and Andy Murray send them packing for the tournament.
So in the semi-finals, Roger Federer is the only one of the big four now left in the competition. Most notably perhaps is the departure of Novak Djokovic who had to pull out of his match against Tomas Berdych with an elbow injury after having lost the first set to the Czech player. So Federer gets an easier match in the semi-finals now against Berdych than having to face off against former world number one and Wimbledon champions Djokovic. The stars seem to be aligning for the Fed Express to get his hands on the Wimbledon title for the eighth time.
Roger Federer Form
For anyone who had backed Federer to win the tournament from the start, they would have been on smiles on Wednesday from SW19 as two of the big four fell by the wayside. But Federer just carries on in his sublime ease and makes everything look so effortless on grass. His service game continues to be immaculate and defensively, despite those aging legs, he still coped well against the massive serve and volley game that Canadian Raonic throws down. Federer, who hasn't dropped a set at Wimbledon this season so far, looks unflappable and he just doesn't look as if he is going to get into trouble at all at any point. Federer won 90% of his first serve points in that semi-final match against Raonic which is a staggering stat.
Tomas Berdych Form
Sure, Berdych benefited from an injury-hit Djokovic and if the Serbian had been fit and on top of his form, then Berdych arguably wouldn't be still in the tournament. That having been said, Berdych made the final four last season at SW19 so he has managed to match that at least. In the fourth round, he produced a notable victory over the upcoming Dominic Thiem over five sets in a real grinder. So that was a big effort from Berdych who will have balanced that extra effort out by his short time on court against Djokovic. Berdych though has dropped a set in all but one of his completed matches at Wimbledon this year and is going to be vulnerable against Federer.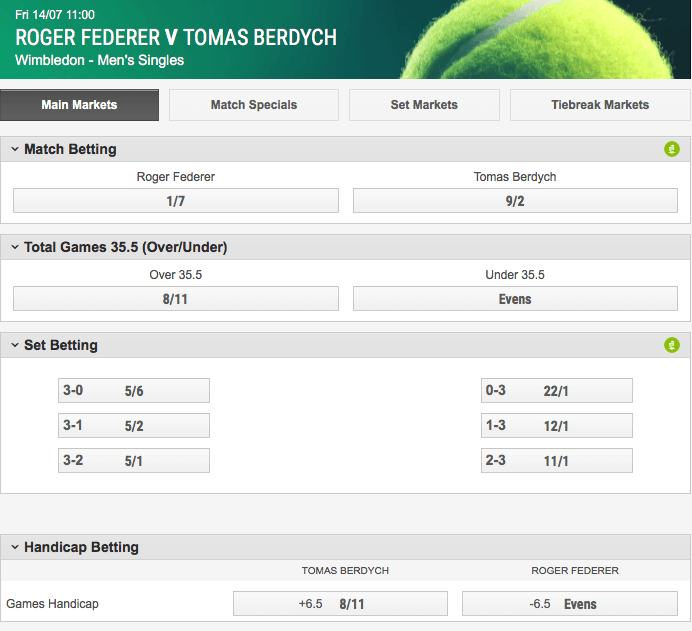 News
The head to head, as expected is fully in favour of Federer here as he leads Berdych 18-6 from previous clashes. The Swiss superstar has won each of the last seven meetings against Berdych now, but of the two times that they have met on the grass at Wimbledon, the head to head stands at one win each.
Betting Tips
Federer has won six of his last seven matches against Berdych in straight sets. Therefore in the set betting market at Ladbrokes, there is a good price of 5/6 on Federer winning the semi-final 3-0. He is just looking unstoppable at the moment and with the way that he is playing there's going to be some appeal on Federer covering a -6 Game Handicap for even money at Ladbrokes across the match as well. Even if Murray and Djokovic had stayed around, Federer would still be tournament favourite.