If you're not already playing Soccer Saturday – Super 6 then you should be. "Why?" I hear you ask. Well, first of all it is completely FREE to play and secondly, you can currently win £1m by correctly predicting six scores.
Super 6 is a score prediction game, with Sky Bet selecting six football matches on a Saturday for you to select the final score in. Along with predicting the correct score, you also choose when you think the first goal will be scored in the games, this works as a tie breaker should multiple people correctly predict the scores. To win the jackpot you must correctly predict the scores in all six of the games.
Think it sounds simple? It is not, the jackpot has been won less than five times in the history of the competition. Sky Bet do offer £5,000 each week to the person who gets closest to correctly picking the scores though and that is certainly enough to keep people interested.
This is definitely a competition worth taking part in every week, it's free, it's fun and you never know, you might strike it lucky. Super 6 kicks off this coming weekend, Saturday 5th August and you must get your entries in before the games begin at 3:00pm. This coming weekends games are as follows; Bristol City vs Barnsley, Wolverhampton Wanderers vs Middlesbrough, Sheffield United vs Brentford, Ipswich vs Birmingham, Fulham vs Norwich and QPR vs Reading.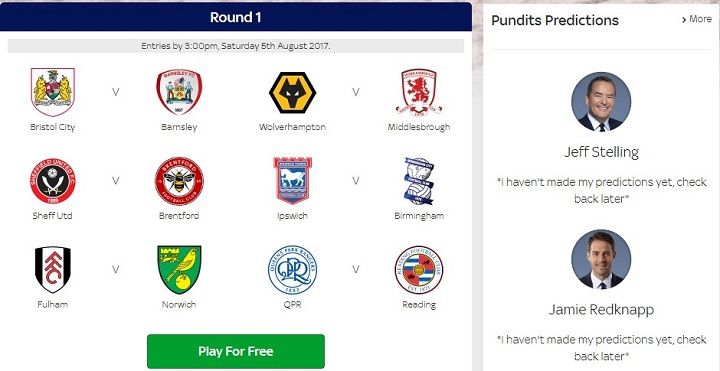 Keep an eye out for our Championship Predictions in the coming week as we will be taking a look at which teams are likely to be promoted, which teams are favourites for relegation and also previewing the biggest matches in each round of games. Two of the favourites for promotion meet on the opening weekend as free spending Wolverhampton Wanderers take on title favourites Middlesbrough at Molineux Stadium.
Just a word of warning though, don't be tempted in by the Sky Bet adverts of odds to place your selections as a bet though. Generally, it is not worth it and chances are you will not be well informed enough about the games to pick a certain winner. Sky Bet make a considerable amount of money through Super 6 with well over one million people taking part in the offer every week, just don't be one of the people to fall into the trap of placing an unnecessary bet on your selection.