The countdown is now well and truly underway for Floyd Mayweather Jr's encounter with Conor McGregor, with the fight between the duo having already gained enormous attention from all corners of the globe. The undefeated American takes on UFC man McGregor, with many predicting a comfortable victory for the former welterweight, middleweight and lightweight champion. McGregor has only been training for a matter of months, having previously dominated the UFC scene, making him the overwhelming underdog to claim a shock win over Mayweather.
If you are one of the fans to share this opinion, then taking advantage of the latest offer from SkyBet could well be worth taking advantage of. The popular British bookmakers are offering a price boost for Mayweather to win inside four rounds, with odds of 6/1 now on offer. With the odds having grown from 4-1 over recent days thanks to this promotion, now may be the time to get involved on what is perhaps the biggest boxing match in the history of the sport. Let's take a closer look at the offer for those looking to take advantage at SkyBet.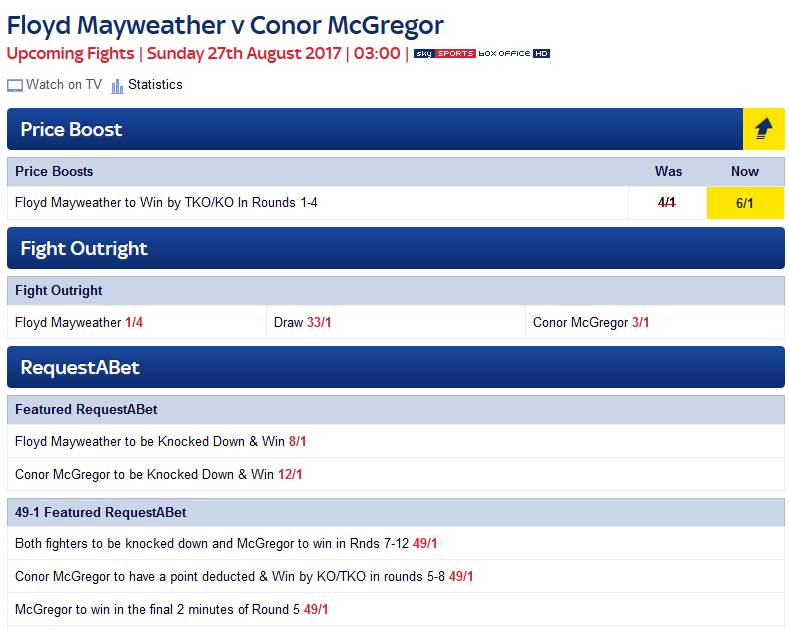 SkyBet Price Boost: Terms & Conditions
Given his inexperience in the world of boxing, many are predicting that the skills of Mayweather will be too much for McGregor to contend with. As a result, the fight could well be over within a matter of seconds or minutes, with a first round victory not out of the question. However, SkyBet are making it easier than ever to win big for boxing fans, with their latest price boost potentially making for some huge wins.
For those looking to get involved, simply log in to your SkyBet account before Sunday morning's fight, before backing Mayweather to win between rounds 1-4, found at odds of 6/1. Despite SkyBet having a whole host of appealing markets surrounding the fight, this is perhaps the most attractive of them all.
With under a week now remaining until one of the biggest sporting events of all time takes place in Las Vegas, however there is still plenty of time to get involved with this offer at SkyBet. So, whether you are a Mayweather fan or simply looking to win big off of this huge fight, head online today in order to place your bet.