JACK STANLEY SCHOLARSHIP
We will be awarding a $1500 scholarship to one entrant. If you are eligible, write a short 1,000 word piece on the role of technology in the future of online gambling. We will judge all entrants, and award a $1500 scholarship to the one that we judge to be the best entrant. The deadline for entries is 03/15/2018 and the winner of the scholarship will be announced on 04/15/2018.
Background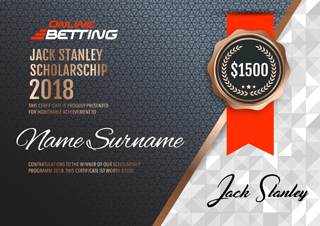 Online-Betting.org is an established online betting portal. We provide details of sportsbooks, offers for bettors, and tips and guides for our readers. The online gambling industry is a competitive and fast-moving industry, and we are regularly called upon to judge and assess the quality of gambling software and its integration with modern technology. We also understand that the future of online sports-betting is closely intertwined with that technology.
We keep a close eye on the changing face of online betting, and how technology is deployed in the industry, and we want to reward those with insight into the topic. As such, this is the topic that we will be covering for our 2018 online betting scholarship.
Read on to find out whether you are eligible, how to enter, and when the winner can expect to hear the results.
Eligibility
You must be enrolled at a recognised high school, college or university
Part-time and full-time students are accepted
You must be aged 18 or over to enter
The Essay
The article must be between 800 and 1,200 words.
It must not be plagiarised – we will check every submission.
As long as the essay covers the role of technology in the future of online gambling, you can choose the exact topic and sub-topic that it covers.
Check for typos and grammatical errors – too many and we will reject the piece.
Submissions
Any submissions received after this date will not be considered
Write your essay in Word
Submit the finished piece by email to [email protected]
Include your full name, address, and contact details (phone number and email address)
Give details of the course you are studying and the school/college/university you attend. Please do not forget your student identification number.
Terms And Conditions


Starting Date: 09/01/2017


Deadline: 03/15/2018


 Winner Announcement: 04/15/2018


E-mail: [email protected]
All your personal details are kept private. We will only use your contact details if you are the winning applicant. We reserve the rights to publish any of the pieces that we receive. If we publish your piece, we will acknowledge your work and inform you by email.
All submissions are free.
The submission must have been written by the applicant themselves.
Submissions received after the deadline, 03/15/2018, will not be considered.
Only one entry per applicant.
Our decision on the winning entrant is final.