Netbet are offering a great Golden Goal promotion which will start this weekend with some of the top action around Europe. This is a great prediction game which the bookmaker will be running each week and what they will do is, they will present you with one or more grids which will offer either 11 or 5 games on them.
You will be able to participate in the different grids that are presented each week so you have plenty of choices around. All that you have to do is make a wager on the result of each fixture on the grid. So this will really test your powers of prediction, forecasting and of course, luck. All that you need is a stake of £1 and that is for a single prediction on each of the fixtures on the grid.
You can step things up by playing multiple predictions for a higher stake which means that you could choose 2 or 3 results per fixtures. So for example on a game, you could predict both a home win and a draw for example for a double, or go the whole hog and back the home win the draw and the away win. But again, that will affect your stake as the amount staked on a multiple predictions is proportional to the number of single predictions included in the grid played.
August 5th Prediction Grid
The different grids will offer up a different prize amount and for this weekend, closing on August 5th, 2017 at 5:00 am there is an eleven match grid from matches around Europe including the German Super Cup between Dortmund and Bayern Munich this weekend, as well as the English Community Shield between FA Cup holders Arsenal and Premier League winners Chelsea.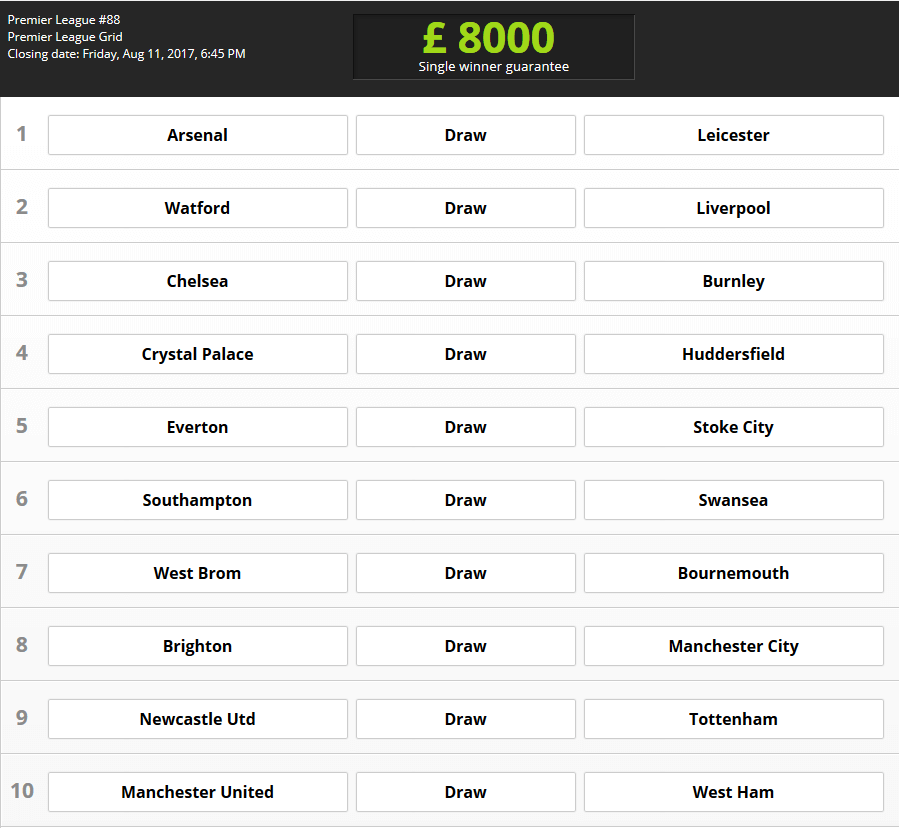 There are matches from the opening weekend of the English Championship as well, along with some French league action and more thrown in there. So can you predict all eleven outcomes of the matches correctly? There is a single win £20,000 guarantee for this grid and if you just want to leave everything to blind luck, then you can hit the "random" button which will throw some selections out there for you.
Winning Levels
Overall there are four levels of winning. If you have a weekend to remember and land all eleven predictions correctly, then you will win 50% of the total pot along with the jackpot. If you get 10 of the 11 right you get 25% of the total, 9 correct results returns 15% of the total, while the bottom tier is getting the minimum 8 correct results which will give you  10% of the total. If there are no winners for level one, 20% of the stakes placed on that current grid will be put back into the jackpot and put up for grabs on the next grid.