It's the fight that everyone is talking about. It may not be one for the purists, but Floyd Mayweather versus Conor McGregor has caught the attention of fight fans all over the globe: a clash of disciplines, styles and cultures that will prove to be compelling viewing, whatever the outcome. Punters around the world will be eager to bet on the spectacle, and bookmakers are competing to offer the best prices, including Net Bet, who have pulled out all the stops to offer a tempting Bet £10 Get £40 promotion for this fight.
Net Bet is one of the newest kids on the betting block. It was established in 2001 and gained a European licence from the Maltese government. Although originally focused on casino gaming offering a wide range of casino gaming favourites, it has since branched out into sports betting and has become one of the most popular online bookmakers' in Europe, thanks to its hi-tech modern offering and its availability in multiple European languages. The Net Bet site has continued to grow, thanks in part to topical offers tied to major events.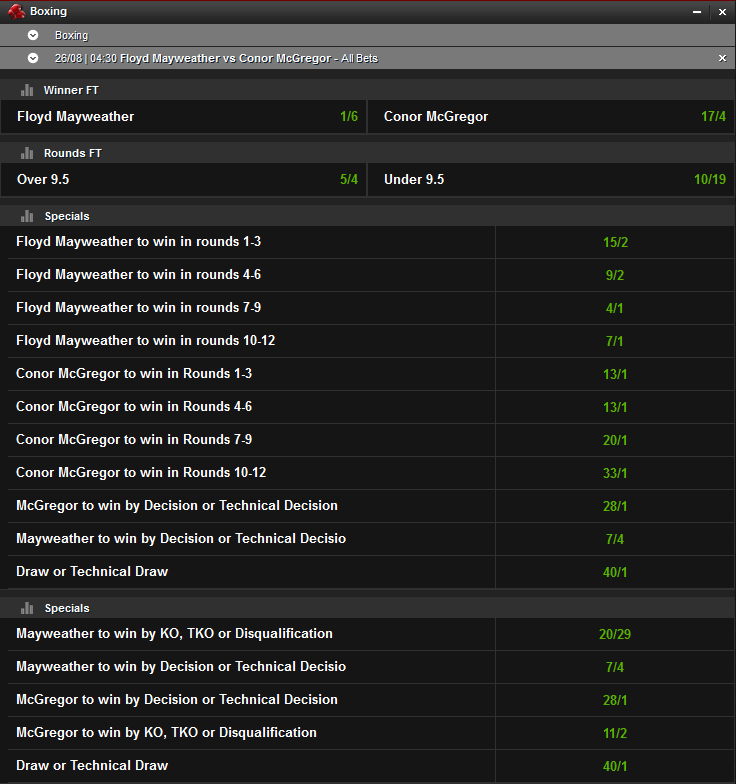 The Mayweather versus McGregor fight certainly comes into that category! Floyd Mayweather is without question the greatest professional boxer of modern era, having won world titles in five separate weight classes. It has been many years since Mayweather has been seriously challenged and even the second-best boxer of the current generation, Manny Pacquiao, wasn't able to trouble him. His polished boxing skills have enabled him to take apart the techniques of some of the best boxers in the world, making them look inept in the process. So what chance does McGregor have?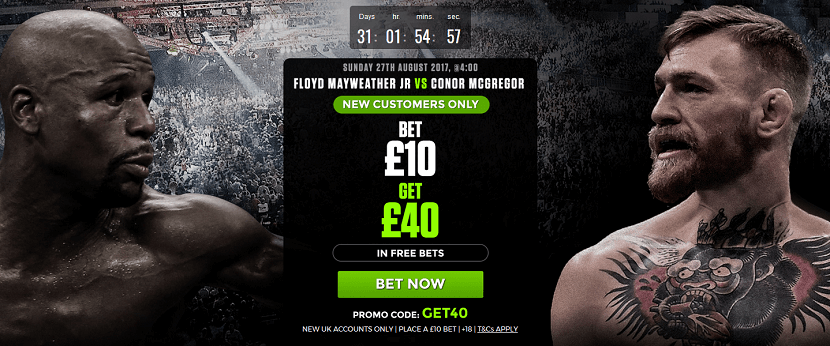 The Irishman is one of the stars of MMA and has held three titles of his own, at Lightweight, Welterweight and Featherweight. Renowned for the strength of his punching as well as his larger than life personality, he has thousands of die-hard fans from the MMA world, many of whom will tell you that he can catch Mayweather by surprise. Of the varied skills that are required for success in the world of MMA, boxing is probably McGregor's strongest. So can he do it? The consensus of most pundits is that he will stand no chance.
Bookmakers tend to agree. Net Bet make Mayweather a 1/6 chance to win this bout with McGregor priced up at 17/4. But McGregor is set to make a fight of it, based on the available odds. Net Bet are predicting that the fight will last between seven and nine rounds, and have priced a Mayweather win in rounds seven, eight or nine at 4/1. Alternatively, you can back Mayweather to win in the first three rounds at 13/2 or in rounds ten to twelve at 7/1, and Net Bet are offering a host of other markets including the number of punches McGregor will throw, the minute in which the fight will end and the total number of knockdowns.
If you're looking to get involved in this fight, then the Bet £10 get £40 offer from Net Bet is an ideal opportunity to test your opinion and to profit at the same time. Net Bet are offering an impressive £40 in Free Bets for every £10 bet placed on this event. To claim your Free Bets, you simply need to open a new account with the company using promo code Get40 and place a minimum bet of £10 on any market related to the fight. Regardless of the outcome of your bet, Net Bet will credit your account with £40 in Free Bets within 48 hours.
So whether you fancy Mayweather to make short work of his opponent, or you've a sneaky feeling that McGregor might pull off the shock of the century, by taking advantage of this Bet £10 Get £40 offer from Net Bet, you can ensure a memorable and profitable fight!