With The Open Championship just around the corner, many people will be starting to look at their selections for what is one of the most eagerly anticipated golfing events of the year. Everyone will have their favourites for this event, and with a whole host of challengers who are capable of winning, we will hopefully be in for a very exciting tournament.
A lot of money will be spent betting on The Open 2017 and because of this, many betting offers are available as bookmakers try and get our business. One of the most common offers is to give us free bets and this is what Ladbrokes are doing for their customers this week at The Open.


For customers who place an outright bet with Ladbrokes on a player to win the tournament, they will receive two free bets to place alongside their outright bet. To qualify for this offer, your outright bet needs to be a minimum of either £20 win, or £10 each way. After placing this, you will be eligible to receive the free bets from this offer. The free bets are worth £5 each and you will receive one which is to be placed on Thursday and one which is to be placed on Friday.
When betting on golf, a lot of people like to have an outright bet, plus further bets on each day's play, if you are this sort of person then this offer will suit you greatly. By taking advantage, you will receive a free bet for the opening two days, and if you were planning on betting on those days anyway, then you have saved yourself some money.
The popular daily markets that you can use your free bets on include the 3 balls, something a lot of people bet on. Here you are choosing which player will win out of the group he is playing with, so you don't necessarily need to fancy that player to win the tournament, just to beat his two playing partners. If you have never placed a bet on the 3 balls it is very easy and if you decide to take advantage of this offer, you can get your first two bets for free while you try it out.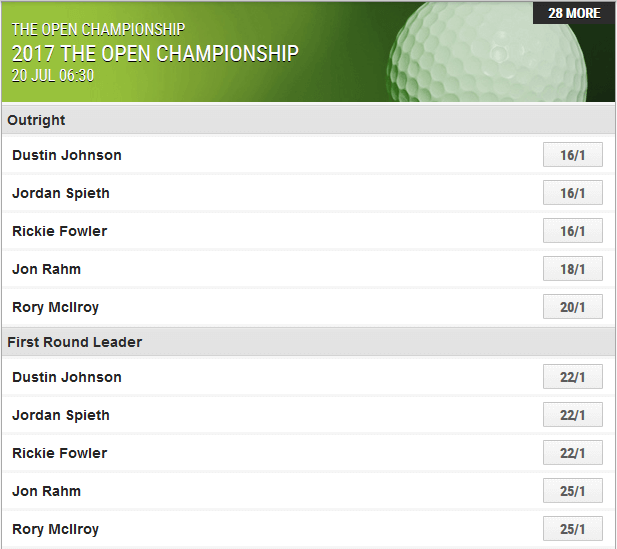 There are many other markets to choose from so take a look around and choose something that suits you. Whether you choose something you do regularly, or you choose to try out a brand new market, the free bets are sure to come in handy as The Open begins.
The excitement is already building for The Open and many people are now finalising their selections for this event. If you are yet to place a bet and you want a great offer to take advantage of then look no further than this offer from Ladbrokes. By staking a bet totalling £20 before the tournament gets underway, you will receive two free £5 bets which are to be placed on Thursday and Friday. Use these to pay for your bets on the 3 balls, or use it to pay for something else that you would like to try, the choice is yours. Whatever you choose this is a great opportunity and a great offer from Ladbrokes, which will help us enjoy The Open Championship even more this coming weekend.