In-Play Betting began with a few bookmakers but has since spread to become one of the world's favourite betting methods, enjoyed by millions of punters every day.
What is In-Play Betting?
Sometimes known as Live Betting, In-Play Betting gives punters the chance to bet on a sporting event while it is underway, and has proven to be so popular that it is now possible for punters to enjoy In-Play Betting on most sports.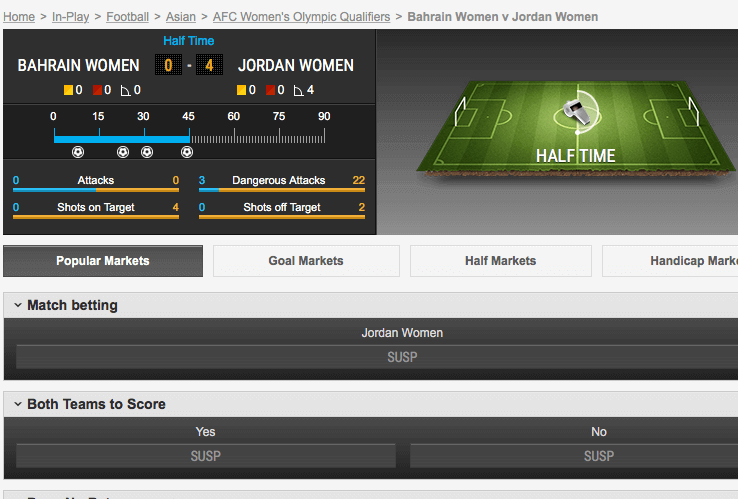 In those sports where there are no real breaks in play, the In-Play Betting markets stay open all game, with the odds changing to reflect events. In sports such as American Football, where there are regular stoppages, the In-Play Betting markets are often frozen at the end of each passage of play, and then reopened when play begins. All In-Play bets are settled at the end of the event in question.
In-Play Options
Most In-Play Betting takes place in the traditional Match Winner market, with tens of thousands of punters betting as the game and the odds ebb and flow. These fluctuations in price can be dramatic and give punters plenty of chances to cash in.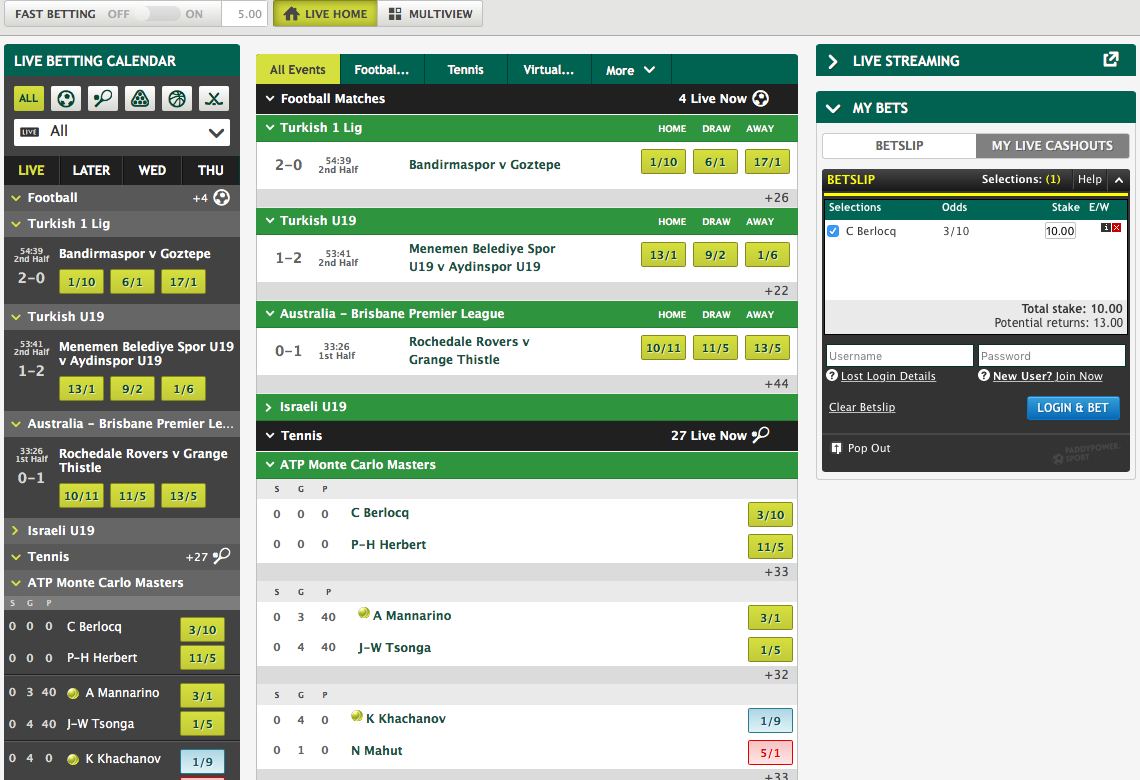 Bookmakers will offer more than the basic Match Winner market. You will be able to bet in a host of In-Play markets including Correct Score, Time of the Next Goal, Next Set Winner and so on, depending of course on the sport. In-Play punters are presented with a huge variety of betting markets, which is likely to grow as In-Play betting becomes ever more popular.
The Essentials of In-Play Betting
It is crucial when betting In-Play that you can watch the action unfold. Following the score or listening to commentary alone will not give you a clear enough perspective on how the event is going and could put you at a disadvantage.

Another important rule to remember is to be selective. There are hundreds of betting opportunities In-Play every second, but to profit, you need to remain disciplined, particularly early on when you are new to In-Play betting. One approach is to start off in one, easy to follow market and build from there. For example, if you are starting out in tennis betting, begin by betting during changeovers, then progress to In-Play betting between points.
In-Play Strategy
With experience, you will develop your own In-Play strategies as you establish which methods work and which don't. One obvious approach is to take In-Play Betting as an opportunity to hedge pre-match bets. For instance, if you've backed Chelsea to win a Champions League game before the kick-off, by following the In-Play market you could find a chance to back their opponents to lock in an overall profit, whichever team wins.
An important skill to develop is the ability to spot the way a market is going to move. For instance, in tennis markets, punters can overreact when a player wins a point with a spectacular shot. Their odds will drop too far, and for the quick-thinking In-Play punter, this presents an opportunity to back their opponent before the odds settle to a more realistic method. By repeating this process, it is possible to build up a profit as the game progresses.
Another tip is to become familiar with the teams and players involved. Some players struggle to cope with pressure, others wilt when things are going badly, and by looking out for these tell-tale signs, which come with knowledge, you can profit by betting against them.
Conclusion
Just as with any form of betting, there are risks associated with In-Play Betting. It can test your reactions and your resolve as events unfold rapidly and the markets shift in a second. But if you do your homework, build up your experience and stay disciplined, there is no doubt that In-Play Betting can be a thrilling and profitable method of betting.