2018 FIFA World Cup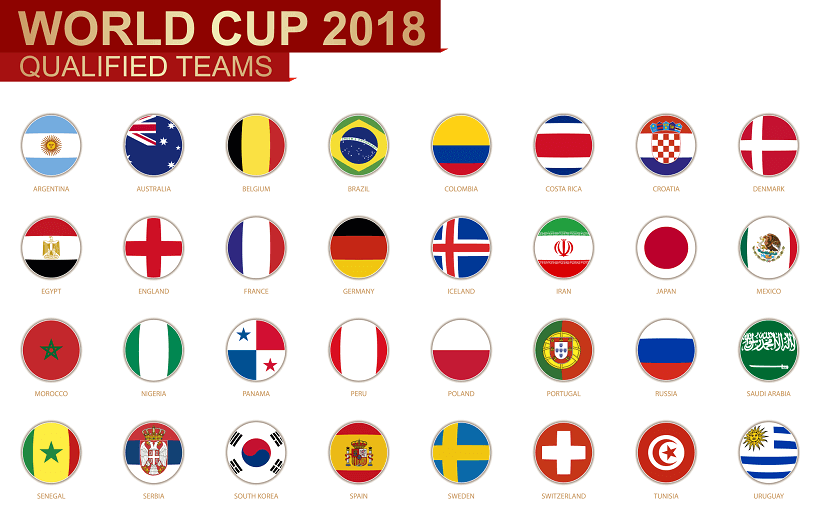 The 2018 FIFA World Cup will take place in Russia, with many of the world's leading men's football teams taking part between the 14th June to the 15th July. 32 teams are set to battle it out for the coveted trophy, including hosts Russia and reigning champions Germany, with 20 of these nations making it back-to-back appearances following their clashes in Brazil back in 2014. With 64 matches taking place at 12 different stadiums across the four weeks of competition, many are already looking forward to a feast of football next summer, with the final taking place at the Luzhniki Stadium in Moscow on the 15th July.
The winners of the competition in Russia will automatically qualify for the 2021 FIFA Confederations Cup, which was won in 2017 by reigning World Cup winners, Germany. This is also the first time since 2006 in which the World Cup Finals have been hosted by a European nation, with Russia having beaten off strong competition to win the right to host the famous tournament.
Current WC 2018 Betting Tips and Predictions
With hype surrounding the Finals having already begun as a result of the draw having taken place, expectation is high among supporters and players alike, with the tournament famous for delivering when it comes to surprises, breath-taking moments and controversy.
Qualified Teams
With tournament hosts Russia having automatically qualified for the World Cup Finals when they fought off competition from the likes of Portugal/Spain, Belgium/Netherlands and England to stage the famous competition, it was up to the rest of the world to battle it out for the remaining positions. For the first time in history, all 209 FIFA members entered the qualifying process, with the likes of Kosovo and Gibraltar taking part for the first time.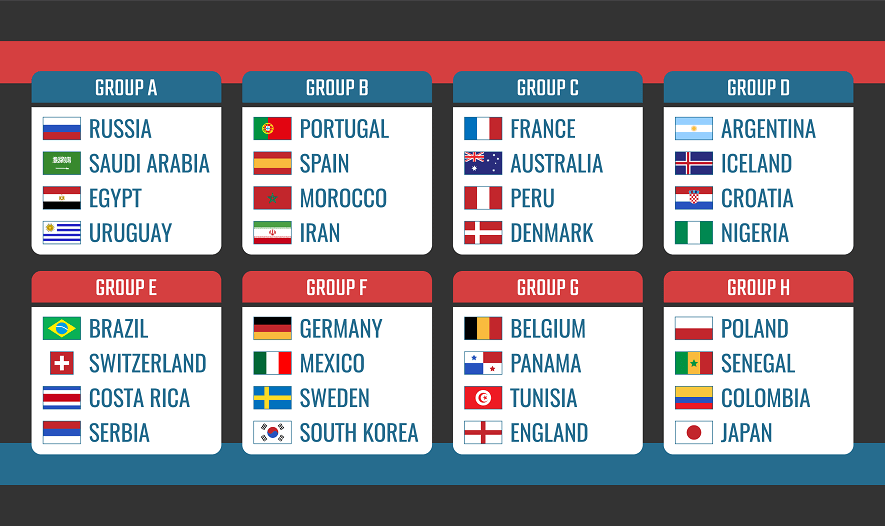 With qualifying groups across the globe getting underway from as early as 2015, favourites from Europe, South America, Africa and Asia were looking to avoid upsets and cement their place in the 2018 tournament finals. However, the likes of the Netherlands, four-time World Cup winners Italy, African Nations Cup winners Ivory Coast and Copa America holders Chile were among the biggest casualties, with the quartet having failed to produce when it mattered the most during their respective qualifying campaigns. However, whether it being directly through their group or via the playoff process, the following teams will all be travelling to Russia next summer in the hope of writing their names into their history books:  
AFC:
Australia
Iran
Japan
Saudi Arabia
South Korea
CAF:
Egypt
Morocco
Nigeria
Senegal
Tunisia
CONCACAF:
CONMEBOL:
Argentina
Brazil
Colombia
Peru
Uruguay
UEFA:
Belgium
Croatia
Denmark
England
France
Germany
Iceland
Poland
Portugal
Russia (hosts)
Serbia
Spain
Sweden
Switzerland
Both Iceland and Panama have qualified for the first time in their history, with the minnows having battled against the odds in doing so. In fact, Iceland have the smallest population of a nation to have ever reach the World Cup Finals.
Finals Draw
The draw for the 2018 World Cup Finals was made in Moscow on the 1st December 2017, with eight groups of four teams accommodating all qualified nations. With the best seven teams having been seeded and placed into pot 1 alongside hosts Russia, and the rest separated into pots 2, 3 and 4, no teams from the same qualifying confederation could be drawn alongside each other, except for European nations. After all teams were drawn, the groups for the finals look like this:  
Group A:
Russia
Saudi Arabia
Egypt
Argentina
Group E:
Brazil
Switzerland
Costa Rica
Serbia
Group B:
Portugal
Spain
Morocco
Iran
Group F:
Germany
Mexico
Sweden
South Korea
Group C:
France
Australia
Peru
Denmark
Group G:
Belgium
Panama
Tunisia
England
Group D:
Argentina
Iceland
Croatia
Nigeria
Group H:
Poland
Senegal
Colombia
Japan
Portugal's opening clash with Spain is perhaps the standout encounter of the Group stage, with hosts Russia kicking things off with a low-key tie against Saudi Arabia. Elsewhere, reigning champions Germany take on Mexico at the Luzhniki Stadium in their opening encounter.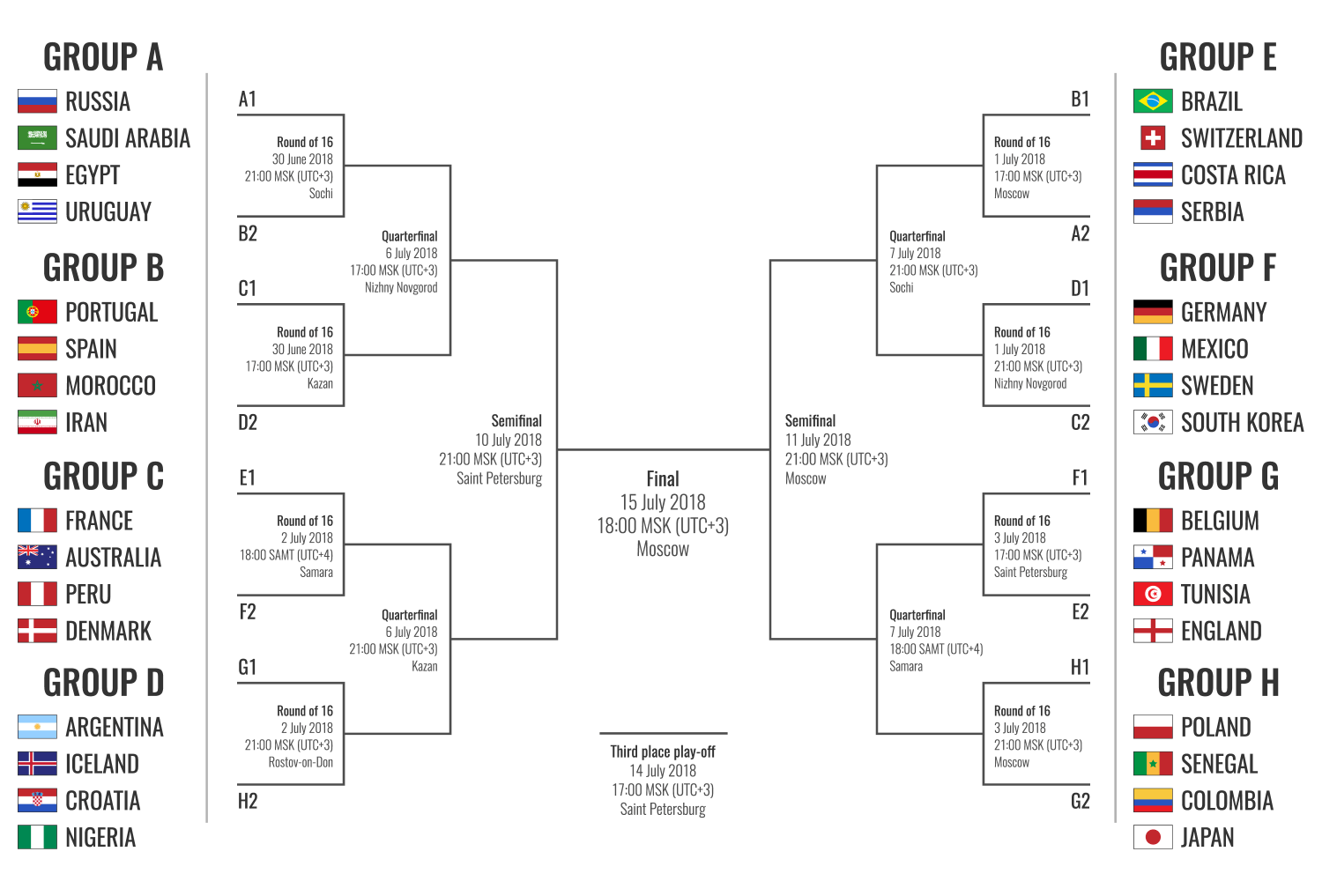 Playing Squads
Each nation involved in the 2018 World Cup Finals in Russia must name their preliminary playing squads initially, which features a list of 30 players. Having done so, managers must then narrow this list down to a group of just 23, with at least three having to be goalkeepers. Players featuring in final squads for the tournament can be replaced if they suffer a serious injury up to 24 hours before their teams first World Cup encounter, while players must also refrain from competitive action between the 21st May and 27th May, aside from those involved in the UEFA Champions League Final on May 26th. Many European nations have a break during the winter months to offer their leading players a rest period, however the English Premier League is one of the few to continue playing without such a time.
Standout Players
The World Cup often provides some of the most unforgettable moments, with a whole host of players hoping to shine for their country in Russia in 2018. The likes of Ronaldo, Miroslav Klose and Andres Iniesta have all starred over recent history, however next year's tournament is set to once again bring some of the biggest names on the planet together. Euro 2016 winners Portugal kick-start their campaign with an encounter against rivals Spain, with Cristiano Ronaldo going head-to-head with team mates Sergio Ramos and Dani Carvajal.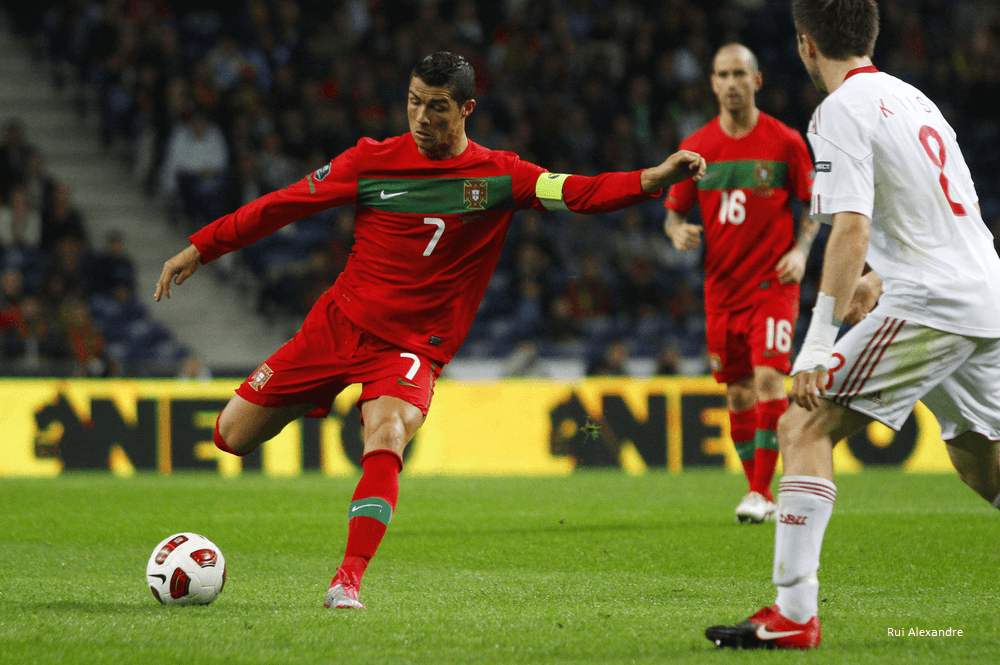 Elsewhere, having played a significant role in helping Argentina to narrowly reach the finals, Lionel Messi will be looking to add five World Cup goals to date. Meanwhile, Messi's former Barcelona team mate Neymar Jr has been in scintillating form following his world record transfer to PSG, with the Brazilian looking to make up for his sides embarrassing 7-1 semi-final defeat against Germany four years ago. Such talents help to make the likes of Brazil, Spain and Argentina among the favourites for the title, along with nations such as Germany and France.
Stadiums
Cities including Moscow, Saint Petersburg, Sochi and Kaliningrad will help to host the 2018 World Cup Finals in Russia, with both new and existing stadiums being utilised. The number of stadiums used foe the finals now sits at 12, with Krasnodar and Yaroslavi having been dropped as options before the draw was made. The following are the final stadiums that have been chosen to host matches during the finals:
Luzhniki Stadium, Moscow (81,000)
Otkrytiye Arena, Moscow (45,360)
Kazan Arena, Kazan (45,379)
Krestovsky Stadium, Saint Petersburg (68,134)
Kaliningrad Stadium, Kaliningrad (35,212)
Nizhny Novgorod Stadium, Nizhny Novgorod (44,899)
Volgograd Arena, Volgograd (45,568)
Mordovia Arena, Saransk (44,442)
Rostov Arena, Rostov-On-Don (45,000)
Fisht Olympic Stadium, Sochi (47,659)
Central Stadium, Yekaterinburg (35,696)
Cosmos Arena, Samara (44,918)
Five of the stadiums used in the Finals will be brand new, while another two have been either rebuilt or renovated in order to meet FIFA guidelines for the tournament.
Prize Money
Prize money for the Finals in Russia was confirmed and announced in October 2017, with the amount available for the tournament winners having reached a record high. The 2018 World Cup winners will receive a massive $38 million, while the runners up in Russia will earn themselves $28 million. Total prize money for the tournament now sits at $400 million, with those exiting at the Group stage still earning $8 million each.