The International Champions Cup has proven to be hugely popular among both football fans and betting customers over recent weeks. As a result, it comes as little surprise that more and more bookmakers are looking to get in on the action, with Coral no different. The popular bookmakers are offering a brand-new promotion, meaning that new customers at Coral can get enhanced odds of 25/1 on just a single goal to be scored when Barcelona take on Manchester United at the FedEx Field in Washington on Thursday morning.
With the attacking talents of the likes of Neymar Jr, Romelu Lukaku, Marcus Rashford, and, of course, Lionel Messi, a goal during the 90-minute match is virtually a given. The two teams have scored five goals between them in the tournament so far, with pre-season often a time of the year when goals are easier to come by. For those looking to place a bet on the match, this offer from Coral gives you the perfect platform to do so on. Check out the terms and conditions surrounding the offer before signing up.
Coral New Customer Offer: Terms and Conditions
In order to take advantage of this offer, simply register with Coral now, before placing a bet on any goal to be scored when Barcelona take on Manchester United in the early hours of Thursday morning. A maximum bet of just £1 has been set by Coral, and although this may appear to be a disappointing aspect of this promotion, winning bets will still provide the perfect start to the football season.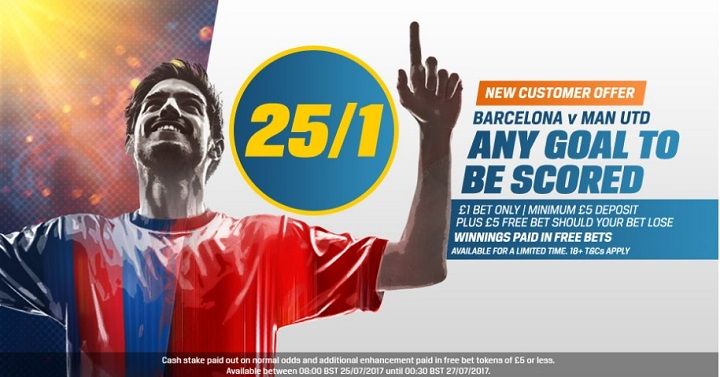 Customers must also make an initial deposit of at least £5, with winning bets being returned in the form of free bets. This offer is only available to those living within the UK & Ireland, as well as only for those opening a new online, mobile or Coral Connect account. Free bets received from a winning bet will be available for 4 days, offering plenty of opportunity to add to your account balance as a result.
For those worrying about the thought of an unlikely goalless draw between the two teams, Coral will provide a free £5 bet upon settlement of the market should this occur. It really is a win/win situation, with Coral set to offer a whole host of football markets in the build up to the new campaign. Register with Coral today, before placing a bet before kick-off on Thursday morning.