UFC 214 is up there with the greatest fight cards of all time. It has Jones versus Cormier, Cyborg against Evinger and Cerrone against Lawler. It also has this epic bout, between Tyron 'The Chosen One' Woodley and Demian Maia. It is a classic MMA bout between an excellent striker in Woodley and Maia, who is possibly the best BJJ practitioner in all of the UFC.
Maia is 39-years-old and has been knocking around this game for quite a while. He has had to bide his time before getting this title shot so will not go down easy against the defending champion. Meanwhile, Woodley is of the belief that he doesn't get the credit he deserves and will be eager to make a statement against his seasoned opponent.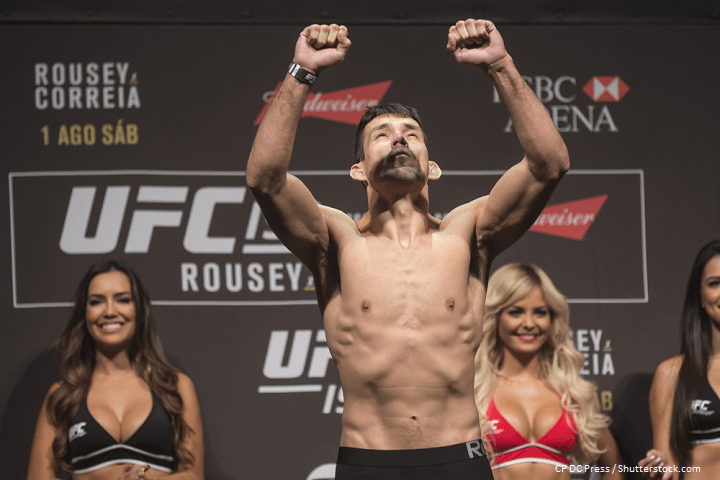 Woodley form
The Chosen One is coming off the back of his epic two fight war with Stephen 'The Wonderboy' Thompson. In both of those fights, Woodley showed that he has what it takes to be a world champion for a very long time.
The initial drawn encounter was one of the fights of last year, while the second fight showed a more calculated, formulaic Woodley. He is a fighter who picks a game plan to fit what is needed, so expect him to try to keep this fight standing up.
His last loss came against Rory MacDonald in 2014 and he has looked outstanding in every fight since then.
Maia form
Maia is on a seven fight winning streak and hasn't lost since 2014, also against MacDonald. The Brazilian has been crying out for a title shot for the longest time and there aren't too many within the fight game that would begrudge him his opportunity.

His last fight was an impressive split decision win against Jorge Masvidal. He also defeated ranked fighters Carlos Condit, Gunnar Nelson and Matt Brown on his run to the number one contender slot. Out of those three fighters Nelson was the only one who tried to take Maia on in his ground game. He lost in devastating fashion and Woodley will recognise that this is a mistake that he doesn't want to make
News
Both of these fighters last loss came against Rory MacDonald, so it will be interesting to see which one of them has improved the most since that loss. Woodley is the one that has rose to the top, but the champion does have a habit of insisting that he is not fully appreciated by the media. This fight is his opportunity to prove himself further.
Meanwhile, Maia is getting the shot that so many people within the business think he deserves. However, many experts are insisting that it has come too late.
Betting tips
There are many fans that would love to see Maia win, but we are not sure he has what it takes. He is the older man and Woodley has the physique to improve as the fight goes on.
The challenger is not used to fighting five round fights and we are not sure he will have the engine to last the five rounds. Our tip is for Woodley to win at a price of 4/7 with Ladbrokes. We think that he just has too much power for Maia and we envisage him retaining his title with ease on the big night.