eSports Bitcoin Betting Guide
Bitcoin gambling has been growing in popularity amongst sports bettors for a number of years and it's now widely available for eSports betting. In practice, very little is different for punters who are more accustomed to classic sports like football or horseracing, except eSports involves placing a stake on the outcome of electronic games.
When people really excel at video games they can become professional players, training for up to 14 hours each day and performing live in front of filled-to-capacity stadiums. There are numerous tournaments across the world and the majority can be watch via online streaming services. At these events, individuals or teams compete with other top level players. While eSports aren't yet part of the mainstream, they do have a massive following and that growing popularity is illustrated by the high number of new Bitcoin eSports betting sites.


The rise of gambling with Bitcoins may have happened relatively recently, but there are already hundreds of outlets where you can gamble on games that are played in a virtual world, using a virtual currency. Not all Bitcoin eSports bookies deliver great value for money, but on the table below you can get an idea of what's on offer at some of the more reliable sportsbooks.
The best BitCoin eSports Sites
#
Sportsbooks
Terms & Conditions
Max.
Bonus / Free Bet
Min. Deposit
Start
#1
 

+ Easy to use
+ Variety of eSports available to bet on
+ Large eSports platform

$50 Bonus

"get50"

£10
Join Now
#2
 

+ Regulatedsportsbook
+ Great bonus offer
+ Good eSports odds

£100

£5
Join Now
#3
 

+ Anonymous playing
+ Minimum bet 0.001 BT
+ maximum is 15 BTC
+ Accept US Player

£50

£10
Join Now
#4
 

+ 0.001 minimum deposit
+ 100% accurate odds
+ Curacao licence

10 USD / EUR

0.001 BTC
Join Now
#5
 

+ Regulated sportsbook
+ No Fees for withdrawls
+ a lot of esports titles like
+ World of Tanks, Quake, Overwatch, Rocket League

no bonuses

£10
Join Now
#6
 

+ huge esport offer
+ Great odds
+ mobile and user friendly

£100

£10
Join Now
#7
 

+ Americans accepted
+CS:GO, Dota 2, LoL,
+ Bitcoin sportsbook
+ nice short term offers

£20

£10
Join Now
Our Favourite Sites for Bitcoin Betting on eSports
GG Bet
One of the top names in Bitcoin eSportsbooks, GG Betalso has impressively high odds and good returns on casino games, for those who appreciate little variety. Being an inclusive site, this bookie enables experienced players to lay down larger wagers of up to 200 BTC and also gives beginners the chance to start betting with extremely small amounts. Cloudbet offers odds on five games, CS: GO, Dota, Hearthstone, League of Legends and Overwatch. They won't ask for any form of ID and when you become a member, you can claim a deposit bonus, up to a value of five Bitcoins.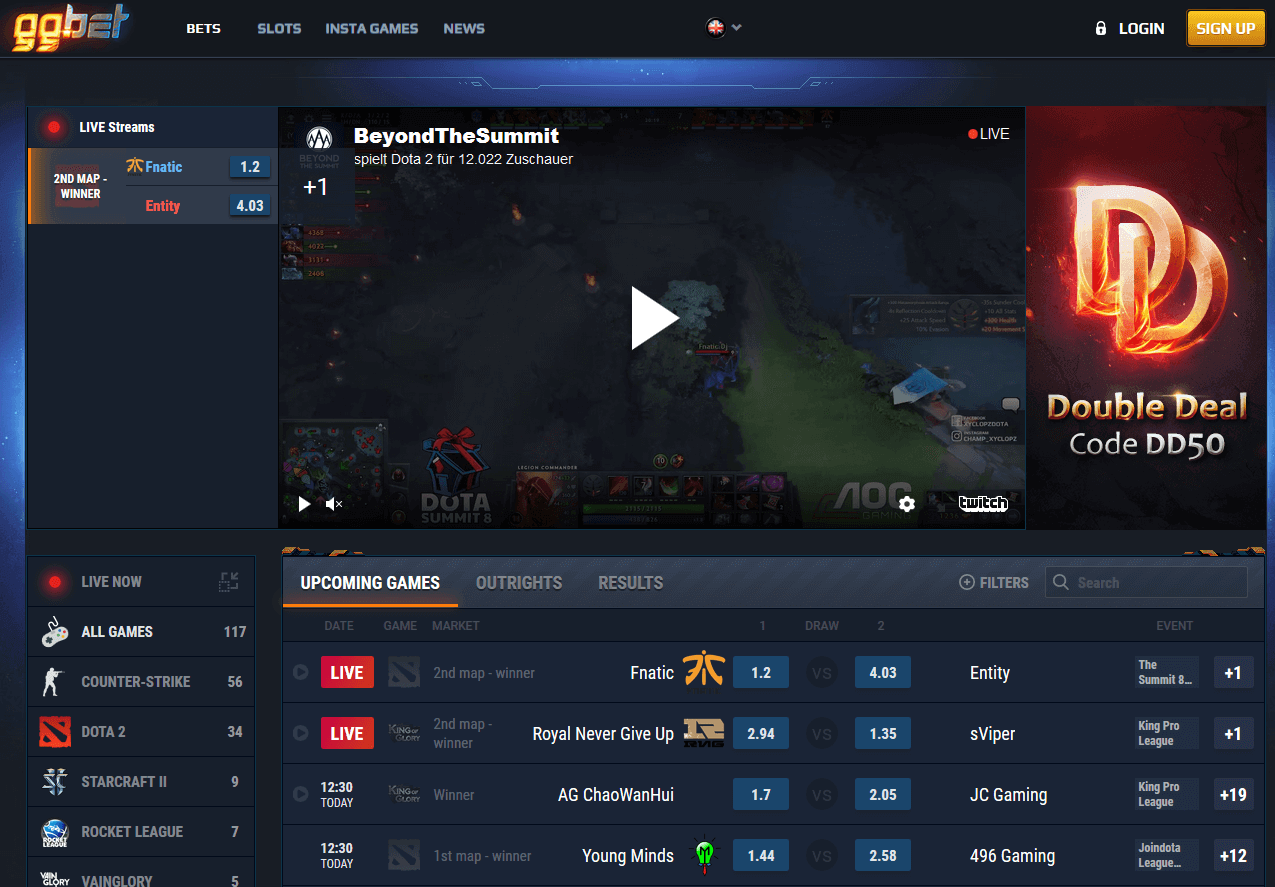 TonyBet
Bitcoin-friendly and packed with eSports championships, TonyBet is a sophisticated looking site that also offers plenty of other gambling opportunities. The markets are somewhat limited, with Match Winner being the most popular option, but you can spice things up by using accumulator bets or wagering on one of the many live games. There's a player chat section, a 100% deposit bonus and an information page which explains more about how the sportsbook manage their Bitcoin payments. If you play regularly, you can earn points to become a member of their VIP Players Club. This entitles you to a range of benefits, including a percentage of your losses back.
Nitrogen Sports
You can open an account in seconds at Nitrogen Sports, you just need to create a username and password to keep your sessions secure. The eSports section is heavily weighted towards CS: GO, but there are also Dota 2, Halo, Hearthstone, League of Legends, Overwatch and Starcraft games to bet on. You can search for an event that will be 'Starting Soon', or click through the various games on the left of the screen. Nitrogen Sports run regular promotions and if you need help, it's available immediately through on-screen chat and a support ticket system. A social element is added through a chat bar, where you can join in the conversation with other bettors.
VitalBet
VitalBet is a large site with areas for sports betting, as well as eSports. At the eSports hub, you can search what's available by game or by a general search. The list includes; League of Legends, Halo, Dota 2, Hearthstone and CS: GO. The odds are fair, but you'll need to log in to your account before obtaining any detailed information on an event. The entire site is run through Bitcoin and no other currencies are accepted. There is an extensive FAQ area where they explain more about using virtual payments. To get you started with eSports, or to help you improve your current skills, VitalBet have also created a Newbie Tour, with guides and tips on using the site.
EGB
EGB or E-Gaming Bets as it was previously known, began accepting Bitcoin bets back in 2013. They run deposits and withdrawals through the payment system, Webmoney. There's a great selection of leagues and tournaments for games including; League of Legends, Dota 2, Starcraft, CS: GO, Heroes of the Storm and Smite. For the majority of events they accept in-play bets and let you watch the action via a live stream. On the social chat function you can discuss how teams are performing and odds value with other bettors. Finally, EGB have a PlayMoney mode, this is provided when you register as a member and enables you to place virtual bets risk-free for a limited period of time.
What are Bitcoins?


Considered by some as a controversial form of currency, Bitcoin is a digital method of payment created in 2009 by Satoshi Nakamoto, though that name is likely to be an alias. For the majority of conventional transactions, through banks and credit cards, and even on sites like PayPal, there is a middle man. Bitcoin does away with that using a 'peer to peer' method, where funds flow between just two people. It also has no fees and doesn't require you to provide your real name. This might seem a little unusual, but in most countries online businesses are beginning to accept Bitcoin, and they are completely legal in the UK.
To start using Bitcoin you'll need to set up a virtual wallet using an online service like Blockchain, Multibit or Electrum. From there you can store, spend and keep an eye on your Bitcoin balance. You only have to top up this wallet with the funds you need, just as you wouldn't carry large amounts of cash with you on a daily basis. For added security, only use trustworthy eSports sites and back up your gadget regularly, so your login details are safe.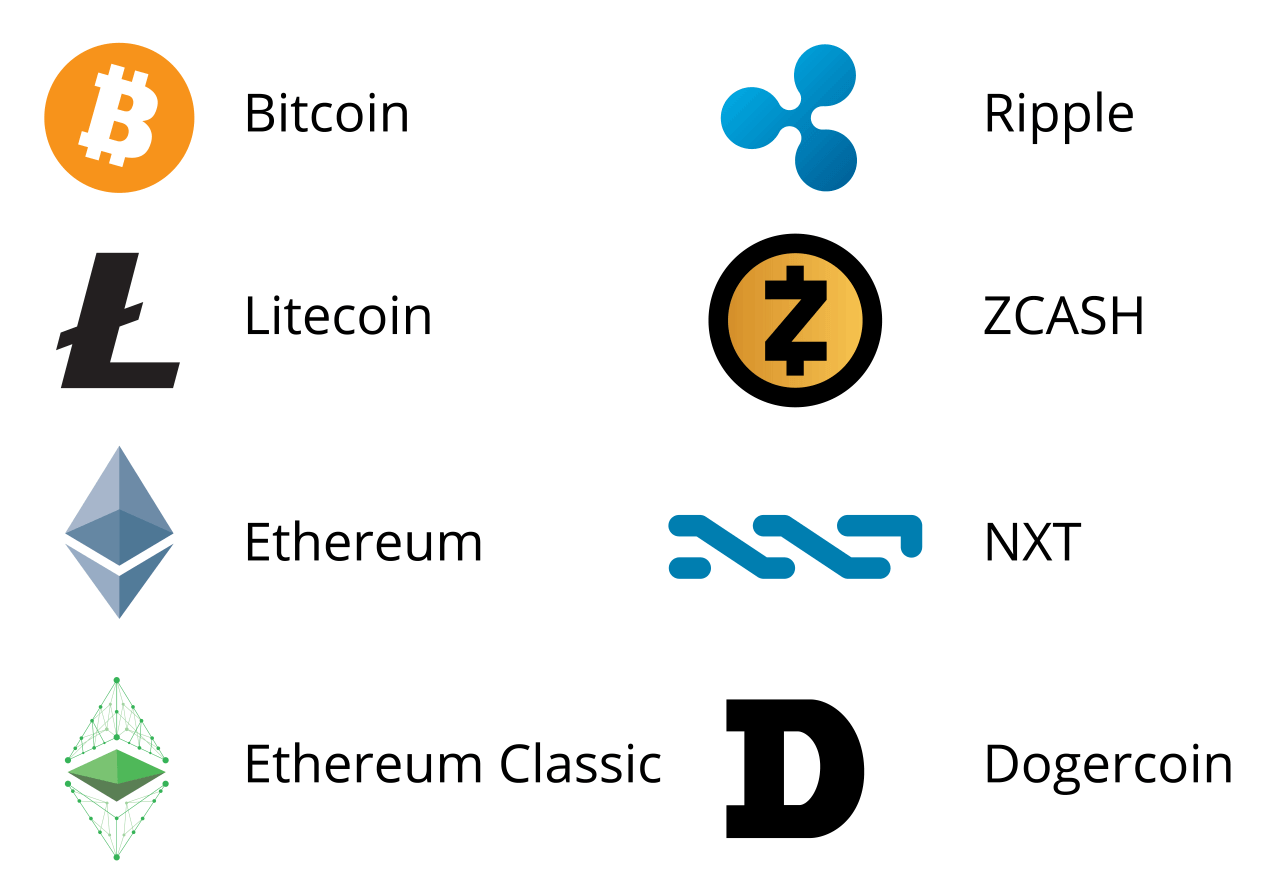 Bitcoins aren't printed off in a mint like physical cash, they are produced by people as part of a process called 'mining'. Essentially, this involves computer experts, or 'miners' solving a range of complex mathematic problems. For every one solved, a block of Bitcoin is released and the miner receives a small payment. Once these Bitcoin reach general circulation, they become available to purchase through an online exchange, like Coinbase, Coin Mama or Bit Panda. You can buy them using a credit card or via bank transfer. Currently, there are around 15 million Bitcoins, each of which can be divided into small units. You can exchange Bitcoin for cash and transfer this into a normal bank account. In mid 2017, one Bitcoin was worth around £1800, but the value can fluctuate.
The unique selling point of this cryptocurrency is anonymity, your Bitcoin address is a series of letters and numbers and none of these are registered. When you sign up for a Bitcoin wallet, it stores this address to manage your funds, but no other details.
Is It Really Possible to Bet on eSports?
Yes, eSports have a massive following and their popularity is growing. To reflect this trend, more and more traditional bookies are offering odds on electronic games tournaments. You can bet on titles like Starcraft, Leagues of Legends and CS: GO, using a range of different bet types, and the list of markets is considerable. Most eSports are played in video game format by professional gamers or teams. They battle against each other in individual bouts, or compete in multiplayer games as part of a squad. If you're a gamer yourself, you'll no doubt be familiar with the type of video games being played. The most common ones are complex strategy games played in real time, either in the Multi-Player Online Battle Arena (MOBA), or First Person Shooter (FPS) format.

Video games have come a long way since the first ever tournament, using the game Spacewar, in Stanford University in 1972. Now eSports arenas are packed with fans and games are broadcast on a global stage. In February 2017, the IEM World Championship which took place in Poland, attracted 173,000 members of the eSport community to the stadium. That number was just the tip of the iceberg, as 46 million people also watched games from the event through online streams.
In the last five years eSports have used streaming providers like ESPN and Twitch to achieve more recognition. In turn this has boosted the appeal of eSports to online punters, who already enjoy live betting on traditional sports.
What eSports Titles Can You Bet on With Bitcoins?
Altogether there are around one hundred games in eSports, one day they may all be available at bookmakers which accept Bitcoin, but for now the most watched titles are:
League of Legends
League of Legends is a highly competitive team game, battles take place on a map known as Summoner's Rift and can last over an hour. Despite being extremely complex, it has become one of the world's most popular video games, with more than 100 million active users tuning in to play every month. Events include the League of Legends World tournament, which attracted over 36 million viewers in 2016.
Dota 2
Combining masses of action with strategic planning, Dota 2 involves battling other players for control of stunning fantasy landscapes. It's enjoyed across the globe by both casual and professional players, who are organised into two teams of five. Each hero has different abilities and skills, which means no two games are ever the same. The biggest Dota championship is managed by the game's developer, Valve, and held in Germany. In 2016, the competition had the highest prize pool in eSports history, which stood at a whopping $20,770,460.
Counter Strike: Global Offensive
The original Counter Strike was launched in 2000, but the more recent version has upgraded the team-based gameplay considerably. With exciting maps, numerous characters and outrageous weaponry, CS: GO has enthralled gamers and sold over 25 million units. It's one of the most-played amateur games, but also a major headliner at competitive events like the ESL One in Cologne, Germany.

World of Tanks
Unlike many other eSport games, World of Tanks takes inspiration from mid-20th Century warfare. Players take part in combat scenarios using armoured tanks, they form teams and play with others in an arena format. The graphics are spectacular, but to be successful gamers need excellent communication skills, as they each control a separate tank and gun, but need to work together. World of Tanks Grand Finals group stage tournament is the title's biggest event and takes place in May each year, at varying locations.
Starcraft II
StarCraft II: Wings of Liberty is the sequel to Blizzard Entertainments sci-fi hit, StarCraft. It's a real-time strategy game which can be played online in a single or multiplayer format. In tournaments, players create armies then battle for control of a map, they need to think about their enemy's game-plan, be ready for attacks, and develop winning tactics. The StarCraft II World Championship Series takes place each year, with the top 16 qualifiers going on to compete in Dreamhack, a huge digital festival held in Sweden.

Halo
Halo is part of a series of military science-fiction games, some are real-time strategy based and most are first-person shooters. Players do battle across the galaxy against invaders like The Covenant, an advanced group of alien races who are trying to destroy humanity. The Halo World Championship takes place in March each year, bringing together players from all over the eSports community who have triumphed in smaller seasonal bouts.
HearthStone
HearthStone is a fantasy fighting game, where players get involved in fast-paced sword fights, or cast spells, or summon mystical creatures to duel their opponents. It's free to play online and massively popular with amateurs as well as professional eSport gamers. The rules of HearthStone are relatively simple, making it very accessible to newcomers. Players collect cards featuring characters from the game, then build their own deck to improve their chances of success. There are many HearthStone online tournaments, one of the largest is The Hearthstone Collegiate National Championship, which is held each year in the US, during April.
Overwatch
A squad shooter, set in a future world that's in conflict, Overwatch enables gamers to play as a number of different fighting heroes. Opposing teams are made up of six players who can each be a different character, warriors, monks, and time travellers all play in a different way. Once each team member has mastered their avatars abilities, they become a far more powerful player. The Electronic Sports League announced the first Overwatch eSports championship in 2016, the final of which took place at Gamescon of that year. Since this time, Blizzard, the games developer, also announced another Overwatch eSports tournament, and held the final at their annual Blizzcon event, in California.
What Types of Bets are Available at Bitcoin Betting Sites?
When online gambling was still in its infancy, punters put money on a player or team they liked the look of and then hoped for the best. Now modern bookmakers can offer far more choice, and there are many different types of bets available. Here are four of the most popular for eSports markets on Bitcoin betting sites.
Parlays
To increase your possible winnings, you can place a Parlay bet. These are also known as combos, multiples or accumulators, on other eSports betting sites. A Parlay consists of a minimum of two individual bets placed on separate events. In order to win, each bet has to be successful and the pay-out is calculated using a combination of each wager's odds.
Handicap Bets
A great way to get value from a match bet with middling odds, is to go for the handicap market. Although the market will undoubtedly change depending on which teams are matched-up, the odds quoted will be the same for both. However, the team considered the more likely to win will have a minus handicap, whilst the other team has a plus. So they will get a head start, whilst the better team will be playing catch-up.
Futures
As well as the match winner type of bet, you can try your luck with a Future. These enable you to predict the outcome of an entire event, rather than individual bouts. So, one of the most common Future bets is, 'Which player will win the championship?'.
The Benefits of Using Bitcoin for eSports Betting
There are a number of advantages to choosing Bitcoin as a currency for eSports betting, the three most important ones are:
High Levels of Security
So long as it is stored correctly, Bitcoin is a very secure method of payment. Every time you click send or receive, the transaction is guaranteed to happen. There is almost no risk of double spending or fraud, as each transaction is 'peer to peer'. This also means you deal direct with the eSport bookies, so the fees and delays which may have become an annoyance previously, are greatly reduced.
An Online Currency
Bitcoin was created on the internet and is optimised for use online, this makes it perfect when used on a gambling platform. In comparison, credit cards and bank transfers feel clunky and outdated, because they were not designed for the job.
It's Anonymous
Privacy is important for us all online, so the chance to gamble on eSports without having to reveal your personal details can be extremely attractive. Money-laundering legislation obliges most online bookmakers to ask for a number of personal documents from each of their members, but Bitcoin changes all that. You can bet without handing over your details, and in some cases you are not even asked to open a full account.
What Makes eSports Bitcoin Betting so Special?
Bitcoin was first released in 2009 and since then this cryptocurrency has become widely available across the internet. It's the ideal tool for people who like to bet on eSports online, because it is both convenient and efficient as a payment method. It's a way of betting that gives you peace of mind – as it's entirely private, and you won't have to put up with long wait times, as most transactions are instant.
When it comes to online betting, there are really no drawbacks to Bitcoin, it represents a significant step forward for the industry as a whole. Although Bitcoins are not accepted at every eSports bookmaker, the ones which are on-board tend to be the most innovative and future-ready. These are the sites where you'll find the best layouts, widest variety of games and fresh features that aren't available elsewhere.
Pros and Cons of Bitcoin betting
Pros
Easy way to top up your funds
Pay outs reach you fast
Transactions are safe as they are paid direct to you
Bitcoin is a cross-border currency
Handling charges are rare
Makes eSports betting more private
Cons
As a relatively new currency, the value of Bitcoin can fluctuate
If a virus or a crash affects your wallet, your Bitcoins are lost
There is a risk of a technical issue affecting the Bitcoin system at some point
Bitcoin eSports Betting FAQ
How to make a Bitcoin deposit?
If you click on the deposit button at a Bitcoin bookmaker they will generate a Bitcoin address for the transaction, you just copy this to your e-wallet then send your Bitcoins.
Will I Still be Entitled to a Deposit Bonus?
Yes, sportsbooks that accept Bitcoin do not penalise people who use the currency.
What is the lowest amount of Bitcoin I can deposit and withdraw?
This varies between bookies, but most accept very minimal deposits of 0.001 BTC, this is often the minimum withdrawal amount also.
Is there a maximum amount I can deposit?
Usually not, you can make as many deposits as you like at most bookmakers that accept Bitcoin and there is no maximum withdrawal amount.
How long will it take for deposits to be available?
Most sportsbooks will process a Bitcoin deposit immediately and you'll see the amount credited to your account within seconds. If it doesn't happen within a few hours, get in touch with their support team.
When will a withdrawal hit my account?
Again, most online bookmakers will process a withdrawal instantly. In some cases, where you're taking out larger amounts, they may prefer to manage the transaction manually, which will create a delay.
Is Bitcoin betting really anonymous?
Yes, in most cases all you need is a valid email address, then you can start betting.
Where do eSports Bookmakers Keep Their Bitcoins?
Most online bookies keep the majority of their Bitcoins offline, on a storage device like a USB drive. This ensures their reserves are safe in the event of a hack or other security issue. This won't affect your withdrawal requests however, as they will always have enough Bitcoin on hand to deal with day to day transactions.
ESports Bitcoin Online Betting is the Future of Sportsbooks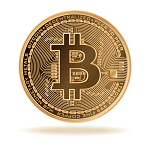 Bitcoin continues to gain acceptance from the wider marketplace, but its specific advantages make it especially useful for sensitive transactions, like those which take place on an eSports betting site. There's little doubt that Bitcoin is the most secure form of currency for bettors who want to load their eSports betting accounts, without giving away their personal information. This is a currency which only exists in the virtual world, it has no viable physical form and that makes it ideal for a generation which has grown up online.
One of the frustrating things about signing up for any new product or service via the internet, is the flurry of unwanted marketing mail which often follows. Bitcoin anonymity makes this a thing of the past, as sportsbooks cannot sell on your details to a third party, just because you forget to tick an opt-out box.
Like all businesses, eSports bookmakers want to make a profit. For those which only accept conventional methods of payment, banking charges have to be passed on to the players. For Bitcoin bookies those costs are nowhere near as high, so they can afford to deliver better pay-out rates. Furthermore, if you have a great day, week, or month, betting on eSports, there is no limit on the amount you can win or withdraw, and the wager limits are also very high.
Conclusion
When you commit to using Bitcoin for making online betting deposits, you won't have any difficulty finding a Bitcoin-friendly site. Many online eSports bookmakers already accept the currency for deposits and withdrawals, and lots of others are beginning to integrate it. With Bitcoin as part of their business model, bookies are free to offer more generous incentives to bettors who are willing to use it. Growing mainstream acceptance means Bitcoin is here to stay, and in terms of privacy, freedom and choice, it's set to make a profound impact on eSports betting.