Euro 2020 Betting Guide
The European Championships is a football competition that takes place every four years, with Euro 2020 taking place across 12 different cities, celebrating 60 years of the event in the process. Portugal defeated France in order to lift the famous trophy back in 2016, however matches this time around are set to be even more competitive, with a whole host of teams heading into the tournament with a chance of winning it.
While the action on the field at Euro 2020 is set to have fans on the edge of their seats throughout, it will also keep punters busy, with the event being bigger than ever in terms of betting too. Thousands of bets will be placed both before and during the tournament, with our Euro 2020 betting guide delivering all of the information in which punters should know before backing their favourite teams and players. Let's kick things off by taking a look at the best betting sites when it comes to Euro 2020.
Euro 2020 Betting Tips
Euro 2020 gets underway on the 12th June at the Stadio Olimpico in Rome, before ending on the 12th July at Wembley Stadium in London. With 51 matches taking place during the tournament, there will certainly be no shortage of options when it comes to placing bets on the event. However, with separating the teams being more difficult than ever due to the quality of players on show, taking advantage of betting tips before staking funds will give punters the best possible chance of beating the bookmakers.
Our site will provide Euro 2020 betting tips free of charge, with our experts taking into account a range of factors before suggesting a market. Player availability, head to head records, form and motivation for victory are all considered, while a number of different wagering options are also being utilised.
Whether it be 1×2, under/over, both teams to score or first goalscorer, our experts deliver the markets in which they believe will give punters the best possible chance of coming out on top over bookmakers. Unlike other platforms, there is no fee involved when it comes to our Euro 2020 betting tips, with our experts putting in the time and effort so that you don't have to. Be sure to keep a close eye on our site in the build up to Euro 2020 getting underway, with tips being added before matches get underway.
Euro 2020 Betting Offers
While a significant number of bets are expected to be placed on Euro 2020 anyway, this will not stop bookmakers introducing offers and promotions surrounding the tournament, in an attempt to entice punters into wagering yet further. However, such offers can be very useful for betting customers, as they can potentially help punters to maximise winnings and minimise losses. Euro 2020 betting offers are likely to come in the form of the following:
Free Bets
Price Boosts
Accumulator Insurance
Money-Back Specials
As well as this, bookmaker welcome bonuses are also available to use on Euro 2020 matches, which can provide an excellent platform to build upon ahead of the tournament getting underway in June. At Online-Betting, we will provide punters with regular updates when it comes to Euro 2020 betting offers, perfect for those looking for a helping hand in their bid to win big.
Euro 2020 Betting Markets
Euro 2020 is set to attract a huge number of bets, with bookmakers set to offer a variety of different markets in an attempt to entice punters into staking funds with them. In terms of both ante post and pre-match Euro 2020 markets, the following are set to be among the most popular:
1×2 – The simplest form of betting when it comes to Euro 2020 is to place a 1×2 bet, which means backing which team will win, lose or draw.
Over/Under – Another popular form of betting on Euro 2020 matches is over/under, where punters are able to stake on the amount of goals in which they believe will be scored during a 90-minute match. Punters will have to choose between this figure being either over or under a specific amount, whether it be 0.5, 2.5 or 4.5.
Both Teams to Score – For times when a host of attacking talent is on display, betting on both teams to score during an upcoming match is another good option. Both teams on the pitch must find the back of the net in normal time in order for this bet to be successful.
First Goalscorer – Betting on which player will score the opening goal of a game at Euro 2020 is set to be an option on many betting sites, perfect for punters who are looking to back the likes of Cristiano Ronaldo, Harry Kane or Timo Werner.
Euro 2020 Winner – A large number of bookies will have already added this market, where punters can bet on which team they believe will ultimately win the tournament outright.
Top Scorer – The Golden Boot award is always a significant talking point, with punters also being able to bet on which player they believe will score the most goals during Euro 2020.
Euro 2020 Top Goalscorer Odds
With every major football tournament, betting on which player will finish the competition as the leading goalscorer is set to be a major market at Euro 2020. A host of world class players are available to back, with the following being among the favourites at present:
Harry Kane @5/1
Cristiano Ronaldo @7/1
Romelu Lukaku @8/1
Kylian Mbappe @8/1
Memphis Depay @14/1
Antoine Griezmann @14/1
Euro 2020 Key Dates
The countdown to Euro 2020 is well underway, however with four teams still to confirm their place at the tournament, the following key dates are very important for those looking to place bets on the event:
March 2020: Nations League Playoffs
June 12-24, 2020: Euro 2020 Tournament Groups stage matches
June 27-30, 2020: Knockout Phase
July 3-4, 2020: Quarter finals
July 7-8, 2020: Semi finals
July 12, 2020: Euro 2020 Final
Euro 2020 Groups
Following the draw in Romania at the end of November, we now have a much clearer understanding of how the Euro 2020 groups will look: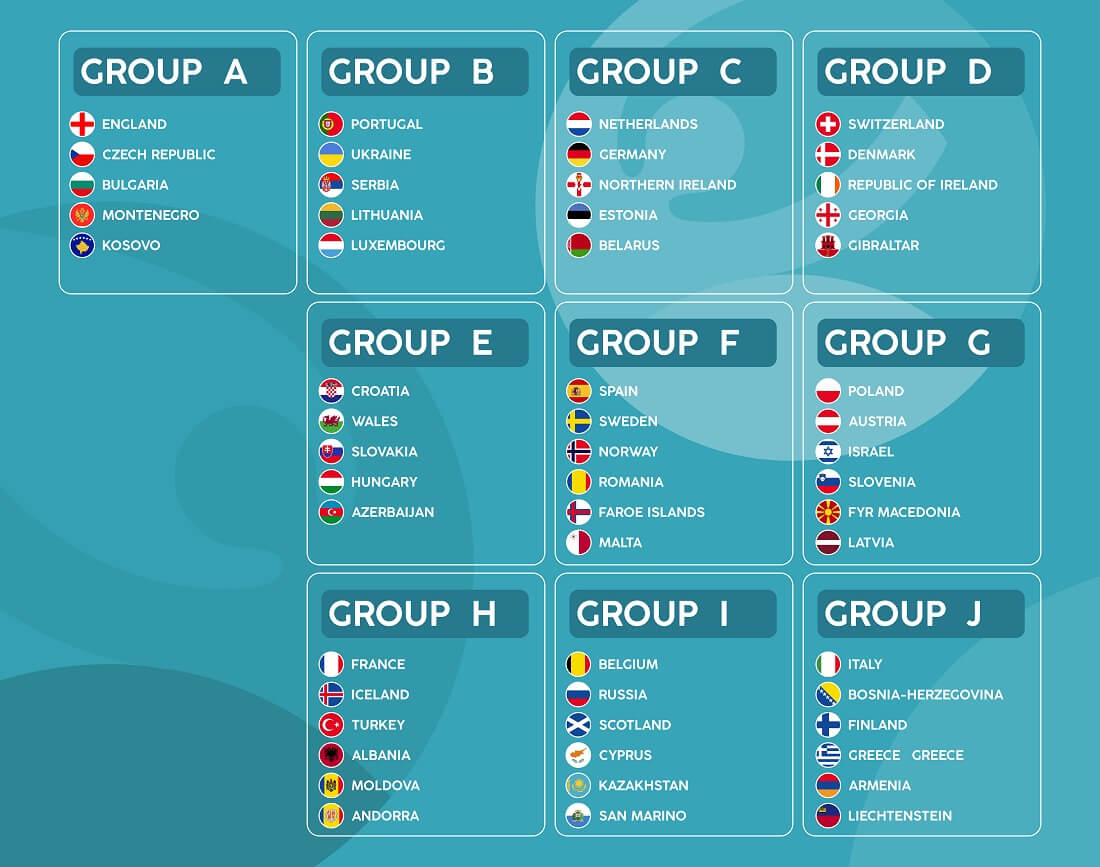 Euro 2020 Host Cities
Unlike other years, Euro 2020 matches will take place in 12 different cities, with some of Europe's most recognisable stadiums set to be visited by hundreds of thousands of supporters. Let's take a closer look at the Euro 2020 hosts:
City Stadium Capacity Group
Rome, Italy Stadio Olimpico 73,000 A
Baku, Azerbaijan Olympic Stadium 65,000 A
Copenhagen, Denmark Parken Stadium 38,000 B
St Petersberg, Russia Krestovsky Stadium 56,000 B
Amsterdam, Netherlands Bucharest, Romania 54,000 C
Bucharest, Romania Arena Natlionala 56,000 C
London, England Wembley Stadium 90,000 D
Glasgow, Scotland Hampden Park 52,000 D
Bilbao, Spain San Mames 53,000 E
Dublin, Ireland Aviva Stadium 50,000 E
Budapest, Hungary Puskas Arena 68,000 F
Munich, Germany Allianz Arena 75,000 F