Betting Tip: Carl Frampton vs Horacio Garcia
Carl Frampton was left licking his wounds back in January when he lost against Leo Santa Cruz at the MGM, surrendering his WBA Super Featherweight title to the Mexican. That had been a rematch after Frampton had taken a majority decision in a victory over him in New York back in the summer last year. Santa Cruz didn't take that loss lightly (losing the WBA belt to Frampton in it) and evened up their duel in January getting the title back.
That was a significant marker in the career of Carl Frampton, which is why it is worth talking about here. That was the first time that the Northern Ireland boxer had been beaten in his professional career and now his record stands at 23-1 from his twenty-four fights. The important thing here is that the momentum has gone and now Frampton has to pick up the pieces and start from the bottom to climb his way up the ranks again.


How much of a setback that loss against Santa Cruz will be, remains to be seen, but Frampton ultimately wants another crack at the Mexican before long, but for Santa Cruz now, Frampton won't be a priority. So now Frampton meets up with Mexico's Horacio Garcia on Saturday night at the SSE Arena in Belfast, a fight which he is expected to win with ease. The pressure is on him though to deliver now as this is his first fight ever following a professional loss.
The Jackal to bite back
Frampton, aka the Jackal, has beaten far better boxers than Garcia, let's get that straight from the off. Garcia is nothing more than a journeyman picking up pay packets without ever threatening to get top billing of a title shot during his career. He is going to be used as a bit of patsy by Frampton as the Irishman gets a feel for being in the ring again and bookmakers recognise that and have a crazy odds-on prize of 1/100 on Frampton winning this bout.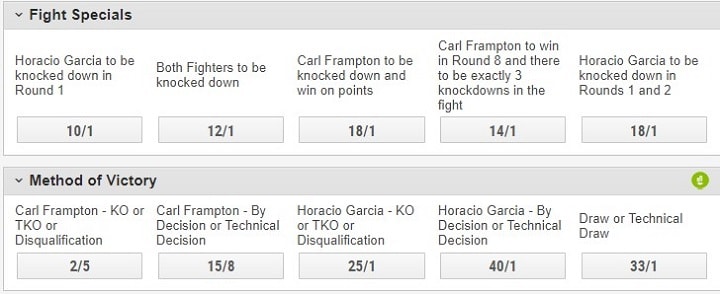 Garcia, a 27-year-old orthodox boxer, has a 33-3-1 record from his 37 fights and he is being promoted by Saul Alvarez's company and 'Canelo' will be there ringside cheering on his compatriot. Garcia, a 16/1 underdog for the fight, isn't going to test Frampton's chin very much in this one at all but he showed a bit of charger in decking Diehl Olguin in a rematch back in September after having lost to the same opponent just a couple of months earlier.
Frampton likely to stop Garcia
Snappy dresser Frampton is a pretty cool customer and will hold his own on Saturday night with the home crowd behind him. This isn't a matter of whether or not he will win, it will be about the manner of victory. He needs something controlled but something bold to fill his boots with and under 8.5 rounds for a quote of 8/11 looks a pretty decent wager. Frampton needs to stop his opponent and he is 1/100 to do that in the fight.