A modern website, designed for people who like to bet on eSports, Betspawn is a relative newcomer to online bookmaking with plenty of ambition. Marketing their service as The Home of ESports Betting, this Swedish-based company was launched by five gamers who've clocked up thousands of hours of play between them. If you tried out the beta platform but weren't impressed, now is the time to return, because the fresh new site is open for business.
A refreshing new addition to the world of online bookmaking, Betspawn have everything you need to enjoy a flutter on the growing eSports markets.
Betspawn: Best eSport Offer in Test
Wide selection of eSports bets
Good value odds to be found
Trusted player in the betting community
No app for smart devices
Customer supported is not available via telephone
Only eSports betting provided

---
Betting markets and odds quality
Betspawn is an eSports platform with a bountiful selection of markets. It offers all the most popular games being played in the world right now, but also strives to bring innovative new games to the public before the competition. Even if a game is yet to prove itself a commercial success, they are willing to try it out. This is uncommon in the industry, as most bookies prefer to hold back until the title has generated more publicity. The inclusion of smaller games like Vainglory and Crossfire shows that Betspawn have a genuine awareness of what's trending amongst grassroots players, and want to open up fresh types of eSports wagering.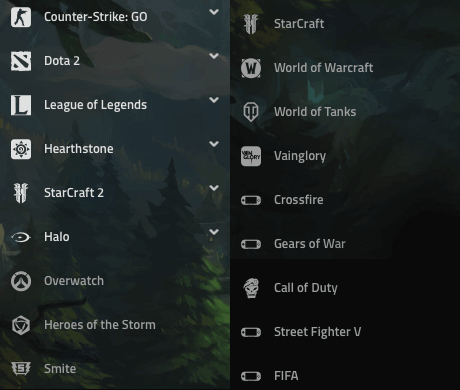 The list of games that Betspawn provides odds on currently includes; Dota 2, League of Legends (LOL), CS: GO, Hearthstone, Overwatch, Heroes of the Storm, Starcraft 2, and World of Tanks. Whether the players and teams are taking part in a minor or major tournament, you're likely to find it here.
For the heavy hitting eSports, like Dota 2 and CS: GO, you can find out more about a team's past performances on Betspawn before you go in with a wager. Prior knowledge about the contenders makes it easier to place a bet with a degree of certainty, and means you don't have to trawl through other websites for more details on their backstory.
Having access to multiple markets is also an advantage for betting fans. Taking the Kiev Major as an example, one single match of Dota 2 presents over 20 betting markets. You can wager on starter bets, like the winner of game 2, or go for more complex options like first blood, or whether the number of kills will be odd or even.
As part of this Betspawn review, we took a look at how much bettors are being charged by the bookmaker each time they place a bet. We found there's an average odds margin of 8%, which is pretty much what you'd find on most smaller bookies, but you can hunt down higher value bets if you're a regular on the platform.
Odds offered on all major eSports, including LoL, CS: GO, and Dota 2
Odds occasionally offered on FIFA games
---
Using the Betspawn website


The Betspawn home page incorporates muted shades of red and blue on a black backdrop, with graduated images of fantasy woodland adding to the eSport aesthetic. It's a contemporary interface, that is quite fittingly inspired by the dashboard of a video game. As with all online betting you won't have to go anywhere to place your bets, and you can log into your account at any time of the day or night.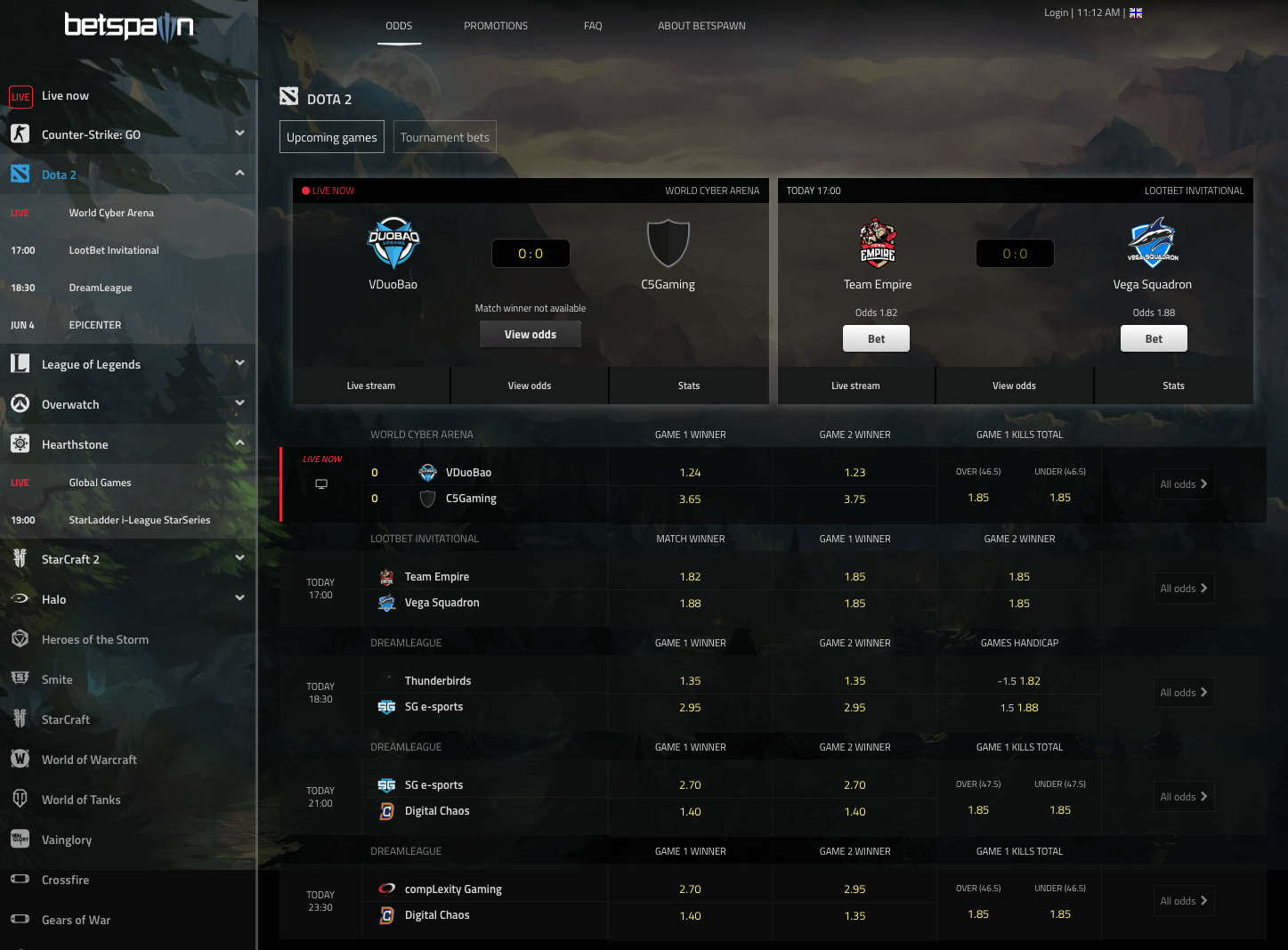 The site is simple to navigate, with each eSport featured in a side bar to the left of the page. Click on one to see all upcoming tournaments and championships for the rest of the day, week and month. Hit the event which interests you to see further information, including a countdown to when it will start, the roster of participants, where it's taking place, and stats for each team or player.
As the public appetite for eSports betting has grown so rapidly, online bookmakers have chosen to structure betting markets so players can wager in exactly the same way as with traditional sports. So long as you have funds in your account, you can choose a bet.
Betting is organised into different games, once you click on one you'll be presented with the competitions available. Continue by clicking on an event which interests you, then hit View Odds. If you're happy with the value, make a selection and your choice will be shown in a panel on the left of the screen. From here, choose an amount to be wagered and you'll be shown a potential pay-out. Then, assuming you have logged in, just hit 'Bet x Euros' to confirm your wager
---
Betting Coverage, Live Betting and Live Streaming


Betspawn focuses solely on eSports, so although you're not going to find any casino bets or sports bets popping up regularly, if it's eSports that you specialise in, you know you've come to the right place. The emphasis on sports played using consoles and other electronic systems, enables Betspawn to maintain a competitive edge and deliver a wide range of titles.
On some of the most popular games, like LoL and Overwatch, you can place in-play wagers. When you use the live betting platform, you'll find that the customary 'accept odds change' for bets placed well in advance, has been improved with a supplementary 'only accept higher odds' option. Therefore, although the odds are constantly adjusted to reflect the changing status of the game, you can always be assured of getting the odds you chose or better.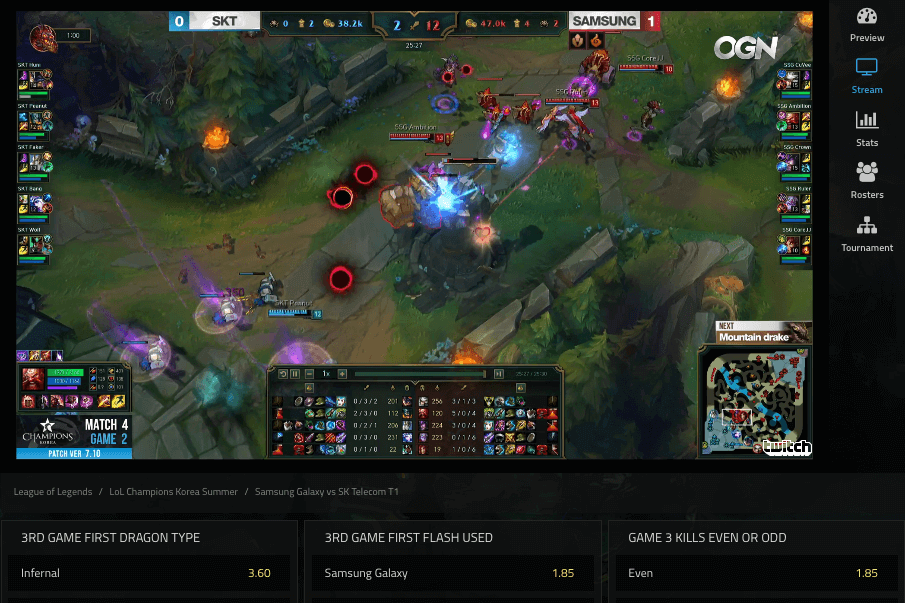 You can view the live betting terminal by clicking on the Live Now link on the homepage, it's situated in the top left and highlighted with a red square. In this in-play section you'll find a solid range of eSports markets, so take a look through what's on offer, read more about the various leagues, then place a stake while the action is still unfolding.
If you can't be at a tournament, then watching the event live and taking an educated guess on the results, comes a close second. Electronic sports have proven to be an exhilarating and exciting alternative to mainstream sports betting, and the hype which has driven their success, has been generated in no small part by live streaming through online bookmakers.
---
Bonuses Offered at Bespawn


Aside from their impressive welcome offer, this Betspawn review found they do not run a regular stream of promotions. To find out if any free bets or bonuses are available you can view the Bonuses section on your profile page, or the Promotions area of the general website.
The Welcome Offer
To get you off to a flying start, Betspawn will provide a bonus of 100% on your initial deposit, up to the value of €133.70. That means if you are willing to pay in £100 you'll have a total of £200 in your account, but there are restrictions on withdrawing money if you accept the deposit. Prior to gaining access to your funds you'll have to place bets worth five times the deposit and bonus. Bets have to be placed on odds of 2/5 or higher and every one counts as being wagered, even if you lose.
So, if you begin with an initial deposit of £100 that's increased to £200 through their welcome bonus, you'll have to place a total of £1,000 in bets before they allow you to take out any winnings.
Once the bonus is activated you'll be given 120 days, that's around four months, to complete the requirements. If you don't get it done in time, the consequences are quite severe; all the bonus money left on your account will be wiped and any winnings generated from it will also be forfeited. Moreover, once you accept a deposit bonus, the real cash you have deposited along with all your winnings are considered bonus money by Betspawn. In order to get at this balance again, you'll have to complete the requirements mentioned above.
So, if you're unsure of how much you want to bet with Betspawn or how often you'll be using your account, then you may be better off waiting for their ad hoc promotions and free bets to boost your earnings.
Are There Any Other Bonuses?
Betspawn don't offer a huge number of promotions to their existing customers. This could change over time, but currently you won't find anywhere near the level of bonuses here that you would at other online bookmakers. However, promotions do happen occasionally. In the past they have arranged giveaway competitions with five bets of €100 up for grabs. Tickets for the offer were awarded based on how much members had won in a specific timeframe, and the winners enjoyed free bets that had no wagering requirements.
Stay in the Loop
You can sign up for a Betspawn account in a few minutes, then start looking around the site and learning more about how things work. You'll also get regular emails about new games, competitions and the type of odds that are available. If you're interested in finding out more, even if you aren't ready to commit to an account, you can follow them on Twitter or like their Facebook page to hear about new competitions, the latest events, and other eSport news.